Donald Trump's 'Beautiful' Christmas Gift To Wife Melania Mocked By Twitter Users
KEY POINTS
Twitter users mocked Donald Trump's Christmas gift to Melania
Melania Trump attacked by critics to hurt Melania
Donald Trump and Melania have different takes on parenting
Twitter users mocked Donald Trump's beautiful Christmas gift to wife Melania.
On Christmas Eve, the POTUS and FLOTUS stepped out together for a press conference at Mar-a-Lago club. During the event, Donald was asked what he got for his wife for Christmas. The president said that he gave her a "very beautiful card." However, a number of netizens on Twitter only mocked the present.
"I would have got Melania a card too. In fact a sympathy card. That is if I actually had ANY sympathy for her. I don't," one wrote.
"He said the exact same thing about her birthday," another user added.
"He said the exact same thing last year. Let's face it - she's there for the cash payout and he needed a sex worker/wife at the time. Can we not pretend they are a happily married couple?" Violet Parker commented.
Meanwhile, another user wasn't convinced that Donald got Melania something on Christmas. One Twitter user named @wolf9walker wrote that "most likely he didn't get her anything." He also added that he wanted to ask what Donald got for his mistress instead.
Although many felt that Donald and Melania's marriage isn't okay, Donald Jr. insisted that their relationship is good. He explained that Donald and Melania have always had a good relationship despite claims that she was held captive in the White House or she wanted to denounce her husband.
Donald Jr. said that the FLOTUS was just attacked by the critics because the president is "unbreakable." He likened the said move to an old movie plot in which the villain realizes he can't break the hero, so he channels his wrath to the hero's family.
Meanwhile, Melania and Donald have different takes on parenting. Melania is a very hands-on mom to her and Donald's son Barron. However, the POTUS admitted in the past interview that he wouldn't be very hands-on. He doesn't want to make the baby's food or change his diaper. In fact, he is alright with not seeing the child. Melania confirmed that Donald didn't change Barron's diaper and she was okay with it.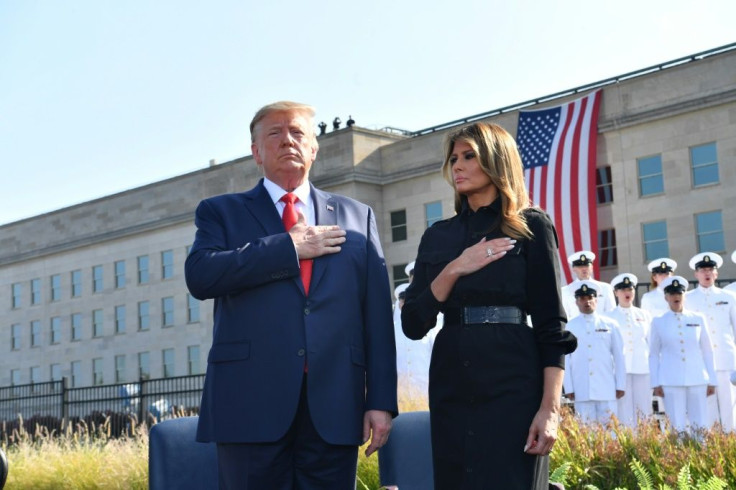 © Copyright IBTimes 2023. All rights reserved.