Donald Trump's Executive Orders Update: Full List Of The President's EOs After New Actions On Crime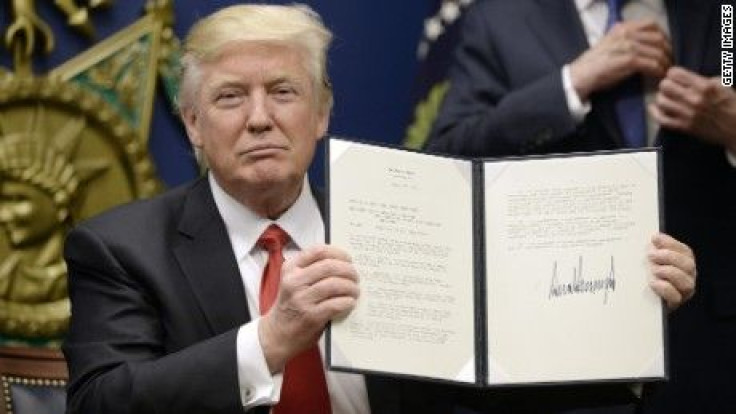 On Thursday, President Donald Trump signed three new anti-crime executive orders at the swearing in ceremony that officially made Jeff Sessions U.S. attorney general. The executive orders target transnational drug cartels operating in the U.S., create a task force to reduce violent crime and charge the Justice Department with implementing a plan to stop violent crimes against law enforcement officers.
"A new era of justice begins, and it begins right now," Trump said at the White House.
Trump has issued 11 executive orders since his inauguration on Jan. 20, and seven in his first two weeks. FiveThirtyEight notes the president's current pace is slightly less than Barack Obama, who issued nine orders during his first two weeks. George W. Bush and Bill Clinton combined to issue five executive orders total over their first two weeks in office.
Below is a list of all 11 executive orders the president has issued in the first three weeks of his administration.
Jan. 20, 2017 - "Minimizing the Economic Burden of the Patient Protection and Affordable Care Act Pending Repeal"
On Inauguration Day, Trump signed his first executive order, which took aim at the Affordable Care Act, also known as Obamacare, his predecessor's signature legislative achievement. The order asked heads of executive departments to "waive, defer, grant exemptions from, or delay the implementation of" any parts of the act that would impose a financial burden on states or individuals. It also called on executive departments and agencies to encourage the development of open healthcare markets across state lines, and provide greater flexibility to the states.
Jan. 24, 2017 - "Expediting Environmental Reviews and Approvals For High Priority Infrastructure Projects"
Trump's second executive order allowed states and federal agencies to request that specific infrastructure projects receive a "high priority" designation from the Chairman of the White House Council On Environmental Quality. The chairman would then decide if a project is "high priority" within 30 days of the request. If the project is deemed to be a "high priority," then the project would undergo an expedited environmental review and approval process.
Jan. 25, 2017 - "Enhancing Public Safety In The Interior Of The United States"
Trump issued two executive orders on Jan. 25. The first committed the federal government to enforcing immigration laws and deporting immigrants, both authorized and unauthorized, who committed crimes. It also called for the withholding of federal funds from sanctuary cities.
Jan. 25, 2017 - "Border Security And Immigration Enforcement Improvements"
Trump's second executive order of the day sought to improve security of the southern border of the U.S. Most notably, it called for the immediate planning, designing and construction of a border wall between the U.S. and Mexico, putting in motion one of Trump's earliest campaign promises.
Jan. 27, 2017 - "Protecting The Nation From Foreign Terrorist Entry Into The United States."
Trump signed his most controversial executive order on Jan. 27. In what has been come to be known as the "travel ban," Trump issued a temporary halt to immigration from seven countries -- Syria, Iran, Iraq, Somalia, Sudan, Yemen and Libya. The order spurred protests at airports across the U.S. and led to a series of court challenges that resulted in judges in Washington and Minnesota blocking the implementation of the order. The 9th Circuit Court of Appeals is expected to rule on the constitutionality of the order this week. The White House has rolled back and clarified parts of the order since it was issued.
Jan. 28, 2017 - "Ethics Commitments By Executive Branch Appointees"
Trump's first executive order after the travel ban required all executive appointees to sign a legally-binding pledge promising they would not engage in lobbying activities related to their agency for at least five years after leaving government employment.
Jan. 30, 2017 - "Reducing Regulation and Controlling Regulatory Costs"
In an attempt to reduce government red tape, Trump issued an executive order requiring federal agencies to repeal two regulations for every one regulation issued. It also required all agencies to make sure all new regulations issued in fiscal year 2017 will not add to the federal budget.
On Wednesday, a coalition of liberal groups filed a lawsuit claiming that Trump overreached his constitutional authority by issuing the order.
Feb. 03, 2017 - "Core Principles for Regulating the United States Financial System"
Trump's latest executive order began the process of dismantling recent banking regulations. It sought to scale back parts of Dodd-Frank and ordered the Labor Department to review the fiduciary rule, which was scheduled to go into effect in April and would force investment advisers to operate in their clients' best interests, as opposed to recommending products and services that would be in the interest of the adviser, not the client.
Feb. 09, 2017 - "Presidential Executive Order On A Task Force On Crime Reduction and Public Safety"
One of the executive orders Trump issued on Thursday directs Sessions to establish a task force to develop strategies to reduce crime, particularly "illegal immigration, drug trafficking, and violent crime." Sessions will appoint the members of the task force, which will issue a report to the president within one year of its creation, and will continue to issue reports at least once a year until the attorney general decides to disband it.
Feb. 09, 2017 - "Enforcing Federal Law With Respect to Transnational Criminal Organizations And Preventing International Trafficking"
This executive order seeks to increase cooperation between law enforcement agencies in order to dismantle "organized crime syndicates and restore safety for the American people." It targets international criminal groups specifically, and promotes information sharing between federal agencies, like the State Department, and law enforcement.
Feb. 09, 2017 - "Preventing Violence Against Federal, State, Tribal, And Local Law Enforcement Officers"
In a move that closely aligns with local efforts to pass "Blue Lives Matter" bills, Trump called on the Justice Department and federal agencies to propose legislation that would create new crimes for attacking or assaulting law enforcement officers.
© Copyright IBTimes 2023. All rights reserved.
FOLLOW MORE IBT NEWS ON THE BELOW CHANNELS