Don't Like Donald Trump Or Hillary Clinton? Here Are Your Third-Party Options For 2016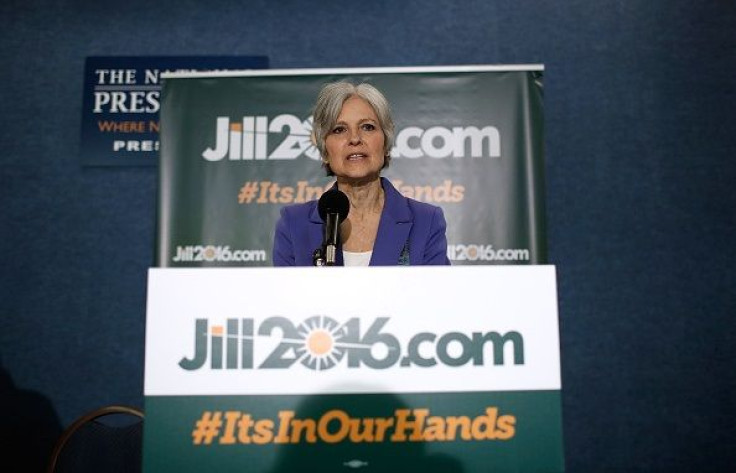 Now that Hillary Clinton has reached the required number of delegates to secure the Democratic presidential nomination, the general election is set to be a showdown between the former secretary of state and presumptive Republican nominee Donald Trump. But not all voters are happy.
Both Clinton and Trump have been dogged by extremely low favorability ratings. In fact, they are each more strongly disliked than any presidential nominee in the past 10 election cycles, according to a FiveThirtyEight analysis. That means many voters will be looking for another option come November, and third-party candidates have been making their pitches.
There are often a few prominent third-party candidates who throw their hats into the ring during presidential campaigns, but because America's political system is built to favor two major parties, they rarely do very well. The most recent example of a big third-party run was that of Ralph Nader, who ran on the Green Party ticket in 2000. He won 97,488 votes — 2.7 percent — and many Democrats blamed him for contributing to Al Gore's loss to George W. Bush in the incredibly close election.
While third-party runs are sometimes considered spoilers by Democrats and Republicans, the non-major-party candidates take their runs quite seriously. This year, several of them are making plays for liberals and conservatives feeling disillusioned after bruising primaries on both sides.
While this year's primary season was dubbed the Year of the Outsider and many voters seemed to like anti-establishment candidates, it's difficult to tell whether this will truly help third-party candidates. Here are the major options if you're looking to vote for someone other than Clinton or Trump in the general election.
Green Party: After Nader's run, the Green Party has not seen the same success. But this year its presidential nominee is Jill Stein, who also ran in 2012, and she has been aggressively trying to woo Bernie Sanders supporters over the past few months as it became clear he would likely lose the Democratic nomination. The environmental party is also pro-peace and supports the boycott, divestment and sanctions (BDS) campaign against Israel, which are positions that might appeal to Sanders supporters uncomfortable with Clinton's hawkish foreign policy.
Libertarian Party: The party focused on small government is offering a ticket of former New Mexico Gov. Gary Johnson and former Massachusetts Gov. Bill Weld. Like Stein, Johnson ran in 2012, and he hopes to improve on the 1 percent of the popular vote he got that year. With its isolationist stances, this party presents a very different vision from the progressive reforms of Sanders, but it may attract conservatives turned off by Trump or those who were debating between various anti-establishment options.
Independent Candidate: 'Never Trump' Republicans have talked about a white knight candidate for months, and while most of them — think House Speaker Paul Ryan and former GOP candidate Mitt Romney — have said they will not run in 2016, there's still a chance someone could come out of the woodwork. The Weekly Standard editor Bill Kristol chose conservative writer David French as his hope to run an independent bid, but French recently said he would not run. As Trump continues to draw ire over his controversial comments, though, there's still time for another conservative to emerge and try to draw support away from the Donald.
American Independent Party: This ultraconservative party opposes abortion and same-sex marriage, and wants to build a fence along the whole U.S. border. Its presidential nominee in 2016 is Tom Hoefling. The party is also known for confusing quite a few California voters who accidentally registered for it when they meant to register as independents. While the party is bigger than any of California's other minority parties, the Los Angeles Times this year found that nearly three in four members said they did not realize they had joined the party and must have registered in error.
Party of Socialism and Liberation: The nominee of this socialist party in 2016 is Gloria LaRiva. The PSL has gotten very little support in recent elections, and even with Sanders popularizing the idea of Democratic socialism this year, there's little reason to believe disaffected fans will flock to a third party this far to the left.
There are also a vast number of other small third-party candidates who will be running in 2016, and many of them fall far to the right of Trump.
© Copyright IBTimes 2022. All rights reserved.
FOLLOW MORE IBT NEWS ON THE BELOW CHANNELS