DraftKings, FanDuel Ads Annoying NFL Fans As Fantasy Sports Titans Vie For New Players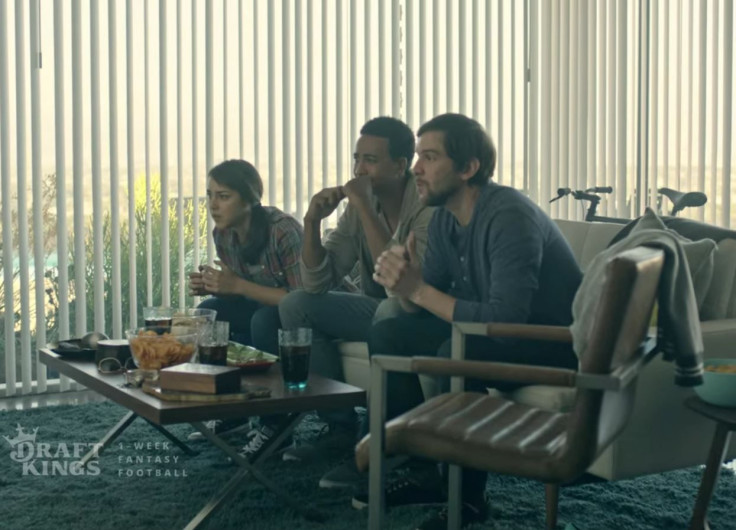 Now that week one of the NFL season is officially in the books, the topic on everyone's minds is not Dez Bryant's foot or Peyton Manning's arm: It's how many DraftKings and FanDuel ads viewers were forced to sit through during the games' commercial breaks.
For the uninitiated, DraftKings and FanDuel are the two leading players in the growing U.S. market for daily fantasy sports, which allows participants to assemble teams of stars from across a sport and pit those teams against one another for money. Over the past seven days, the two companies have combined to spend more than $32 million on TV ads, according to iSpot.tv. That's more than AT&T and Verizon -- two of the biggest advertisers in the United States and two of the NFL's most prominent partners -- spent during the same period.
Those numbers are just the tip of an iceberg. According to an iSpot spokesman, DraftKings has spent an estimated $81 million on more than 22,000 ad airings since August 1. Amazingly, it actually scaled its advertising back in September, when it spent an estimated $28.9 million on over 11,000 airings. Over the past seven days, it was the single biggest advertiser on TV -- $20m with over 5,800 airings, an iSpot spokesman said.
FanDuel has also spent big. In the past week, they have been the sixth largest advertiser on television, spending an estimated $11.8 million on more than 2,600 national airings. The company has spent an estimated $20 million since August 1.
Both companies are in nuclear fan-acquisition mode because they need lots of fans participating in lots of games to make money. Despite attracting 1 million fantasy football players and quadrupling its revenues in 2014, to more than $57 million, FanDuel is not profitable yet. DraftKings, a newer company that has raised $375 million in venture capital, isn't either, and it has the added pressure of having to pay off its acquisition of DraftStreet, which was at one time the third-largest daily fantasy site in the United States.
Both felt compelled to make a splash during the start of the season, but so far, the return on this investment may not be what they anticipated. Research conducted by BrandWatch found that reaction to the spots was overwhelmingly negative on social media, though on the whole both companies are generally viewed positively.
Buying Hearts And Minds
According to the Fantasy Sports Trade Association, 33 million Americans played fantasy football in 2014, a number that has swelled considerably in the past decade: The fantasy market has grown 11 percent year over year for the past five years, according to research firm IBISWorld.
But for all the growth, fantasy sports is still dominated by commissioner-style games, where participants choose players and stick with them over the course of a sport's regular season, though most leagues permit participants to make trades.
DraftKings and FanDuel need to draw from that pool of players, but those games are controlled by broadcasters like CBS, FOX and ESPN, which have threaded fantasy gaming deeply into their NFL coverage. Sports Illustrated and USA Today both offer daily fantasy games, too, though neither has the advertising resources that FanDuel and DraftKings have. So in addition to the stiff competition they face from one another, FanDuel and DraftKings have to fight against some of the biggest media players in the United States to grow their ranks of players.
So far, both companies have looked to spend their way past the competition, and none of the commissioner-style players have offered much resistance. After DraftKings and FanDuel, the fantasy sports game with the next highest spend on airtime is the NFL, and their estimated spend on television advertising doesn't even land them within the top 100 biggest TV ad spenders, according to iSpot estimates.
Rather than trying to partner with media players hawking a competing product, both companies have gone directly to the leagues and teams instead, where they've found willing partners. Earlier this year, FanDuel announced it had signed a marketing partnership with the NBA that would include featuring FanDuel on its website. DraftKings countered by signing partnerships with Major League Soccer and the NHL. On Tuesday morning, DraftKings announced it had partnered with 12 NFL teams, including the Super Bowl champion New England Patriots.
Those marketing partnerships include everything from real estate on websites to the construction of actual betting lounges inside the teams' stadiums, but if both companies wind up turning off prospective customers with these ads, the depth of the partnerships may not matter.
The NFL season is just one week old, and the start of the NBA season is nearly a month away, and neither company has released any information about how many people have signed up since this marketing blitz began.
The only thing that's certain right now is that the ads will continue. Like most fantasy sports sites, FanDuel and DraftKings are deeply dependent on activity that takes place during the fall and winter months, when football, basketball and hockey all rev up.
FOR FREE to continue reading
✔️ Unlock the full content of International Business Times UK for free
offer available for a limited time only
✔️ Easily manage your Newsletters subscriptions and save your favourite articles
✔️ No payment method required
Already have an account?
Log in
© Copyright IBTimes 2023. All rights reserved.