Drake's Mother Thinks Serena Williams, Not Rihanna, Is 'The One' For Rapper: Report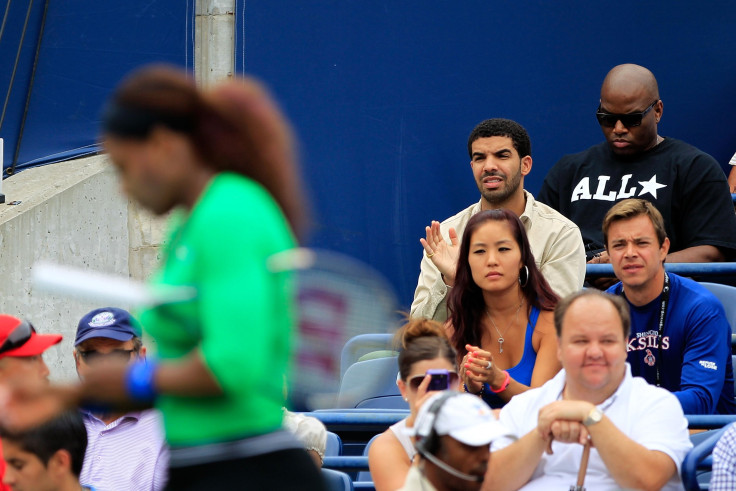 As rumors about Drake and Rihanna's rekindled romance surface, a Hollywood Life report said Wednesday that the rapper's mother, Sandi Graham, thinks Serena Williams, who was reported last year to be the rapper's love interest, is "the one" for him.
"Drake and his mother are really tight and like the good mensch he is. He listens to her. Sandi doesn't really think anyone's good for Drake, but if she had to choose one woman he's been with it would be Serena," a source told Hollywood Life. "Sandi idolizes her athleticism and thinks she's a sweet and wholesome girl, much different from the wild and over-sexualized women Drake's been with in the past. Like him," the source added.
Williams is "a champion and Sandi's encouraging him to attend all her upcoming matches at Wimbledon and make a serious play at her. Sandi's not getting any younger and she wants grandkids from him!" the insider told the entertainment website.
Drake and Williams were spotted kissing at a restaurant in Cincinnati last August. The two also faced rumors that the tennis star was pregnant with Drake's child, but those rumors were never substantiated.
Recently, the Canadian rapper was spotted spending time with Rihanna as they left a nightclub in London. Following this, reports speculated the two may have reignited their romance.
Rumors about Rihanna and Drake's relationship surfaced after the two were spotted together on several occasions following the release of her "Work" song, which featured the 29-year-old rapper. The two first dated in 2009 and have been in an on-and-off relationship ever since. They performed together at the Brit Awards in London in February and after their performance, the rumored couple was reportedly seen getting intimate at a London nightclub.
© Copyright IBTimes 2023. All rights reserved.