Dress Shoes that Wear like Sneakers: NobleSole Reviewed from the Deep End
This article uses affiliate links, which means if you purchase products through these links, we may earn a commission. Click here to see our
T&C
. For licensing please click
here
.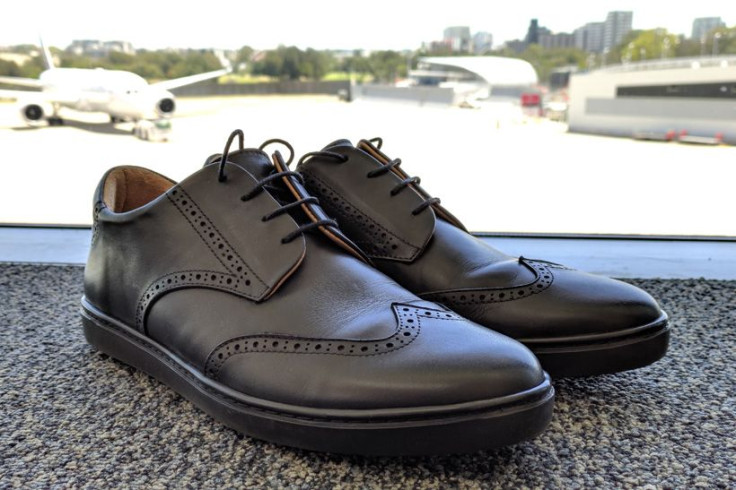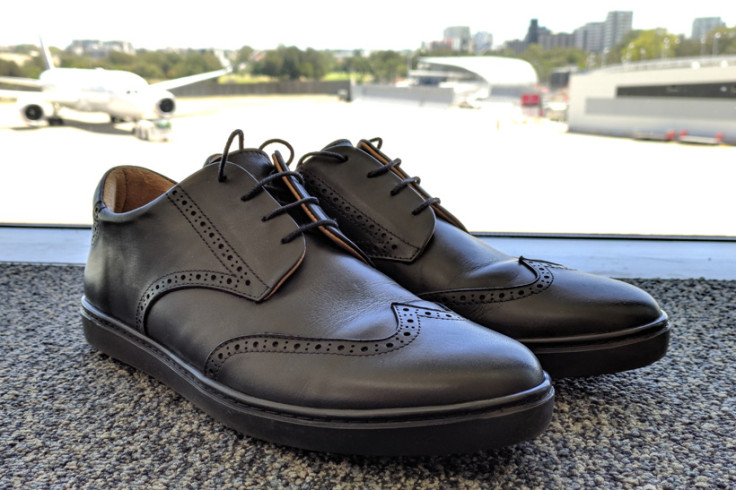 Well, I took a dive and did the unthinkable with NobleSole.
I was between flights, and had a mere 3 hour window to get home from the airport, unpack, pack again for the next trip, and in the process I found the brand new pair of NobleSole Wingtip that arrived in the mail couple of days before. The prospect was tempting, but I knew wearing leather dress shoes out of the box on a long trip without breaking them in first is unthinkable, and I could already hear my commonsense giving me blistering warnings.
Then again, the whole NobleSole concept is that they are dress shoes that wear like sneakers, and surely, sneakers do not need breaking in, right? I decided to put my feet in the middle of the action and see what happens in the name of investigative journalism.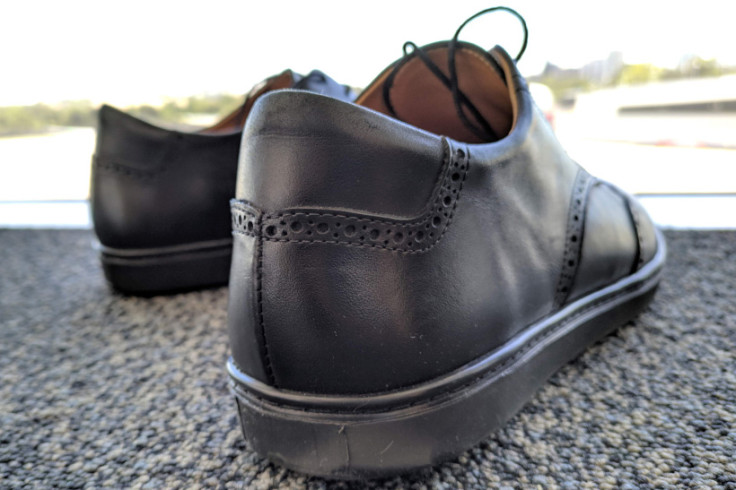 No heels
With my new NobleSole Wingtips on, needing to make my next flight, I quickly got my repacked luggage together and departed for the airport. I would be lying if I said everything was perfectly timed and I needed not to make a swift dash from the check-in counters to my gate - all the while wearing these newly acquainted 'dress shoes'.
The first impressions I got from them is that the heel was flat. Compared with my trusted Geox Wingtip that has been with me for the last 10 years, one of the most comfortable dress shoes that I owned, the NobleSole Wingtip was fundamentally different because it had no heel. Instead a it has a flat sole that reminded me of Adidas Superstars. The lack of a heel immediately registered in my back of all places, as it turns out even low heels on a dress shoes forces my posture in such a way that puts stress in my lower back. This is especially obvious when I'm doing something more strenuous than casual walking: like sprinting 600 meters to my gate before it closes.
When I returned from my trip where I spent the whole time exclusively wearing the NobleSole Wingtip, I put my old wingtips back on for a walk as a comparison, and I was pretty surprised that even with such a low heel, I did have to walk 'heel-toe, heel-toe', which put some sort of strain on my overall posture.
I was beginning to be intrigued with this rethink on the ergonomics of the classic dress shoes. With all the strains that we're already putting on our bodies in this modern era (Neck strains from phones, back aches from sitting at the computer all day, wrist strain from excessive mousing...to name a few), any reduction in strain is warmly welcomed.
No blisters
By the time I got on my flight, did the 10 hour flight to Malaysia, and did the inter-terminal shuffle, the back of my brain was saying: "If blisters were coming, they'd have arrived." But I didn't feel any discomfort. I found a quiet spot to sit in the KLIA, took off the shoes for a closer look, and confirmed what my feet already told me: there was no toll to take, the unbroken dress shoes did no harm on my feet at all.
The fit of the shoes is actually not on the loose side. It is on the narrow side, and has a tapered toe like all my other dress shoes. Without being broken-in, normally my little toe would be cramped and painful - but it wasn't. As a U.S. size 9.5, this EU 43's was snug but a comfortable fit that was chafe-free.
Exquisite leather lining
Upon inspecting the shoes more closely, I was most impressed with the extremely soft, thin leather lining that was on the interior of the shoes. The soles of the shoes as previously mentioned are flexible like sneakers, but what completes the human factor of these shoes are the soft supple leather upper and lining that flexes with the soles. This I believe was the main reason why these were so highly wearable even right out of the box.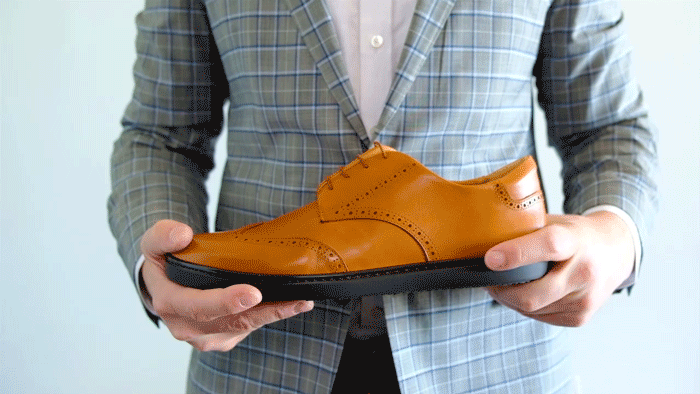 Dress shoes, no doubt
While attending the particular conference, there were plenty of smart casual sessions, as well as jacket and tie sessions, and I stuck with the Wingtip on all occasions. Though I must have met at least a hundred people, not one person noticed that I was wearing a dress shoe/sneaker hybrid - which I believe is the whole point of the exercise. These shoes have proved that the ordinary person couldn't care less if you had posh leather soles, traditional heeled soles or sneaker soles. Then it truly begs the question: why make your body suffer when you can pull off the formal look while being more comfortable than the rest of the guys at the table?
Who are the NobleSole Wingtips for?
The dress-shoes-that-wear-like-sneakers revolution is for those who are ready to find an ergonomic alternative to their dress shoes - without cramping their style. As I have found, very few people will notice or care what type of heel you have on your dress shoes, and most attention ends with the upper - at which the NobleSole is formal footwear through and through - and a gracefully crafted one at that. But where the comfort of your feet counted - the sole, is where you can and should cheat, and NobleSole has definitely made the cheat available for anyone who are ready for the leap.
David is a tech enthusiast/writer who is often on the move and is on a mission to explore ways to make his overhaul flights more enjoyable. This is a contribution to an ongoing IBTimes review series on gadgets for Business Travellers.
© Copyright IBTimes 2023. All rights reserved.