Dropping in on Asia's Highlife: Bangkok
STOP THREE: BANGKOK – COMMANDING HEIGHTS
Photo: Banyan Tree Bangkok's Apsara dinner cruise.
As the plane lifted off in the direction of Bangkok, I was in a fine snarly mood. I'd wreally wanted to wrave about W, now despite the flashy design I was inclined to whine. Caught in a brief rain storm, my hair had frizzed out and my Cleopatra 'do now looked like an unruly pyramid. Warner – who'd dressed up for the W tour – was now wearing jeans and a red Indians t-shirt, looking like he indeed might be a hog farmer.

Admittedly, his threads didn't matter to many Thai gals: since he has all his teeth, all his hair, both legs and killer blue eyes – the guy is downright handsome – he stands out in Thailand, where many love-seeking foreigners are maimed, kinky, bald, losers, in their late nineties, and/or weigh in at over 400 pounds. As much as I adore the kingdom, it sickens me how Thai women are so brazen in trying to pick him up: pharmacists, cashiers, every waitress in every Thai restaurant we've ever eaten, sneakily try to slip him their number the minute I look away; a sleazy Air Asia stewardess palmed him a steamy note from the aisle the month before, and I won't even get into the nearly pornographic come-ons of a certain Thai housekeeper, who I'd recently caught crawling on the floor – supposedly vacuuming – while flashing him looks so wanton they made Jezebel seem tame. I'd been thrilled to note that women in both Macau and Hong Kong mostly ignored him, but now we were heading to turf that inflates his ego to the very unbearable size.

I assessed his outfit again.

You are not wearing that to the Banyan Tree, I hissed.

I'll change at the airport. Would you chill?

I couldn't. I hate to wuss out – but I had no other choice but to cancel the reservation at Vertigo. Why had I nabbed an assignment for this rooftop dinner? Why in the course of arranging for Warner to take shots had I told the hotel what I was doing? Why had I bragged to everyone in my rolodex that yes, I would be dining there? Why had Gus Van Sant ever told me about the place? Because now I was going to have to wimp out. The 76th floor swimming pool freakout at W Hong Kong had convinced me of that and I shuddered at the memory.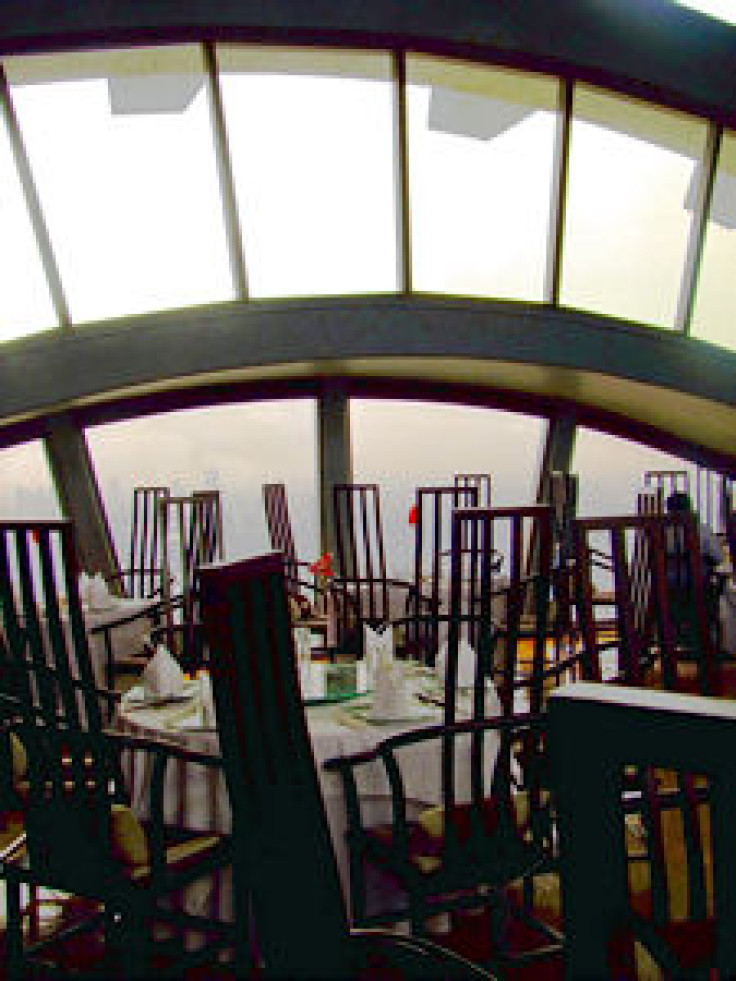 One of the dozen eating spots at Banyan Tree Bangkok. Photo: Steve Warner.
At the airport, Warner ran off to change money, and I approached the waiting Banyan Tree hostess. The S-series Mercedes Limo was there, the driver spiffed out in white cap, sharp uniform and white gloves. As we glided off towards the Banyan Tree, I looked over at Warner – still clad in his blue jeans and red Indians T-shirt.

There was no time to change, he said sheepishly.

I flashed one of my looks, only to receive a lecture in return.

Melissa, if Brad Pitt showed up in jeans and a t-shirt nobody would care.

You're not Brad Pitt.

It's all about attitude, Melissa.

You're causing me to have a real bad one towards you.

Our sparring continued the whole ride, but inwardly I was envisioning how I would courteously cancel the dinner at Vertigo and run back to the airport in shame. As the limo turned into the driveway for the Banyan Tree, I gazed up at the 61-story building before us -- a lump in my throat, my stomach knotting up -- as Warner wound up concluding arguments in his defense.

Look Melissa, nobody is even gonna notice me, much less what I'm wearing. Nobody will even see us when we check in. You are so paranoid.

And then the Mercedes pulled up to the front, the car door was opened, and there stood a dozen of the Banyan Tree's top executives and staff. The general manager. The assistant manager. The head of PR. The media relations executive. The head of food and beverages. And a half dozen more– all beautifully-coiffed and wearing the most elegant clothes – and beaming the sweetest smiles in what was the warmest welcome we've ever received, and one appreciated all the more since we'd just flunked out of W's cool school.

Then I remembered my hideous frizzed-out pyramid-shaped hairdo. And then I looked at Warner – unsuccessfully trying to hide himself and his red Indians t-shirt behind his camera bag. And then I realized that they were there to welcome us to the hotel -- and the dinner at Vertigo – and there was no way I could back out of the rooftop dinner on the 61st floor now.

Except for one thing.

Hope it doesn't rain, said the general manager George as he escorted us into the hotel. We've had to close Vertigo twenty nights in the past month because of the weather.

I looked up at the gray clouds hovering on the horizon. Rain! I silently commanded. Rain!

Gray skies, as viewed from the Banyan Tree, promised rain but didn't deliver. Photos: Steve Warner
Frazzled and snippety though I'd felt only minutes before, the tension dissipated upon entering the spacious lobby, which looks out onto a tropical garden and where a woman sat lightly tapping on a Thai instrument that's like a xylophone gone exotic. Hostesses escorted us up the elevator for the in-room check-in; distracted by their conversation, I didn't notice how high we were shooting until seconds later, the elevator opened – on, eek, the 52nd floor, where candles flickered and the air was scented with sandlewood. Our rooms were actually club suites – with a tasteful living room where more candles flickered and incense was burning; on the table stood a bouquet of orchids, a heaping bowl of tropical fruits, a lemongrass welcome drink -- and a bottle of wine. Beyond the turquoise Japanese-like screen sliding door, a lovely mural was painted over the king side bed. The view onto the Chao Phraya River was fantastic and surprisingly didn't make me go weak-kneed, as long as I kept my distance.

After I'd selected the goose down pillows from the pillow menu, the hostess ran through the many percs of the club suite, among them 24-hour use of the executive lounge (where food, booze and wireless internet are free); complimentary drycleaning (four pieces a day); a complimentary 10-minute head and shoulder massage; roundtrip limo to the airport or a 90 minute master massage, personalized letterhead stationary, if desired. Someone arrived bearing a ceramic tray with the welcome gift from the spa -- exfoliating salt scrub; inside the bathroom were cosmetic bags with wood brushes and fine toiletries, in the closet hung four robes – two cotton, two satin. At night, sweets appeared bedside – along with gifts, such as bundles of incense and sachets.

Banyan Tree rules in the world of amenities, and I was blissed out drinking them in. Including the complimentary water – bottles of which stood in most every corner.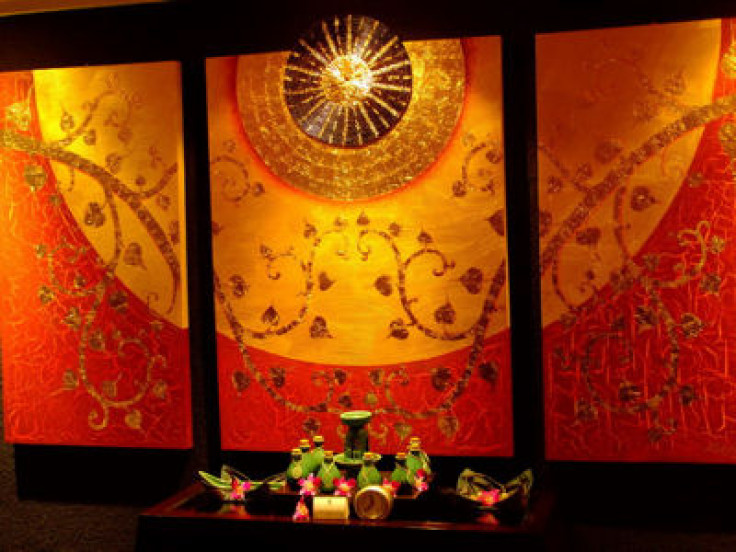 After I dashed off to have my hair de-pyramided at the 21st floor spa, known for treatments such as rain mist, where you are massaged while experiencing a sauna/steam room simultaneously, PR exec Bancha – a personable young gent decked out in a fine suit – and his equally affable (and well-dressed) colleague Pop led us on a tour, including of the two-story presidential suite. It was impressive with two living rooms, a kitchen, and a dining room, and offers such a sweeping, majestic view of the city that to wake up there would make you feel like a king, even if you're a woman.

Think of the dinner parties we could have here wouldja, said Warner, hovering over the long dining room table that stretched out along the front wall, which was mostly an arching window. I was, however, busy obsessing about the dinner we'd be having in mere hours on the roof. If I could get there.

The hotel's been undergoing a head-to-toe makeover – by next year every corner will have been renovated -- and Pop gave us a preview of a whole new wing of flashy contemporary suites igoing in. Chic and decorated in muted gold tones, they epitomized understated luxury – with well-thought-out design and a sumptousness that was evident but didn't whack you over the head.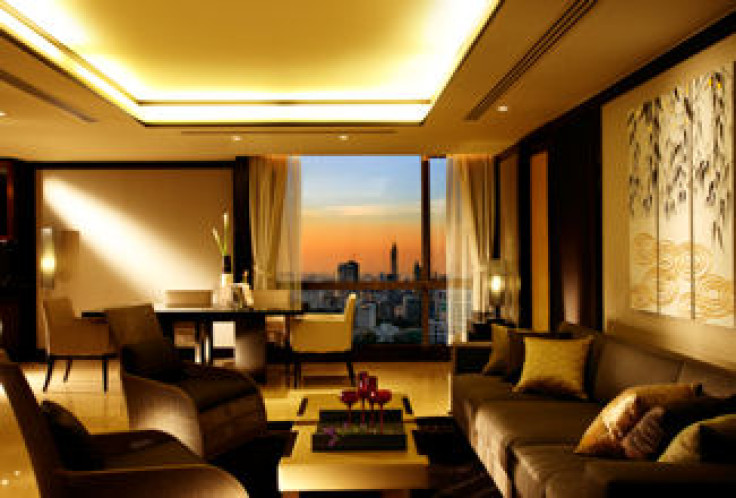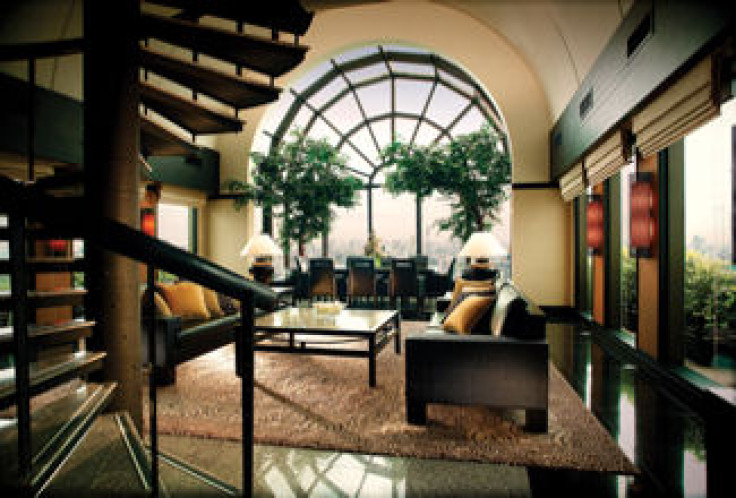 Banyan Tree's new contemporary suites (left) and Presidential Suite (right). Photos: Banyan Tree Bangkok
Heightwise, I was doing just fine. I was beginning to think that maybe I could pull off the dinner after all.

Until, that is, I gazed out of the wall-sized window next to a bathtub, and involuntarily shuddered.

Bancha caught it.

Melissa, he said, looking me straight in the eyes, you're afraid of heights!

Well, a little. Kinda. A wee bit.
But you have a reservation at Vertigo tonight!
And don't I know it. I've been thinking of nothing but for the past month.

I looked out the window again, this time upward. The sky had unfortunately cleared. No sign of rain.

Are you up for it, Melissa?

It was the moment I was dreading. The one where I was going to have to fess up and back out.

But I couldn't.

Well, I certainly hope so.

He flashed me a look both wary, but kind.

I think we better take you up for a trial run.

Yikes. The moment of truth.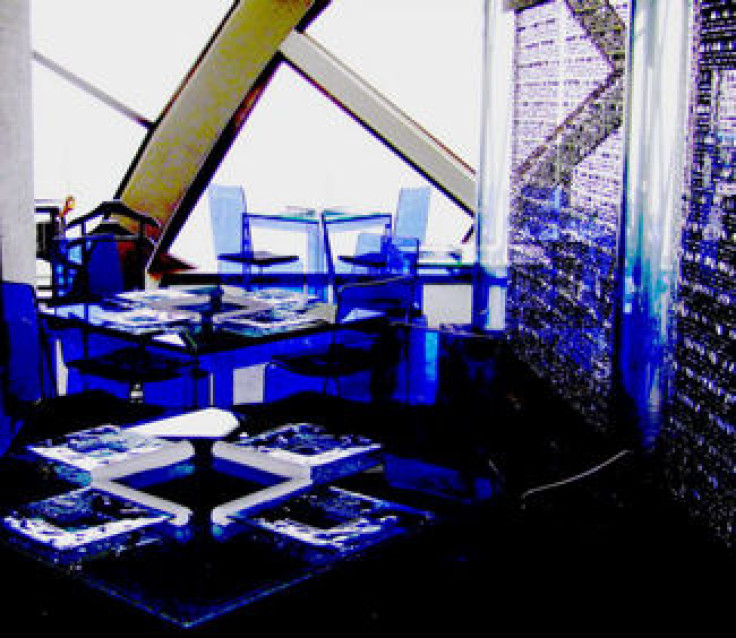 Maybe it was the color: a gorgeous and energizing cobalt blue emanated from the Latitude 59 Bar. For some reason, I didn't have the least bit of fear there – even though it was on the 59h floor. Then again, it had walls.

Ok follow me, said Bancha, leading me up a curved stairway. Now try the terrace.

I followed him right out on a small open terrace off the bar, barely flinching, and hardly gritting my teeth.

He led me to another flight of stairs, this one entirely open.

Vertigo's right up there, he said. Why don't you go check it out while it's light?

I looked at that flight of stairs, about twenty of them. I'd gotten this far; those open-air steps were all that stood in my way. I tried to lift up my foot. It ignored my command. I tried again. But the psychological barrier was too great.

Bancha, I'll wait to conquer those stairs tonight.

Frankly, I wasn't sure I could do it – and although he reassured me, I knew Bancha wasn't sure I could make it up either.

And that's when I remembered the Chinese Astrology Deluxe Good Fortune kit that I'd bought in the temple in Hong Kong.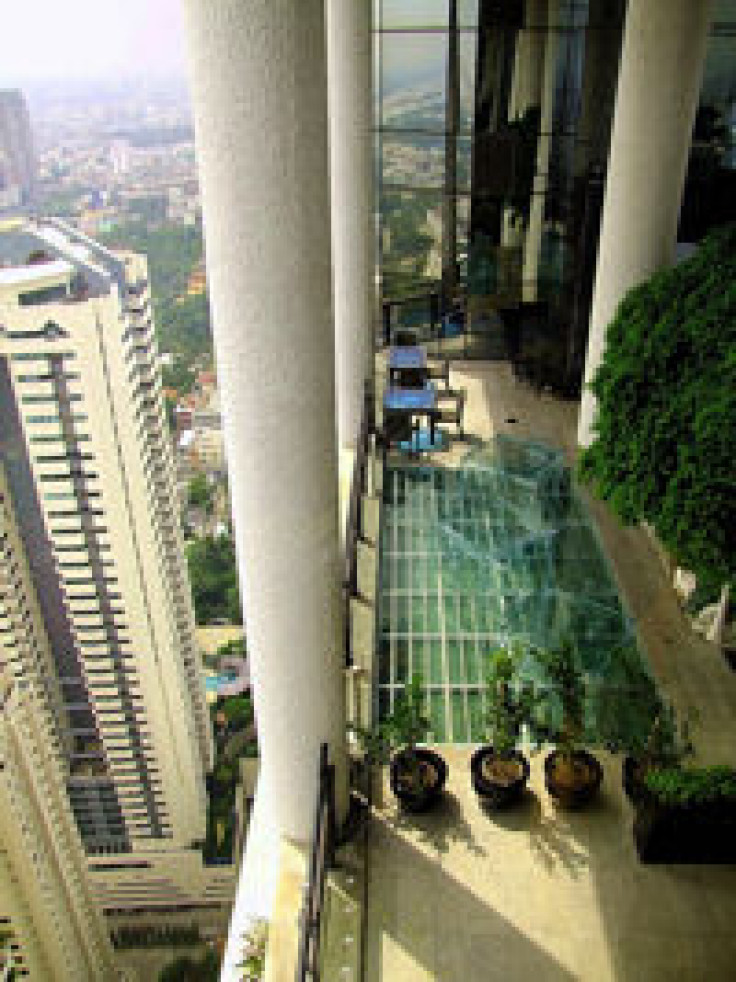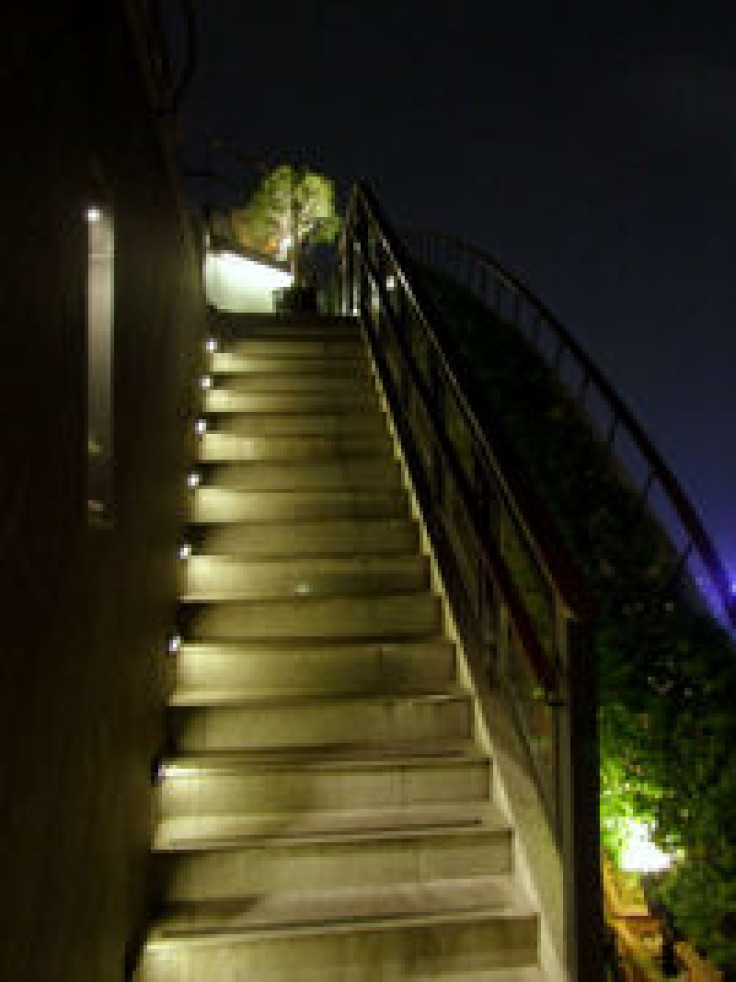 I could make it to the 60th floor terrace of the Latitude 59 (left), but the stairway to Vertigo(right) proved daunting. Photos above and top left: Steve Warner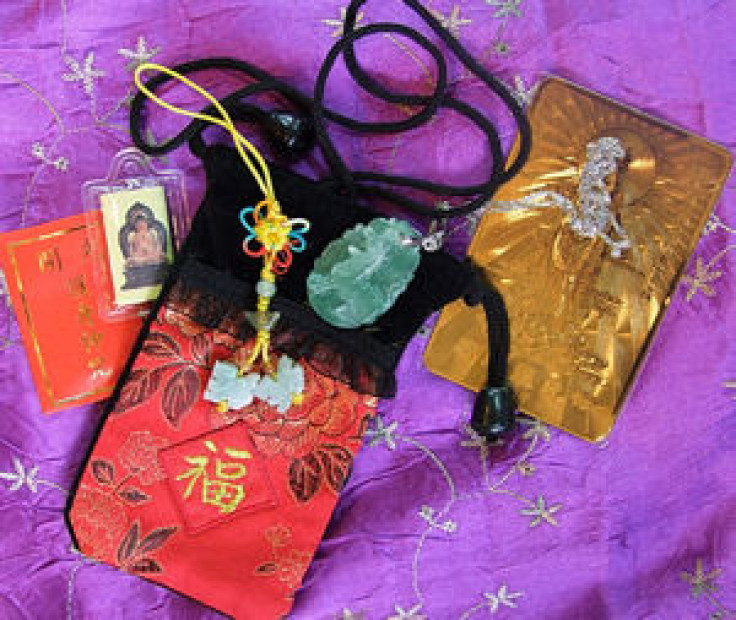 Back in the suite, I tried out the salt scrub, took a bath with the scented oils, slipped into a robe, and ripped open the plastic-wrapped Chinese Astrology Deluxe Good Fortune kit. It was no doubt psychological – as was my phobia – but I somehow felt calmer and more confident when I picked up the carved jade pendant on white silver chain, and the smaller jade carvings on yellow strings (with a guide on how to tie lucky knots), and the gold card with a picture of a goddess. Unseen comfort seem to pour out when I opened a small red envelope that held a tiny packet, with a mantra inside (written in Chinese). Recalling the promise of the temple saleslady that the kit would protect me from harm and bring me fabulous fortune, I placed all the charms in the handy good luck bag of red silk, and slipped the bag into my beaded evening purse, happy that I'd ignored Warner's scoffs when I packed it along with several other evening bags. It's too small to hold anything, he'd chided. Well, it was the perfect size for carrying the Deluxe Good Luck kit with me to dinner. I slipped on an outfit from India (that Warner hates) and walked out.

Warner gave my outfit a funny look and opened his mouth, then wisely closed it. The charms were indeed working like a charm, and my trust in their powers only increased when one of the hostesses suddenly appeared in the hallway. Love your outfit, she said.

Warner loved the executive lounge, he noted, as we stepped into the elevator. He'd been up there for the previous hour working on the Internet, eating caviar and drinking scotch.

How many girls gave you their numbers so far? I asked.

He looked mystified. None. Everybody was real friendly – they all called me 'Mr. Warner,' but they're really professional here. It's obvious the staff is very well-trained.

The elevator opened on the 59th floor, and we climbed the covered stairs, following my previous walk-through. We crossed the terrace of the Latitude 59 Bar. And there we were -- at the foot of the open-air stairs that led to Vertigo. I pulled my bag close. And I walked up the steps effortlessly.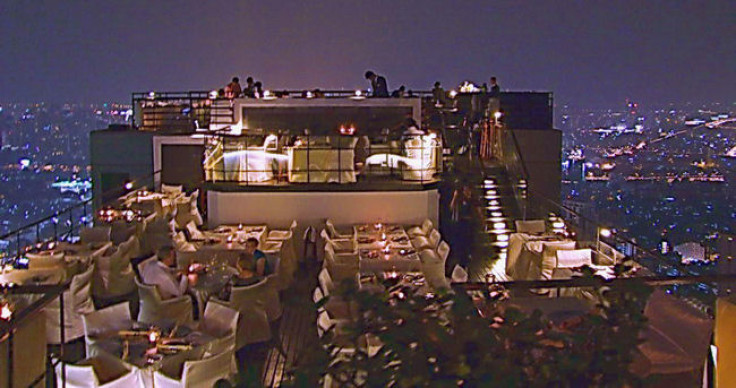 Vertigo at last. Photos above and below: Steve Warner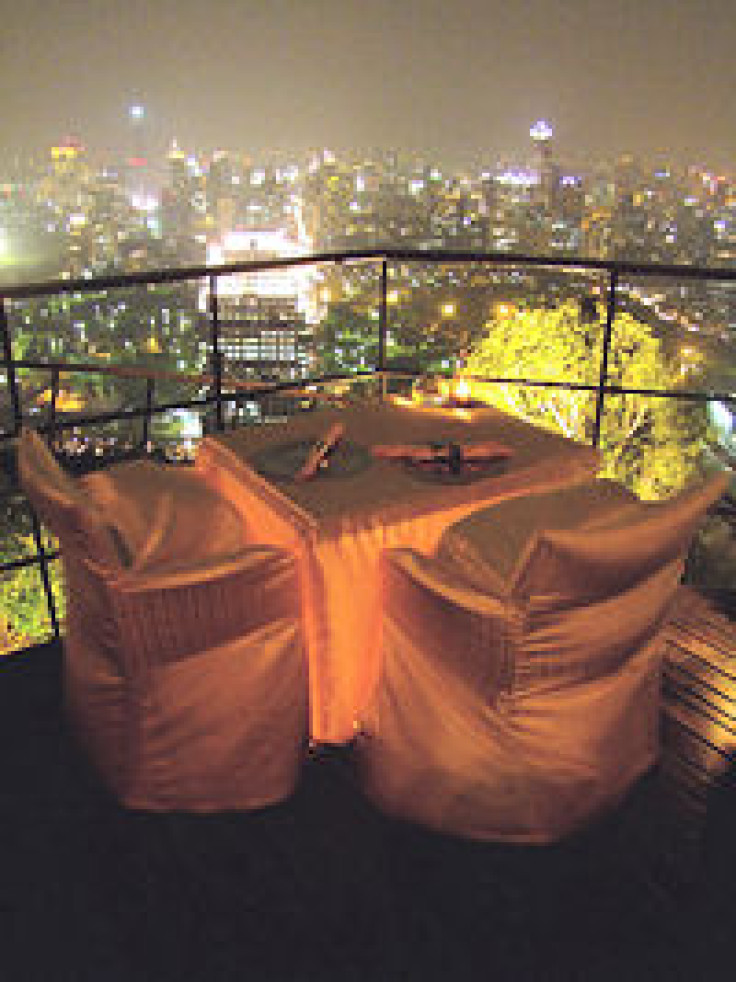 Oh my god! said Warner, as we were seated at the table – happily in the center of the terrace, not too close to the rails, so I wouldn't have to fret about fork-dropping from these heights. This is so cool! Wow! Amazing! He grabbed his camera, and began taking shots, running up and down stairs that connected the different levels on the terrace, yelling over at me, This is so incredible!

It was, I had to admit, truly exhilarating – the setting creating a euphoria that I've rarely felt. The lilacs of twilight were deepening, turning into magentas and purples, the inky black of night was just beginning to trickle down over the skyline that spread out below like twinkling jewels. An unusual mix of diners was being led to the tables: formally-dressed older couples in jackets and evening dresses, jean-clad hipsters, young couples in love, tourists from East and West, well-heeled locals; a table of gay Thai men celebrated a birthday to our left, a musician from Ireland and his family dined to our right. And everywhere, everybody was wowwed, swept away in the adrenaline high of hanging out at that height.

Suddenly the soft breeze turned into a gust, rustling the white table clothes. A drop plunked down on my hand. Then another.

Don't rain! I commanded. And thanks to my good luck charms, the rain stopped.

Then the procession of food began, each plate arriving under silver dome, each course matched by wine.

The feast opened with a salad of warm goat cheese, smoked duck and pecan, served with a delicate Sauvignon Blanc from Chile.

Fantastic! declared Warner.

A puree of butternut squash was presented, the dome pulled off with panache by the waiter, who laughed at our expressions when we noticed that the bowls contained only cubed squash. And here is the rest, he announced, gracefully pouring in the creamy soup from small silver pitchers.

Yum! announced Warner.

For the main course, he opted for sirloin steak, served with an Australian Shiraz/Cabernet, while I went for the roasted Wild Tasmanian Salmon, matched with a glass of Chardonnay from New Zealand.

This is the best dinner I've ever had in my life, Warner cooed. For me, it was the most perfect, from the beautifully-prepared food to the awesome setting to the impeccable service, which was the finest wed experienced in years.

After dessert -- a luscious baked cheese cake drizzled with fruit coulis and served with Australian Brut -- I walked over to the bar to check out the view from the highest point of the terrace, passing the table of Thai men en route, and wishing happy birthday to the birthday boy. When I returned to the table, Warner looked odd.

What's the matter? I asked.

Somebody finally gave me their number.

Who? I scanned the crowd trying to assess which gal had been waiting for my brief absence from his side to numerically fling herself on him this time.

The birthday boy, he said glumly. I thought you'd enjoy that.

Those charms did indeed have special powers.

The amazing dinner now over, Warner wanted to return to the executive lounge for a nightcap. But I lingered on the rooftop, perching at the bar, where I ordered a glass of dessert wine. As I peered down at the glimmering city of Bangkok below -- the sky train that appeared a miniature toy set and the cars that looked like tiny gold bugs in toothpick-thin streets-- as I ignored the fact that a frail metal rail was all that separated me from a half-mile tumble of doom, my thoughts turned to director Gus Van Sant. I tipped my glass in the direction of Portland, silently thanking Gus was directing me here. And then I tipped my glass in the direction of Hong Kong, silently thanking the temple for providing the charms that helped me conquer my fear.

It wasn't until I returned to the suite that I noticed my beaded cocktail bag was still on the bed, the magic charms still wrapped in the silk bag tucked within. Looking at the bag slung over my shoulder, I realized I'd grabbed the wrong purse.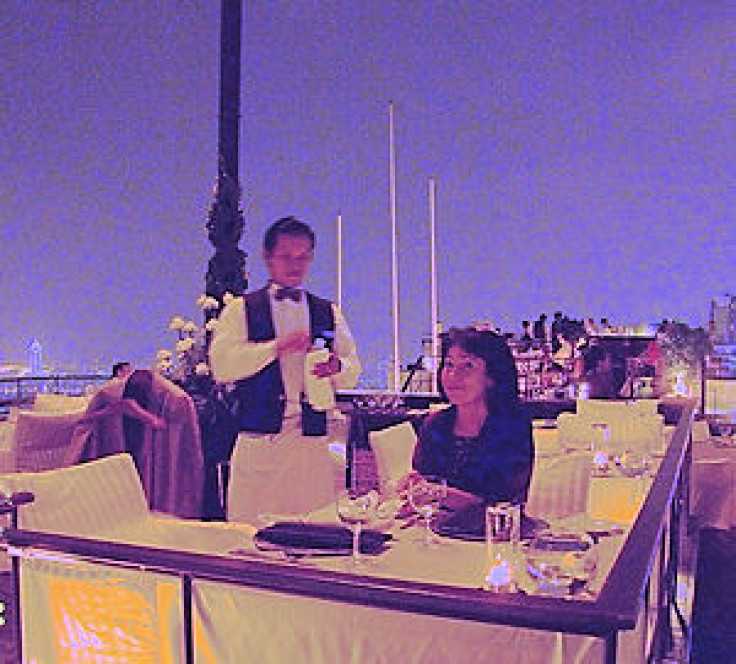 Text: Copyright Melissa Rossi, 2008.
Steve Warner photos: Copyright Steve Warner, 2008.
Travel writer and author Melissa Rossi is gallivanting across Asia researching the next book of her What Every American Should Know series for Plume/Penguin Books. The fifth volume of the series, about the Middle East, comes out in December 2008. Photographer and mapmaker Steve Warner, who indeed is Kansas-born (although he isn't a hog farmer), is traveling across Asia with Rossi.