Duchess Camilla Offered To Meet With Prince Harry, Meghan During UK Visit, Royal Expert Claims
KEY POINTS
Duchess Camilla offered to meet with Prince Harry and Meghan Markle when they were in the U.K., royal expert Neil Sean claims
She allegedly reached out to the couple on behalf of her husband Prince Charles
The royal expert claimed that Prince Harry and Markle declined to meet with his stepmother
Camilla, Duchess of Cornwall, offered to meet with Prince Harry and Meghan Markle while the couple was in the U.K. earlier this month, but the Sussexes turned down the offer, a royal expert has claimed.
Neil Sean, who has been featured as a royal commentator and correspondent on Fox News, Access Hollywood, Sky News Australia and more outlets, reported, citing an unnamed source, that Duchess Camilla had reached out to Prince Harry and Markle on behalf of her husband Prince Charles, whose relationship with his younger son reportedly remains strained. International Business Times could not independently verify his claims.
"She has seen firsthand how difficult this terrible situation has become for [Charles]. He doesn't like confrontation in any way so in a lot of situations, as Camilla has spoken about in that recent [British] Vogue interview, she takes these things on herself," Sean claimed.
However, Prince Harry and Markle allegedly declined to meet with his stepmother, who was "willing to meet anywhere at their discretion," according to Sean's source.
Sean suggested that it may have a connection with the memoir Prince Harry is working on and reportedly plans to release later this year.
"One has to suggest that perhaps Camilla could feature very heavily in Prince Harry's book," Sean suggested, adding that the rift between the father and son could worsen if Prince Harry is less than kind and fair to Camilla in his book.
A year after he and Markle stepped down from their roles as senior working royals and moved to California, Prince Harry said in a March 2021 sit-down interview that he feels "really let down" by his father.
"There is a lot to work through there," he told Oprah Winfrey of his relationship with Prince Charles. "I feel really let down, because he's been through something similar. He knows what pain feels like. I will always love him, but there is a lot of hurt that's happened. I will continue to make it one of my priorities to try to heal that relationship."
Earlier this month, People's chief foreign correspondent Simon Perry said that Prince Harry's estrangement from his family is "an ongoing sore that shows no sign of easing soon" and is a source of "pain and hurt" for both Prince Charles and Prince William.
Prince Harry and Markle reunited with the royal family earlier this month when the couple traveled to the U.K. for the Platinum Jubilee celebrations. However, the Sussexes were not seen publicly interacting with any of his immediate family members, including Prince Charles and Prince William, who were also in attendance at the Jubilee service on June 3 that Prince Harry and Markle attended.
As for Camilla, royal biographer Christopher Andersen previously claimed to Us Weekly that both Prince William and Prince Harry were "completely blindsided" by Queen Elizabeth's announcement in February that she wants Camilla to be known as queen consort when Prince Charles becomes king.
The author of "Brothers and Wives: Inside the Private Lives of William, Kate, Harry and Meghan" further claimed that the decision is "driving a wedge" in the royal family.
At the time of the Queen's announcement, Prince William and his wife Kate Middleton responded publicly by liking the monarch's statement on Instagram. Prince Harry, however, didn't make any public statement.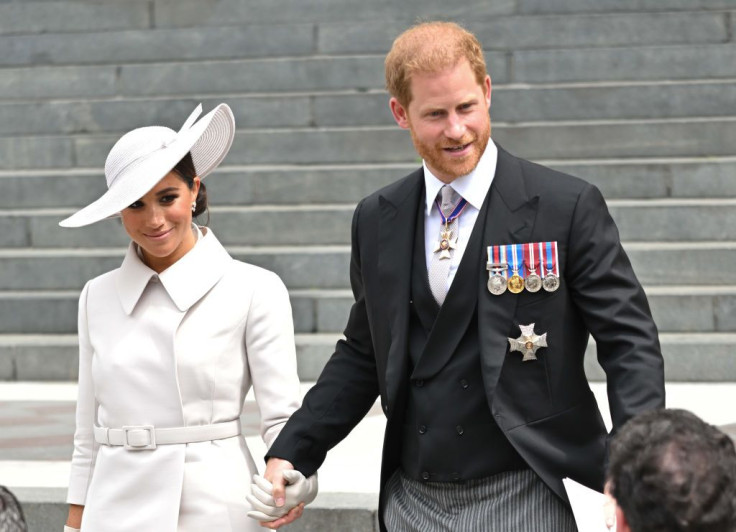 © Copyright IBTimes 2023. All rights reserved.