Prince Harry Saw Meghan Markle As A 'Way Out' Of Royal Life, Princess Diana Biographer Claims
KEY POINTS
Prince Harry started talking about leaving royal life just months after marrying Meghan Markle, biographer Andrew Morton claims
Morton claimed Prince Harry and Markle had considered settling down in New Zealand
The Duke of Sussex is "cursed with charisma but hates being a prince," according to the journalist
Prince Harry "hated" royal life and saw his wife Meghan Markle as a "way out," a biographer of Princess Diana has claimed.
British journalist Andrew Morton, who recently released his 25th book "The Queen," shared his thoughts on Prince Harry and discussed the Duke of Sussex's plans for his departure during an interview on the Mirror's royal podcast, "Pod Save the Queen."
"[Harry and Meghan] were thinking about living in New Zealand, and they even spoke to the prime minister of New Zealand about this, so they had all kinds of plots and thoughts for their future," Morton claimed of the couple, who visited New Zealand in 2018 during their first major royal tour together outside the U.K.
"It didn't work out because when it actually comes down to it, Prince Harry is cursed with charisma but hates being a prince, and I think that he saw Meghan as a way out," he added. "They didn't have to leave the royal family in the way that they did, but they did."
The "Meghan: A Hollywood Princess" author went on to claim that Prince Harry spoke to Oprah Winfrey about his plans right after he and Markle returned home from their 16-day royal tour of Australia, New Zealand, Tonga and Fiji. International Business Times could not independently verify this claim.
"Harry was having conversations in a London hotel with Oprah Winfrey back in November 2018, just six months after they'd been married," Morton claimed. "So they were thinking about a different direction of travel pretty early on."
Prince Harry and the former actress wed in May 2018 and announced nearly two years later that they intended to step down from their senior royal duties. The couple relocated to California in March 2020, with Buckingham Palace confirming the following February that their exit would be made permanent.
Royal biographer Tina Brown, author of "The Palace Papers," also told Page Six back in April that she believes Prince Harry had "wanted out" of the palace long before their 2020 announcement.
"I do think it's wrongly called Megxit," Brown said. "He wanted out and she enabled him to do what he wanted. She was strong enough to say, 'You know what? You want out. I can make it happen.'"
Brown claimed that Prince Harry has shown that he "absolutely hates" royal life, and Markle helped him find a way out.
"If not but for Meghan he wouldn't have found a way out because he basically was a man who had everything done for him all of his life," the author claimed. "He had never carved a life for himself. Meghan was very much a self-starter, a self-made successful woman. She knew who to call at Netflix. He wasn't worldly like Meghan was worldly."
However, royal author Tom Quinn told Us Weekly that he thinks Prince Harry and Markle hope to rejoin the monarchy someday as "part-time" royals when his father Prince Charles takes over the throne.
"I think Meghan and Harry are hoping … Charles will be open to [them being] part-time royals, which is what they wanted from the start," he claimed. "Of course, the Queen — who grew up with this sense that you're either in fully or out fully — she wouldn't allow [it]. But … Charles may well allow this."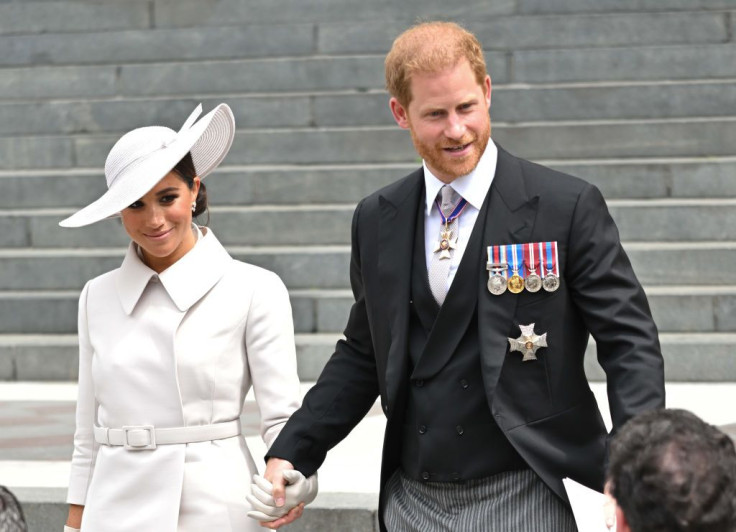 © Copyright IBTimes 2023. All rights reserved.