DuckDuckGo And Duvamis: Google, Facebook Alternatives Promise Privacy And Protection From PRISM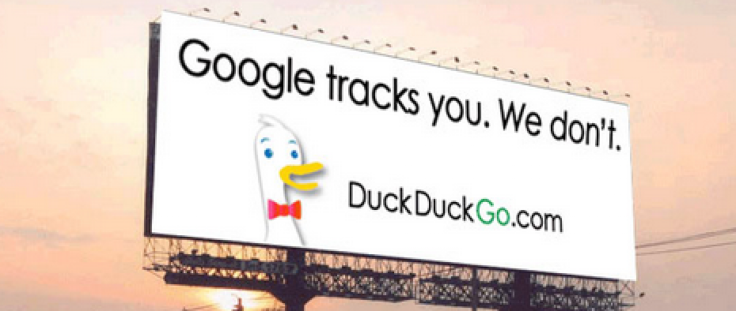 Since the revelation of a secret NSA program called PRISM that monitors the data of several major Internet companies, many U.S. citizens are more concerned about how they access the Internet. Google, Microsoft and Yahoo have all been connected with PRISM, as well as social networks like Facebook. This has created a new demand for alternatives, especially ones that emphasize privacy and anonymity.
Perhaps the best known of these is DuckDuckGo, which describes itself as a "private search engine." DuckDuckGo says it doesn't save searches, send information to third parties or store any personal information from users. The search engine is also vocally opposed to filtering searches and Web browser tracking, and the DuckDuckGo home page is currently a link to sign the StopWatching.US petition.
DuckDuckGo launched in 2008 but took almost four years to reach 1 million searches. But since PRISM, things have quickly picked up. It only took 483 days to reach 2 million searches and just eight days after that to reach 3 million. DuckDuckGo updates its traffic daily, and it isn't surprising that the sudden spike in traffic coincides with the breaking of the PRISM story.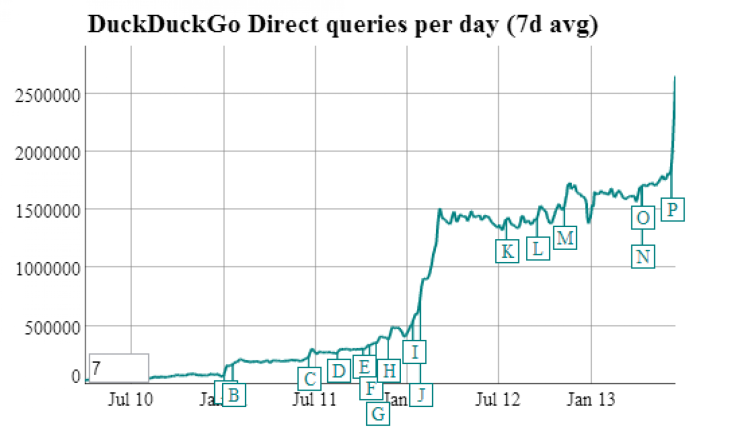 While it's no secret that Facebook collects and uses a lot of personal information from users, the thought that Facebook could be giving this data to the NSA has people looking for ways to socialize online with more privacy. Duvamis, a new anonymous social network, hopes to solve this issue.
"Given the latest privacy concerns brought to light by the NSA's surveillance program, a social media platform like Duvamis could prove to be a critical tool for everyday people wanting to voice their opinions without feeling like their every move is being monitored," Chris Blake, a representative of Duvamis, told Upstart Business Journal.
Duvamis launched Tuesday and said it is the first social network that can guarantee anonymity to foster free expression and self-discovery. It remains to be seen if the network turns into a home for hate speech, like the anonymous comments on YouTube videos.
DuckDuckGo and Duvamis feature advertisements, but both assure that they will not violate the anonymity of users. The ads on DuckDuckGo are served through Bing Ads and will be targeted based on the context of the search, but DuckDuckGo will not track or remember these searches. Similarly, Duvamis offers businesses a "precisely selected audience" for advertisements. It's unclear exactly what this means, but some sort of tracking must be involved.
Will you try out DuckDuckGo as an alternative to Google, Bing or Yahoo? What about using Duvamis as an anonymous social network? Let us know in the comments section.
© Copyright IBTimes 2023. All rights reserved.