E-Cigarettes Make Their Way Into Hollywood Movies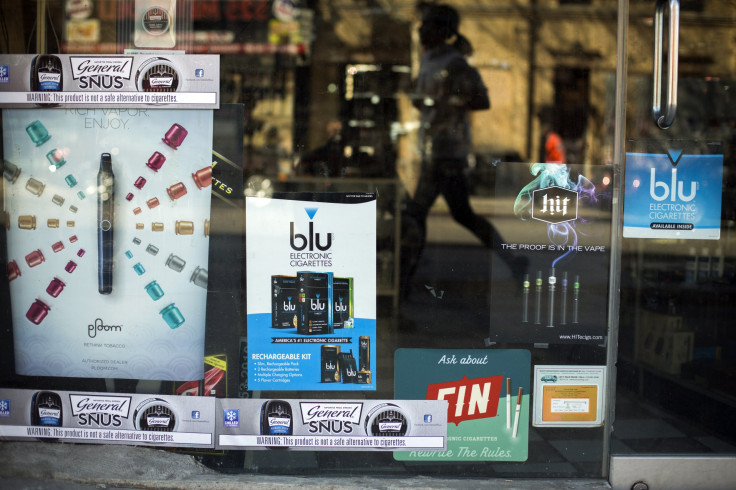 E-cigarette companies may be taking a page out of Big Tobacco's old playbook. While the former has been banned from paid product placement in Hollywood films for nearly two decades, e-cigarette companies are not. And it looks like they are seizing opportunities to buy their way onto the big screen, the Wall Street Journal reports.
A new film adaption of William Shakespeare's "Cymbeline" will show the main actress, played by Milla Jovovichm smoking a SmokeStik brand e-cigarette. The Canadian company bought its place on the movie -- the same way candy, soda and restaurants have been doing for years. As e-cigarettes are considered a safe alternative to tobacco cigarettes, e-cigarettes brands can promote their products with a clear conscience.
"I don't see a problem with glamorizing something that saves lives," Bill Marangos, SmokeStik's chief executive told the Journal.
SmokeStik isn't alone in trying to get into the Hollywood game. Vapor Corp., one of the major e-cigarette distributors, has brought on Ryan Kavanaugh, the CEO of Relativity Media LLC, to its board of directors. Kavanaugh, who has helped produce hit films like "Don Jon," will be paid in company shares to help bring Vapor's e-cigarette brands to films and television.
Tobacco companies were once allowed to participate in this marketing scheme, but a 1998 agreement between state governments and tobacco companies banned cigarette brands from paying to place their products in movies and on televisions shows. But while it was active, the strategy was a powerful one. Research published in Current Directions in Psychological Science in 2009 showed teens with high exposure to smoking in movies were three times as likely to try smoking than those who were not.
While Big Tobacco could not pay for products to be shown in films or have celebrities as their spokesmen, cigarettes were still allowed on camera. After the 1998 agreement, however, there was a drop in cigarettes being featured in films, a recent study indicated. Before 2000 the number of tobacco appearances in films ranged from 54 to 98 per year, then declined to 22 per year after 2006.
These numbers are aligned with smoking rates in teens, which has dropped to the lowest levels in more than two decades at 15.7 percent, the U.S. Center for Disease Control reports.
While teens may be saying no to traditional cigarettes, e-cigarettes have become popular among the younger generation. There are 466 brands and more than 7,700 flavors on the market -- including ones like gummy bear and marshmallow that critics say specifically attract younger consumers. Usage among teens doubled from 2011 to 2012 with nearly 7 percent of American teens having tried them, according to a recent paper in the journal Pediatrics. And if e-cigarettes are allowed on the big screen, then these numbers may rise.
Pamela Ling, a professor at the University of California San Francisco who studies tobacco marketing says regulation will likely happen, but until it does, e-cigarette companies are going to try and get away with as much product placement as they can.
"There is a spirit of, 'As long as we can get away with this, let's do it now!'" she told the Journal.
Celebrities already have been spotted "vaping" -- the term used to describe the use of e-cigarettes. Julia-Louis Dreyfus and Leonardo DiCaprio were seen taking puffs at the 2014 Golden Globe Awards. Jenny McCarthy, a co-host on ABC's "The View" is the official spokesperson for bluCigs. Courtney Love is the new face of NJOY. Johnny Depp and Sean Penn have also been spotted with e-cigarettes.
Proponents of e-cigarettes say the devices, which contain nicotine but no tobacco, are safer than traditional cigarettes since they contain fewer toxic substances, and can help people smoke less or quit. But critics argue e-cigarettes allow "smokers" to sidestep smoking bans in public places. The long-term health effects of e-cigarettes are still unknown, and there is no current data that proves e-cigarettes help tobacco smokers to quit.
This concept, known as harm reduction, "is probably the most important and the most contentious issue that the tobacco community is dealing with right now," Tom Glynn, the former top scientist on the e-cigarette issue at the American Cancer Society, told the Associated Press.
In April, the U.S. Food and Drug Administration proposed e-cigarettes undergo an agency review that would require the products to include health warnings, a minimum age requirement and prohibit vending machine sales. The agency did not outline when new regulations would go into effect. In August, the American Heart Association urged the FDA to make changes by the end of this year.
"We are fiercely committed to preventing the tobacco industry from addicting another generation of smokers," Nancy Brown, CEO of the American Heart Association, said in a statement. "Recent studies raise concerns that e-cigarettes may be a gateway to traditional tobacco products for the nation's youth, and could renormalize smoking in our society."
© Copyright IBTimes 2023. All rights reserved.