E3 2018: 'Sea Of Thieves' Upcoming Expansions Feature Skeleton Crews, Apocalyptic Land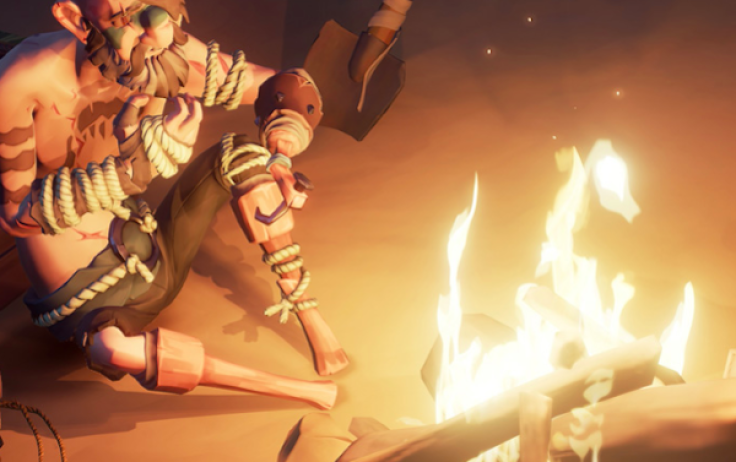 At E3 2018, Rare released a new teaser trailer for the upcoming "Sea of Thieves" expansions, Cursed Sails and Forsaken Shores. By the looks of things, the two new DLC packs will bring in more exciting elements to the multiplayer sandbox game.
The promotional clip gives a cinematic look at what's in store for the upcoming updates. Cursed Sails will introduce skeleton crews that will rise from the depths to curse the seas. On the other hand, Forsaken Shores is described as "a place of darkness where fire and ash consume all."
The trailer portrays the new expansions in a way that makes them seem like hellish and apocalyptic, especially the new land in Forsaken Shores. The place appears to have some volcanoes that spew out lava. Big rocks also appear to be falling from the elevated regions, making the island very dangerous and deadly.
Cursed Sails is set for release in July. Meanwhile, Forsaken Shores is scheduled to launch in September, Eurogamer has learned. The two follow The Hungering Deep update that went live in late May. The May 29th update introduced a new threat to seafarers and other additions.
For the new expansions, fans should expect single-player campaigns just like The Hungering Deep. Such campaigns will allow players to tour new content for a limited time, though the expansions will remain in the game, according to Polygon.
"Sea of Thieves," which was released on March 20, 2018, has been criticized for its lack of content. In early April, IBTimes reported at how some players complained about the missing items from the official version of the game.
At the time, it was found out that there were 132 items that were noticeably present in the beta and demo versions, but didn't make it to the final version. Some players also called out Rare for overhyping and allegedly lying about the end game.
With the announcement of new expansions, it seems Rare is reassuring fans that more content is coming to the game so they just need to patiently wait for the updates. More details about the two expansions are expected to be revealed soon.
© Copyright IBTimes 2023. All rights reserved.