EBay Cautious in Short Run as Europe Weighs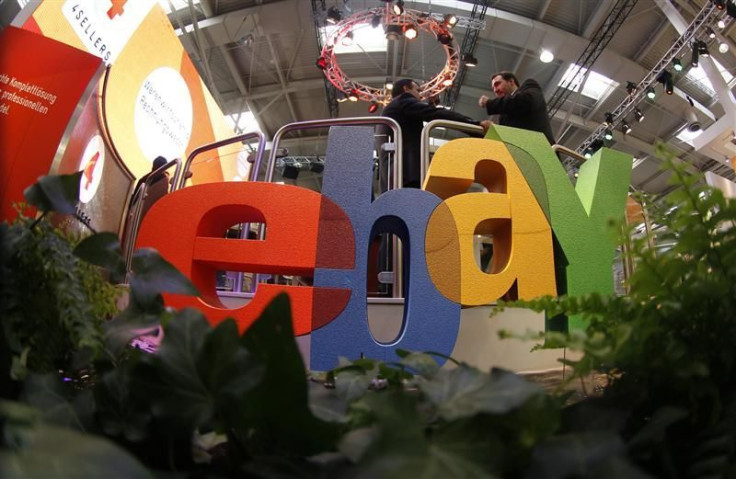 EBay Inc gave a conservative quarterly sales forecast despite unveiling better-than-expected results, warning that a weak European economy may take the gloss off rip-roaring growth in online commerce.
But CEO John Donahoe -- who is overseeing a turnaround in its core marketplaces division and pitting a company once synonymous with auctions against Amazon.com Inc -- remained confident about the longer-term outlook, citing robust e-commerce growth and strength in its PayPal online-payments arm.
Shares of the company gained 2.4 percent to $31.07 in after-hours trading following the earnings report.
In early 2012, a weakening euro may also dent eBay's bottom line. The recent decline of the currency against the U.S. dollar reduces the value of sales in euro zone countries when converted to greenbacks. Currency volatility also restrains cross-border transactions, a profitable source of growth for PayPal.
They're exemplifying the bearish outlook for the currency by telling people how much the weak euro will affect their earnings in the next quarter. They want to under-promise and over-deliver, said Bill Smead of Smead Capital Management, which owns eBay shares.
But earnings are going to grow 15 to 20 percent a year for years, and all these little wiggles in the short run are just noise.
In the long run, EBay is riding a growth wave as more shoppers buy online and via smartphones and tablet. It benefits from this trend because Marketplaces charge fees on transactions and other activity. PayPal also takes a cut of a rising volume of electronic payments processed on its network.
The company forecast first-quarter profit of 50 cents or 51 cents a share and revenue of $3.05 billion to $3.15 billion. Analysts were expecting first-quarter earnings of 54 cents a share and revenue of $3.16 billion, according to Thomson Reuters I/B/E/S.
HEADWINDS FORECAST
The company's main marketplaces business, however, is growing roughly in line with e-commerce.
Donahoe said e-commerce has evolved into a fixed-price business and away from the online auctions that eBay pioneered in the 1990s.
EBay's fixed-price business, which accounts for about 65 percent of volume, grew 15 percent in the fourth quarter in the U.S. and bigger, top-rated sellers grew 19 percent, Donahoe noted during an interview with Reuters.
Meanwhile, auctions grew 2 percent in the fourth quarter.
This part of the business is unique and profitable and adds to our selection, Donahoe said. We'll do our best to have this market grow.
Gross Merchandise Volume, or GMV, on eBay's online marketplaces in the United States rose 10 percent in the quarter from a year earlier, excluding auto-related sales.
Its international GMV grew 9 percent.
Colin Sebastian, an analyst at RW Baird, said that growth was slightly weaker than expected. That was partly driven by a decline in the price of gold, which is frequently bought and sold on eBay's online marketplaces, he said.
Chief Financial Officer Bob Swan said growth in Germany, a big market for eBay, continued to be sluggish, during a conference call with analysts.
EBay generates about 30 to 40 percent of its revenue in Europe, where many economies have been dented by the debt crisis.
We remain anxious about the European economy and the impact of weaker European currency on our cross-border transactions, Swan told analysts.
Still, eBay raised the midpoint of its 2013 revenue forecast by about $550 million and lifted its estimate for PayPal's profit growth, CFO Swan noted.
EBay shares should trade at a higher multiple to earnings but are unlikely to match richer valuations of faster-growing rivals, Smead said.
EBay reported fourth-quarter net income of $2 billion, or $1.51 a share, compared with $559 million, or 42 cents a share, a year earlier. Revenue rose 35 percent to $3.38 billion.
It recognized a big gain from the sale of its remaining stake in Skype during the fourth quarter. Excluding that and other items such as stock-based compensation expenses, profit was $788.6 million, or 60 cents a share, the company said.
Analysts, on average, expected eBay to earn 57 cents a share on revenue of $3.32 billion.
(Reporting By Alistair Barr; Editing by Andre Grenon, Bernard Orr, Steve Orlofsky, Gary Hill)
© Copyright Thomson Reuters 2023. All rights reserved.