Ebola Fears Spark Cabin Cleaners Strike At LaGuardia Airport In New York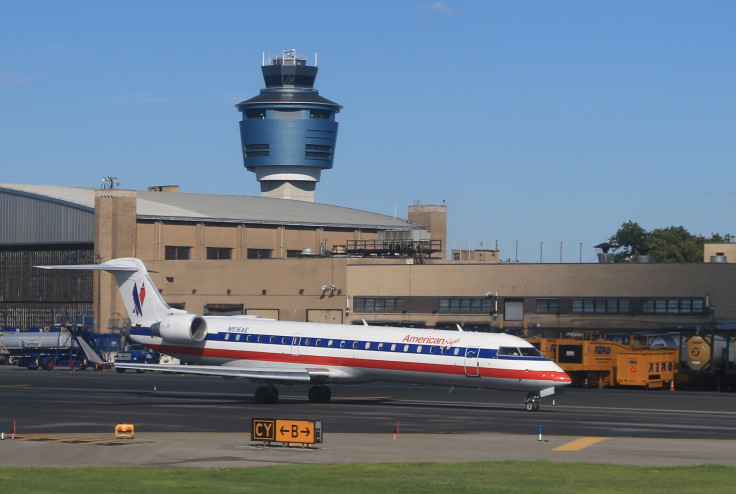 Airline cabin cleaners worried about Ebola have gone on strike at New York's LaGuardia Airport. Around 200 Air Serv workers walked off the job Wednesday night at Terminal D and began picketing outside the airport Thursday morning over what they say are unsafe working conditions, the Associated Press reported.
Cabin cleaners say they are worried about possible exposure to the deadly virus as their work often brings them into contact with vomit, blood and even hypodermic needles, protestors said. Cabin cleaners lack the appropriate protective gear that would shield them from Ebola, although the risk of becoming infected is extremely low given that only about 150 people travel each day from the West African countries affected by Ebola and passengers leaving the region are screened at the airport for fever and signs of illness. Anyone with the virus is only contagious once he or she is having symptoms.
Air Serv workers have expressed grievances with other aspects of the job, including employee cuts and difficult demands like cleaning an entire plane in as little as 5 minutes, according to the AP. The cabin cleaners are seeking to unionize and began the 24-hour strike Wednesday night. Protestors carrying signs reading "Air Serv Treats Us Like Garbage" chanted during Thursday morning's rally.
LaGuardia Airport is not among the five U.S. airports that will begin new health screening procedures aiming to weed out anyone who may be sick with Ebola. Kennedy International in New York, Washington Dulles International in Virginia, O'Hare International in Illinois, Hartsfield-Jackson International in Georgia and Newark Liberty International in New Jersey will begin taking people's temperatures upon arrival as early as this weekend, but only for flights coming from West Africa.
© Copyright IBTimes 2023. All rights reserved.