Economy to get hit as jobless benefits to 2 mln Americans run out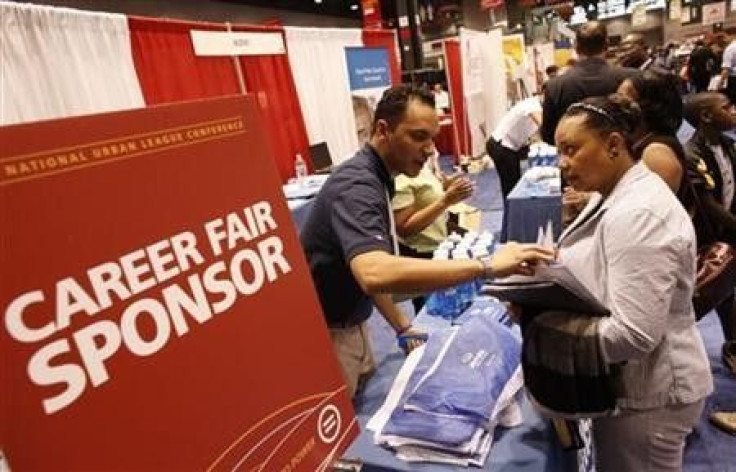 A Senate wrangle over soaring budget deficits on Tuesday stopped the passage of a crucial extension of unemployed benefits to millions of Americans experiencing the sting of the worst jobs crisis in three decades. The failure of the lame duck Congress to extend benefits will cut off sustenance payments to two million people in December, adding to the woes of home losses, bankruptcies and foreclosures, besides also setting back the economic recovery.
Here's a quick lowdown on the situation.
THE WRANGLE
The Senate passed an extension of unemployment insurance to 2.5 million people in July this year, a measure that inflated the deficit by $34 billion. The decision meant a program to give up to 99 weeks of unemployment aid to jobless millions would continue until the end of November.
However, a bill to extend those benefits beyond November stumbled in the lame-duck Congress on Tuesday as Republicans and Democrats could not resolve long-term disagreements.
While Republicans have said they support extending benefits, they fiercely oppose plans that will further inflate the federal budget deficit. They have stuck to the argument that the funds for unemployment benefits should come from savings elsewhere in the federal budget.
According to the Democrats, the Republican argument is hypocritical since they were pushing hard for an extension of Bush-era tax cuts for the wealthy.
According to NPR, the issue of the expiry of the jobless benefits was not even mentioned by Republican Senate leader Mitch McConnell when he spoke of the meeting he and other congressional leaders had Tuesday with President Obama at the White House.
Meanwhile the Democrats said they didn't have enough numbers to see the bill through the Senate.
I don't know how we can sit down and talk about tax cuts for people who have jobs at the highest income categories and ignore the suffering and struggles of people who are unemployed through no fault of their own, said Dirk Durbin, a high-ranking Democratic member of the chamber.
Republican Senator from Massachusetts Scott Brown summed up the GOP opposition to the plan to extend jobless benefits: Make no mistake, I agree that they need help, but I look at it, are we going do it from the bank account, or are we going to put it on the credit card?
WHO ARE AFFECTED?
About 2 million people will be deprived of their unemployment benefits by the end of December. Of this, around 800,000 will be cut off from the program in less than two weeks while as many as 1.2 million would stop getting check by the end of December.
Some Democratic Senators expressed puzzlement and anger at the inability to paper over legislative differences to provide the worst-hit people with immediate relief.
I feel terrible about it, particularly in West Virginia where everybody's fighting to survive all the time. And we have to do it …Why we haven't done it I don't know, West Virginia Democratic Sen. John D. Rockefeller said.
Under the program almost 8.5 million people are receiving an average weekly payment of $300.
THE COST
The National Employment Law Project (NELP) has projected that extension of the benefits would cost about $56 billion in a year, worsening the federal budget deficit further and adding to the country's debt pile that has gone beyond $13 trillion.
However, according to a Congressional Budget Office report, every $1 spent on unemployment benefits has the potential to create up to $1.90 in economic growth as jobless payments are immediately used up by recipients on their daily expenditures.
IMPACT ON ECONOMY
The jobless are not the only ones who will feel the pain of the imminent cut-off unemployment benefits. Analysts have argued that the entire economy will hurt as stoppage of the payment will mean choking spending by almost $5 billion every month. It's been assessed that people out of jobs for six months will have depleted their savings and they will be spending the weekly cash receivables immediately.
According to an economist with Washington-based economic think tank Economic Policy Institute (EPI), the economy will be deprived of $5 billion in spending every month. Each month, almost 1 percent of the GDP will be taken out of the economy if we don't extend benefits, and that's going to be a massive drag on growth.
According to a Labor Department report issued during Bush presidency, unemployment benefits during the recession helped save as many as 1.6 million jobs in each quarter and reduced jobless rate by 1.2 percent.
JOBS RECOVERY?
Analysts have said there are still no clear signals the jobs market will return to robust levels any time soon. It has been pointed out that labor market conditions have to improve a lot more and generate more jobs to catapult a recovery though the rate of job losses have come down.
Our econometric model suggests that payroll employment increased by around 130,000 in November. That would be consistent with other evidence showing that labour market conditions have yet to improve by enough to reduce the unemployment rate significantly. We continue to believe that the unemployment rate will remain above 9% for at least the next two years, Capital Economics analyst Paul Dales wrote in a note last week.
Private payroll employment rose 159,000 employment in October, which was the largest gain April. Though this gave rise to hope that employment would soon start to grow by the 200,000 per month necessary to reduce the unemployment rate considerably. However, a month later payroll employment numbers dipped to 130,000.
© Copyright IBTimes 2023. All rights reserved.