Eddie Murphy Busts Out Bill Cosby Impression Despite Initial Refusal To Perform It On The 'SNL 40th Anniversary Special'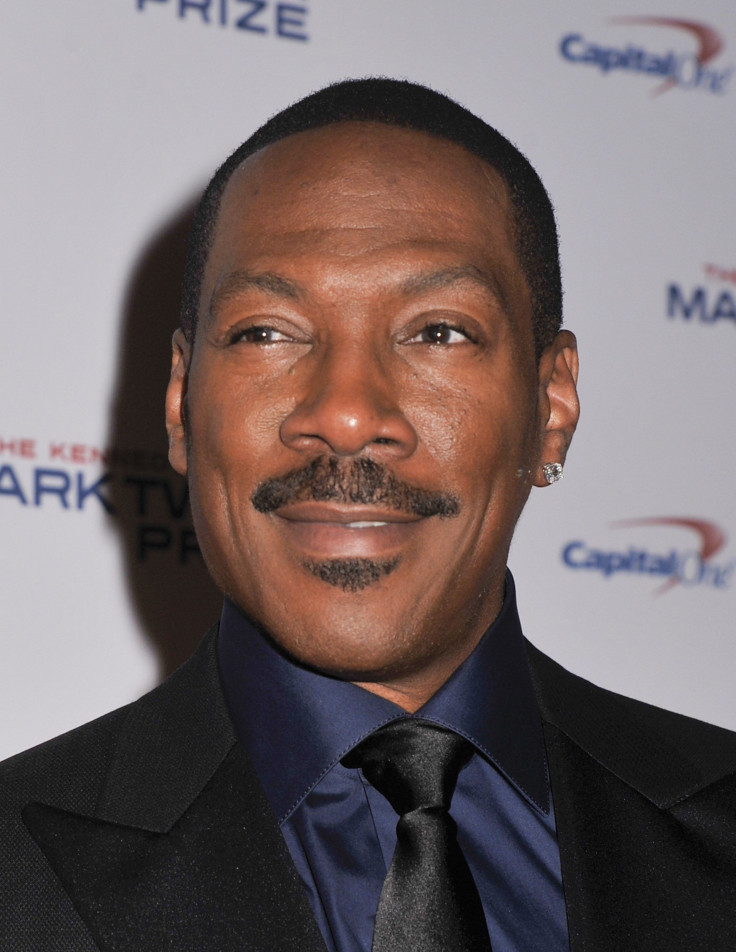 After making a pretty good case against the idea at February's "Saturday Night Live 40th Anniversary Special," Eddie Murphy busted out his time-tested Bill Cosby impression onstage Sunday night while accepting a prestigious award that the disgraced comedian once received. The impression didn't dig its claws too deep into Murphy's former comedy idol.
In the video below, courtesy of the Associated Press, Murphy takes the stage to accept the Mark Twain Prize for American Humor in Washington, D.C. In the past the award has been given to influential figures such as Richard Pryor, Whoopi Goldberg, Bob Newhart, Lorne Michaels, Ellen DeGeneres and Tina Fey. Cosby received the award in 2009, but Rolling Stone reported that he was forced to give it back after multiple women came forward accusing the 78-year-old comedian of rape.
"You know you've f---ed up when they want you to give your trophies back," Murphy said to the crowd's thunderous laughter and applause. Clearly sensing the crowd's positive reaction, the 54-year-old comedian went for broke and launched into his trademark Cosby impression saying: "I'd like to talk to some of the people who feel ... that I should give my motherf---ing trophies back!"
The moment was relatively tame considering what a comic could do with the fruitful area that is the Bill Cosby allegations. In fact, this isn't the first time Murphy pulled his comedic punches on the Cosby subject. Following the "SNL 40th Anniversary Special," Norm Macdonald released a very long series of tweets about his experience returning to the show after 17 years. Among the stories included in the Twitter rant was an explanation of why Murphy took a more serious approach to his appearance on the special. Macdonald revealed that Murphy was supposed to be part of a Bill Cosby joke on "Celebrity Jeopardy" but refused so as not to pile onto Cosby. Kenan Thompson played the part instead.
"He knew the laughs would bring the house down," Macdonald wrote in a series of tweets (via Mashable). "Eddie Murphy knows what will work on 'SNL' better than anyone. Eddie decides the laughs are not worth it. He will not kick a man when he is down. Eddie Murphy, I realize, is not like the rest of us. Eddie does not need the laughs. Eddie Murphy is the coolest, a rockstar even in a room with actual rockstars."
Murphy later made a statement about the "SNL 40th Anniversary" incident, explaining to the Washington Post that he didn't want to make his big return to Studio 8H after so many years to be about this news story regarding comedy legend Cosby.
"There's nothing funny about it," Murphy said. "If you get up there and you crack jokes about him, you're just hurting people. You're hurting him. You're hurting his accusers. I was like, 'Hey, I'm coming back to "SNL" for the anniversary, I'm not turning my moment on the show into this other thing.' "
You can see the impression in question in the video below (beginning around the 2:19 marker). Add your comments about the impression or tweet them to @TylerMcCarthy.
© Copyright IBTimes 2023. All rights reserved.