'The Edge Of Seventeen' Star Hailee Steinfeld Brings John Hughes-Esque Movie To Life At CinemaCon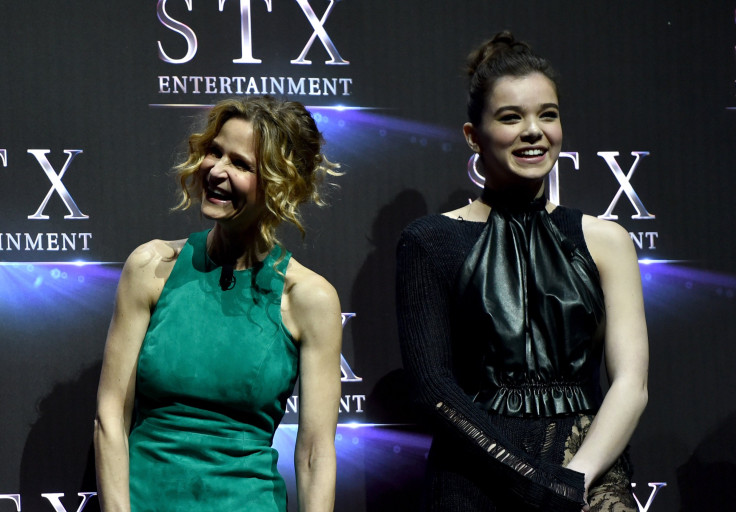 LAS VEGAS — STX Entertainment is prepping to release a coming of age story for the 21st century.
Just as John Hughes was able to expertly capture the true emotions of children and teens on screen in his 1980s classics, newcomer Kelly Fremon is shining a light on being a teenager in 2016 with "The Edge of Seventeen." Hailee Steinfeld stars as a high school student on the cusp of adulthood trying to balance the social aspects of life in the comedic drama, which is both directed and penned by Fremon.
STX presented the first trailer for the film Tuesday at CinemaCon in Las Vegas, and it didn't disappoint. In it, Hailee's character, Nadine Byrd, says there "two types of people" in the world, those who "radiate confidence" and those who hope that people "die in a big explosion." Her being the latter, she finds little solace in the world of high school and connects with just one other, her best friend Krista (Hayley Lu Richardson).
Nadine's world comes crushing down on her when she discovers her one and only pal is in love with her hunky and popular brother (Blake Jenner). When her mother (Kyra Sedwick) in no help to her plights, she goes looking for guidance from a teacher, played by Woody Harrelson, and also finds little comfort. After she tells him she's going to kill herself, he too says he's planning his own suicide and writing his farewell letter beforr having his small lunch break interrupted by a whining student with poor fashion sense. Despite his lack of support, she goes back to him for other inquiries, asking if her romantic sext to her crush was appropriate. (Spoiler alert: It's definitely X-rated.)
At CinemaCon, "The Edge of Seventeen" star dished about her role. Despite being an actress and up-and-coming singer, Steinfeld said she's surrounded herself both with longtime friends and family and has known s normal life. "I've had 19 years of it," she quipped when asked if she had enough teen experiences to fill the role. Calling the script both "honest" and "truthful," she said she was able to "identity with so many moments" in the story.
"The Edge of Seventeen" premieres in theaters Sept. 30.
© Copyright IBTimes 2023. All rights reserved.