Election 2016: Biden Meets With Fundraiser Who Worked For Obama, Amid Presidential Bid Speculation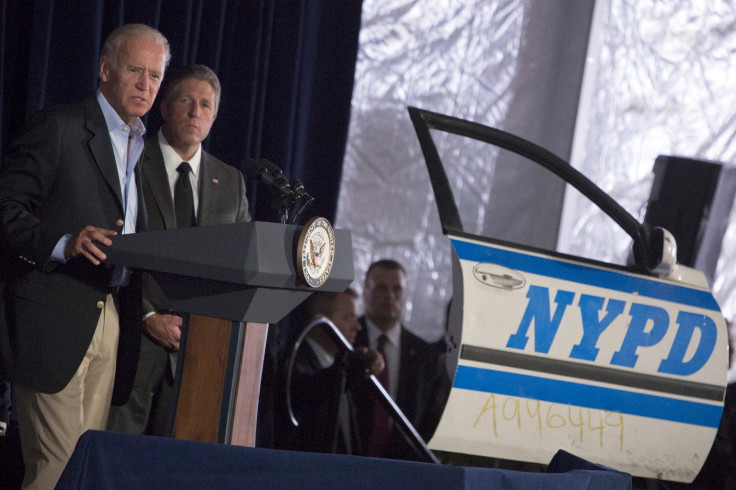 Vice President Joe Biden reportedly met late last week with one of the top fundraising bundlers for President Barack Obama's presidential campaigns during a trip that included a stop on the Late Show with Stephen Colbert and a prominent Sept. 11 memorial service in New York City. The bundler, for the time being, is publicly committed to backing former U.S. Secretary of State Hillary Clinton to win the Democratic nomination and then the presidency.
Biden met with UBS Americas former Chairman and CEO Robert Wolf, according to Bloomberg, for about 90 minutes to have a private conversation in Biden's hotel room in Manhattan. There has been plenty of talk in the past few weeks of a potential Biden presidential run; however, he hasn't officially made a decision either way at this point.
The meeting could prove to be a pain for the Clinton campaign, however, as it struggles to push back against mounting criticism of her perceived lack of honesty and questions about her use of a private email server during her time at the State Department. Her support for the Democratic nomination has dropped in percentage from the mid-60s in May to 44.2 percent support now in averages of national polls by Real Clear Politics. She's followed by a rising candidate, Vermont Sen. Bernie Sanders, whose own polling has dropped to 22.6 percent from his high of 26.3 percent at the end of last month. Biden is in third, at 20.3 percent, but has seen rising support as speculation around a potential presidential run has swirled.
If Wolf drops Clinton in favor of Biden, that could indicate further weakness for the Democratic front-runner. It would also provide a valuable fundraising connection with Wall Street for Biden, who has limited connections to that industry. Wolf raised half a million dollars for Obama's presidential campaigns in both his 2008 and 2012 runs.
Follow me on Twitter: @ClarkMindock
© Copyright IBTimes 2023. All rights reserved.