Election 2016: Donald Trump, Paul Ryan To Meet To Work Out Differences; Party Unity Top Priority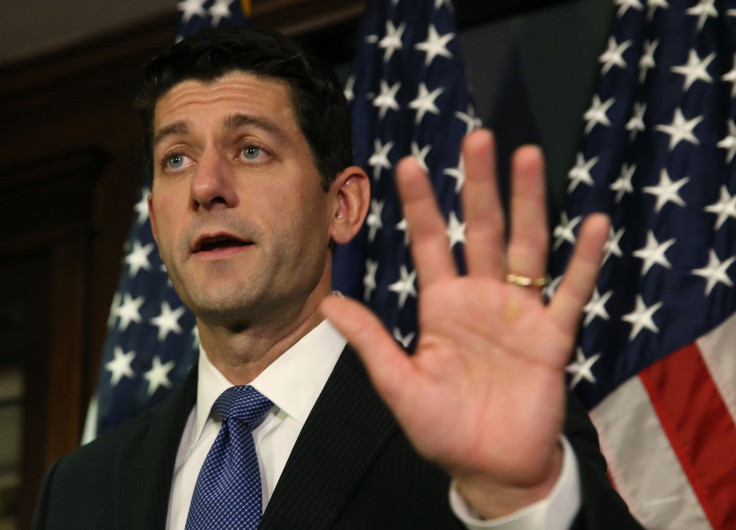 UPDATE: 5:40 p.m. EDT — In an interview to be aired Sunday on ABC's "This Week," Trump said he is confident of winning the presidency, even without the support of the Republican Party.
"Does it have to be unified? I'm very different than everybody else, perhaps, that's ever run for office. I actually don't think so," Trump said. "I think it would be better if it were unified, I think it would be -- there would be something good about it. But I don't think it actually has to be unified in the traditional sense."
Trump predicted he will pick up support among Democrats.
"I'm going to get Bernie [Sanders] people to vote, because they like me on trade," Trump said.
UPDATE: 5:20 p.m. EDT — Presumptive Republican nominee Donald Trump says he was "blindsided" by House Speaker Paul Ryan's remarks that he cannot yet support the real estate mogul.
"Yeah, I was blindsided a little bit, because he spoke to me three weeks ago, and it was a very nice call, a very encouraging call," Trump said in an interview to be broadcast Sunday on NBC's "Meet the Press." "He called me, I think, to congratulate me about New York, 'cause I won by massive numbers."
In an interview Thursday on CNN, Ryan, R-Wis., said he cannot yet endorse Trump, that he's "just not ready."
"I like Paul Ryan. I think he's a very good guy," Trump said. "He called me three weeks ago, and he was so supportive. It was amazing. And I never thought a thing like this."
Trump said he's only met Ryan once and doesn't know him very well.
Original story:
Now that "U.S. President Donald Trump" is no longer a punch line, Republican leaders are scrambling to determine whether they can live with their presumptive nominee.
House of Representatives Speaker Paul Ryan, R-Wis., who differs with Trump on major issues, agreed to a sit-down next week to see whether they can hash out differences while 2012 GOP standard-bearer Mitt Romney reportedly discussed an independent run.
Trump became the presumptive Republican presidential nominee this week after the Indiana primary election. His convincing win prompted his remaining rivals, U.S. Sen. Ted Cruz of Texas and Ohio Gov. John Kasich, to suspend their campaigns. But the action failed to produce the groundswell of support Trump will need to capture the White House come November.
In a CNN interview Thursday, Ryan said he cannot yet endorse Trump, that he's "just not ready." Trump responded by saying he's "not ready to support Speaker Ryan's agenda." Ryan, who had been touted as a possible presidential contender should there have been a contested GOP convention this summer, then invited Trump to meet with him and other members of the House leadership next Thursday.
Ryan and Trump don't agree on much. The House speaker has rejected the presidential candidate's call for a ban on Muslims entering the U.S.; is opposed to raising taxes on the wealthy, an idea to which Trump is open; supports the Trans-Pacific Partnership trade deal, which Trump has labeled a mistake along with other trade deals; has been critical of easing relations with Cuba while Trump says a 50-year embargo has been long enough; and is against Planned Parenthood, which Trump says provides vital services other than abortion.
Ryan also backs granting legal status to undocumented immigrants, something to which Trump is vehemently opposed; would maintain the minimum wage as is while Trump says it's too high; opposes the concept of eminent domain, which Trump has used to his advantage; would raise the eligibility age on Social Security while Trump is against cutting any entitlements, and is against giving Medicare the ability to negotiate with drug companies, which Trump says is a mistake.
Meanwhile, the Washington Post reported Romney met this week with William Kristol, the editor of the Weekly Standard, at the J.W. Marriott hotel in Washington to discuss a possible independent run for the White House.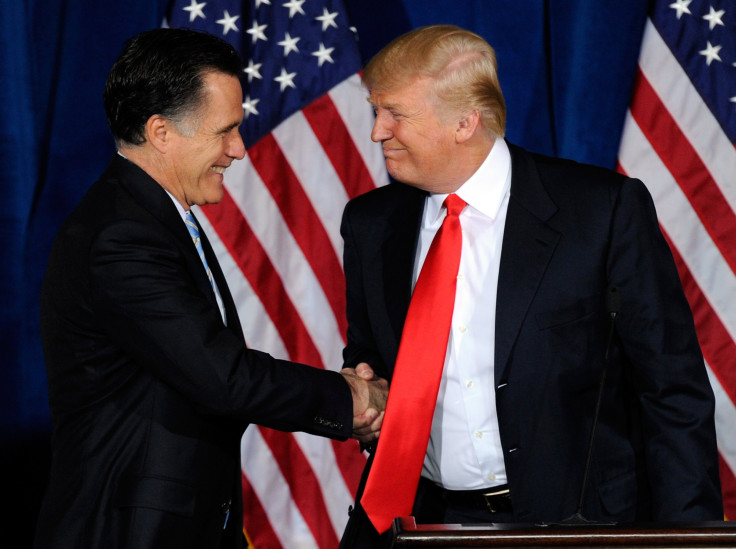 "He came pretty close to being elected president, so I thought he may consider doing it, especially since he has been very forthright in explaining why Donald Trump and Hillary Clinton should not be president of the United States," Kristol told the Post.
The Post said Kristol has been attempting to recruit a prominent right-leaning military or political figure to run as an independent. But Romney indicated later in the day he's not that person, although he doesn't "intend on supporting either of the major-party candidates at this point."
Romney in March delivered a speech criticizing Trump and urging party members not to vote for him. "His is not the temperament of a stable, thoughtful leader," Romney said, calling Trump "a phony" who is "playing the American public for suckers."
Meanwhile, Trump is wasting no time. The real estate mogul has asked son-in-law Jared Kushner to begin putting together a White House transition team, the New York Times reported. Kushner, 35, the publisher of the New York Observer, is married to Trump's daughter Ivanka.
However, the road to 1600 Pennsylvania Ave. will not be a smooth one. The nonpartisan Cook Political Report forecast 16 states are solidly in the Democratic column, including the electoral gold mines California, New York and Illinois, representing a solid base of 190 electoral votes. Its analysis has three more states likely falling Democratic and six more leaning that way, for a total of 304 electoral votes, leaving four states as toss-ups (44 electoral votes) and just 190 electoral votes for the Republican candidate.
© Copyright IBTimes 2023. All rights reserved.