Election 2016: Is Donald Trump A Serious Conservative? Jeb Bush Doesn't Think So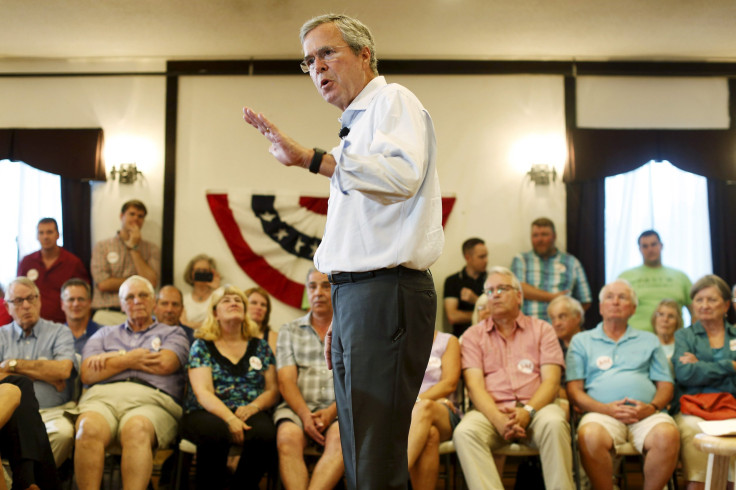 Donald Trump blasted Jeb Bush on a slew of issues Wednesday night, calling into question Bush's past statements on immigration, women's rights and the Iraq war. But, while Trump's platform may have afforded him more viewers and his event may have had more attendees, the former Florida governor certainly didn't lack the energy to take his own shots as the Republican front-runner.
"Mr. Trump does not have a proven conservative record," Bush told a crowd of about 150 in Merrimack, New Hampshire, less than 20 miles from where Trump was holding his own event. "We're a conservative party, aren't we, the Republican party? I think what people are eventually going to vote for is a proven conservative leader that's done it -- not talked about it -- that's actually done it. And I have a proven, [conservative] record -- consistent, proven, conservative record."
Then, Bush called into question whether or not Trump -- who was a longtime registered Democrat and has notably given money to Hillary Clinton and President Barack Obama in the past -- really is a Republican.
"He was a Democrat longer than he was a Republican. He's given more money to Democrats than he's given to Republicans," Bush said. He then questioned Trump's policies -- including a tax on assets that would place a 14 percent tax on assets totaling $10 million or more -- Trump's past embrace of a single payer healthcare system and what would be hundreds of billions of dollars to build a border wall to eliminate undocumented immigration."When people look at his record, it is not a conservative record."
Bush certainly knew that Trump was holding his own event just miles away. It wasn't until after he announced his town hall that Trump released details of his own, and Trump seemed to taunt the Bush campaign Wednesday night, taking special care to note how many more people were attending his event. He even said that Bush's audience was asleep and that Bush was "low-energy" to a crowd that, at some moments, interrupted with encouraging words of support.
Trump has made a point of attacking Bush, and his town hall was no different. During it, he attacked Bush's stance on Iraq, on women's health and on on Common Core education standards. He said that he doesn't see how Bush is electable and that his "low energy" made it difficult for him to get things done.
Bush finds himself in a tougher spot than anticipated with Trump now in the race. While he used to lead in polls in the Granite State, Bush has dropped behind Trump and finds himself struggling amid falling polls after what some considered to be a lackluster debate performance.
© Copyright IBTimes 2023. All rights reserved.