Election 2016: Trump Attacks Bush As Not Electable, 'Dumb' On Iraq, Immigration, Common Core And Women's Health, In New Hampshire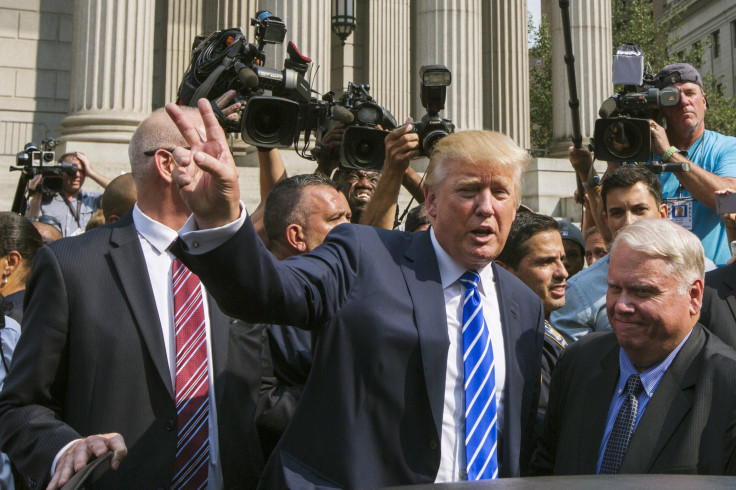 Donald Trump attacked former Florida Gov. Jeb Bush on Wednesday, saying, "I don't see how he's electable." Trump cited his rival's views on immigration, Iraq and the Common Core education standards.
"Have I gotten under Jeb Bush's skin? I don't know. I will tell you this: he said the other day one of the dumber things that I have heard ever in politics," Trump said, speaking to reporters before a scheduled town hall in Derry, N.H., that evening. "He said that we as the United States have to show [the Iraqis] that we have skin in the game in order to go into Iraq."
Trump went on to say that Bush was "out of touch" on women's health issues.
The unexpected front-runner also denigrated the former front-runner's personality. "Jeb Bush is a low-energy person," Trump said. "For him to get things done is hard. He's very low energy."
Jeb Bush on Immigration | InsideGov
The attacks took place while Bush, less than 20 miles away in Merrimack, N.H., held his own town hall. New Jersey Gov. Chris Christie was also scheduled to have a town hall event on Wednesday evening.
The nominating contest in the Granite State recently got competitive as Trump has pulled in support and overtaken Bush at the top of the Republican ticket. When asked why he scheduled his town hall event at the same time as Bush, Trump told the Wall Street Journal: "Because Bush draws so poorly, I figured it would be a good time to draw a crowd. Something like that."
Trump's remarks, at a press availability before his town hall meeting, were aired live on cable news networks. Bush's were not a point of focus for either CNN or MSNBC. Trump has seen rising polls over the months since his announcement, and polls recently showed him now competitive in a general election race against presumed Democratic nominee Hillary Clinton.
© Copyright IBTimes 2023. All rights reserved.
FOLLOW MORE IBT NEWS ON THE BELOW CHANNELS