Election 2016: Mike Huckabee First Conservative To Explore Presidential Campaign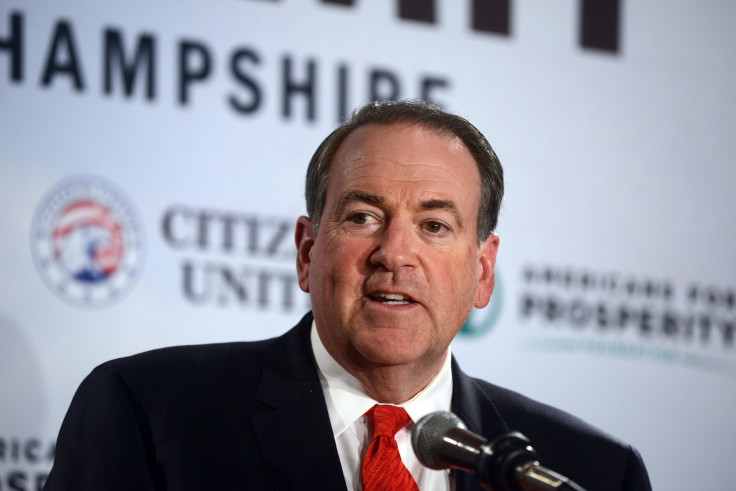 WASHINGTON -- Mike Huckabee, the former Arkansas governor and failed 2008 Republican presidential candidate, said Saturday he is leaving his gig at Fox News to explore a run for the White House. In 2008, Huckabee won the Iowa Republican caucus, but was unable to compete with Sen. John McCain for the nomination.
"God hasn't put me on Earth just to have a good time or to make a good living. God has put me on Earth to try to make a good life," Huckabee said as he ended his program. "This is the right thing, and now is the right time." But Huckabee warned that he isn't yet launching a campaign. "I'm not going to make a decision about running until late in the spring of 2016," he said.
Huckabee is the first conservative to take an official such a public step toward entering the race. If he ultimately runs for office, he's likely to compete for conservative voters in the GOP against candidates like Texas Sen. Ted Cruz, Kentucky Sen. Rand Paul and former Pennsylvania Sen. Rick Santorum, who won the Iowa caucuses in 2012. Former Republican Florida Gov. Jeb Bush has also acknowledged publicly he is exploring a 2016 campaign.
Since it's an open presidential campaign and no strong clear frontrunner on the Republican side, there is likely to be a long list of contenders trying to get into the race. For someone like Huckabee, there is little downside to making an initial campaign. If he finds he's unable to rally donors and supporters, it will still raise his profile and likely restore him to a prominent spot in the party.
Since his 2008 campaign, Huckabee has been a commentator on Fox News. That role has given him a prominent platform to communicate with Republican voters and stay engaged on national issues.
"There has been a great deal of speculation as to whether I would run for president," Huckabee wrote on Facebook. "I won't make a decision about running until late in the spring of 2015, but the continued chatter has put Fox News into a position that is not fair to them. The honorable thing to do at this point is to end my tenure here at Fox so I can openly talk with potential donors and supporters and gauge support."
Huckabee's more than six years on the Fox News channel could prove to be both a blessing and a liability for the former governor. While it has kept his profile prominent in GOP politics, it will also mean hundreds of hours of archive tapes with Huckabee commenting on every issue that has gained prominence. And while most of it will be in line with his political ideology, it's difficult to host a show every weekend that reacts to the breaking news without calling at least one situation wrong. His opponents could have a field day combing through the material.
Regardless, Huckabee has been a prominent figure among conservatives for many years. He spent more than 10 years as the governor of Arkansas, a role that allowed him to gain prominence pushing conservative ideas and acting as a foil for former President Bill Clinton, who was in the White House while Huckabee was running Little Rock.
Before that, Huckabee was a pastor. He worked at Baptist churches in Arkansas from 1980 to 1992 when he first ran for public office. During his 2008 campaign, he drew the endorsements of several prominent pastors and campaigned as a candidate behind whom Christians could rally.
Huckabee is also well-known for having lost a significant amount of weight while he was governor. Huckabee weighed 280 pounds while he was in office, but dropped to 170 pounds before launching his presidential campaign.
© Copyright IBTimes 2023. All rights reserved.