Election 2016: For Next Debate, Rand Paul Says He Won't Participate In Undercard Event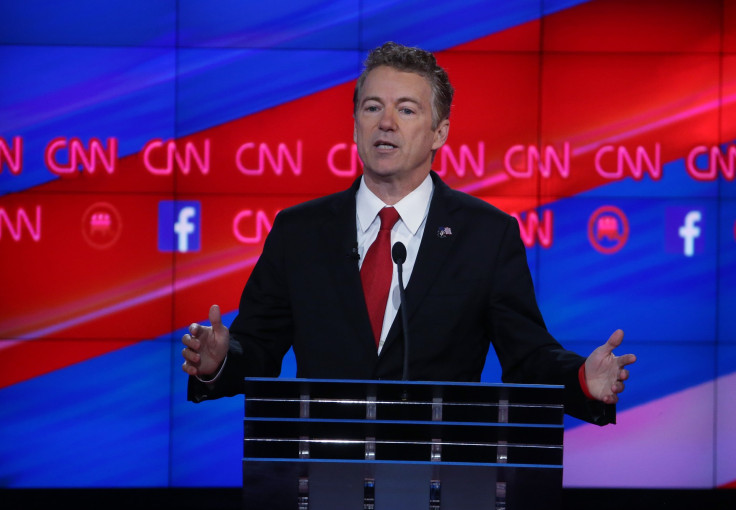 Republican presidential candidate and Kentucky Sen. Rand Paul said Wednesday he will not participate in a "second-tier" debate if he gets booted off the main stage by the Fox Business Network next month. The criteria for the next Republican debate could shrink the lineup to just six candidates, Politico reported Tuesday, which could mean Paul, along with Ohio Gov. John Kasich and Carly Fiorina would be relegated to the undercard event.
"I will not participate in any kind of second tier debate," Paul said on the Fox News radio show "Kilmeade and Friends." "We've got a first-tier campaign. I've got 800 precinct chairmen in Iowa. I've got a 100 people on the ground working for me. I've raised $25 million. I'm not gonna let any network or anybody tell me we're not a first-tier campaign. If you tell a campaign with three weeks to go that they're in the second-tier, you destroy the campaign. This isn't the job of the media to pick who wins. The voters ought to get a chance."
Paul said that limiting the number of candidates on the debate stage would "lay it up in the lap" for Donald Trump and added that he is the only candidate who would challenge the New York billionaire on stage. The Kentucky senator also questioned the use of what he called "wildly inaccurate" polling numbers to determine which candidates make it into the debate, pointing to the significant changes that Dr. Ben Carson and Florida Sen. Marco Rubio have seen over the course of the fall as evidence for how faulty the polls can be.
Carson had a brief surge in the polls earlier this fall where he neared Trump at the top of the pack, but has since dropped to hover around 10 percent nationally as he has floundered amid an increased focus on national security. Rubio, on the other hand, has risen from about 5 percent in August to hover between 10 and 12 percent in national polls this month, according to HuffPost Pollster.
RCP Poll Average for Republican Presidential Candidates | InsideGov
"I frankly just won't be told by the media which tier I'm in, and we're not willing to accept that, because we are a first-tier campaign and we're in it to win it and we won't be told that we're in a tier that can't win," Paul said.
When the host of the radio show asked Paul why the undercard debate was not good enough for him despite candidates like Christie and Fiorina having participated in it earlier this fall, the libertarian responded that his objection was about the perception of not being a serious candidate. Instead of just polling, Paul would like debate organizers to take into account fundraising and organizing, he said.
"It's the kids table and at that table you're not considered to be a competitor," Paul said. "Not considered to be having a chance."
© Copyright IBTimes 2023. All rights reserved.
FOLLOW MORE IBT NEWS ON THE BELOW CHANNELS