Election 2016: What Does Mega Donor Sheldon Adelson Want From Marco Rubio?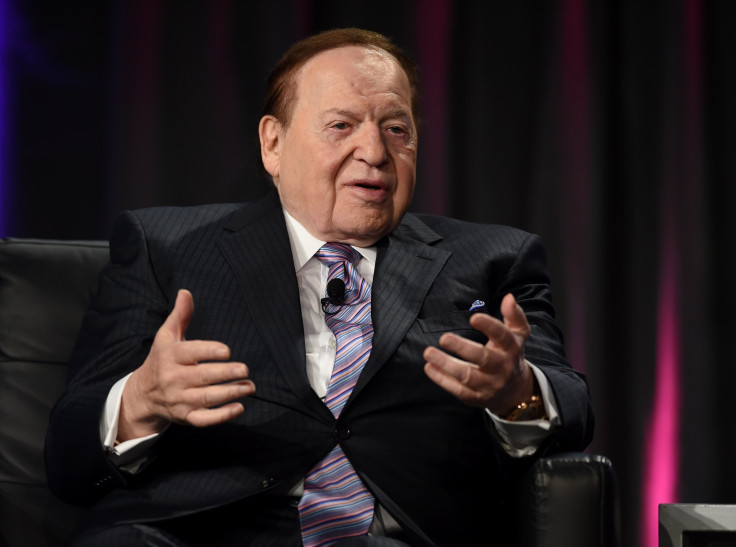 When Republican mega donor Sheldon Adelson dropped $5 million on the super PAC supporting Newt Gingrich's presidential campaign in January 2012, media outlets considered the donation a saving grace. While Adelson eventually switched his allegiance to eventual nominee Mitt Romney, his donations kept Gingrich's campaign afloat much longer than it otherwise would have been able to afford and caused a bruising fight for Romney early in the primary, despite his front-runner status.
This time around, with a much wider field and no clear favorite contender, a growing number of Republican presidential candidates have been eagerly vying for Adelson's blessing -- and his money. But reports in recent weeks indicate that Florida Sen. Marco Rubio has been growing closer to Adelson and is likely to get his support in the near future, perhaps even by the end of this month. This could mean a huge influx of cash for Rubio, who has been struggling to build his campaign war chest after rising in popularity thanks to his strong performances in the Republican debates. For Adelson, a Las Vegas casino magnate with a penchant for politics, it could also be a long-awaited chance to influence a presidential contest.
The significance of an endorsement from Adelson goes beyond the funds. Winning a mega donor can be seen as a vote of confidence, which can be nearly as valuable as funding in a primary with so many candidates. Former Florida Gov. Jeb Bush was originally considered the establishment favorite to represent the Republicans in 2016, but he has so far had a lackluster primary season, leaving that slot open for Rubio or someone else to fill. With such a crowded field, many establishment donors have been holding their donations this cycle to see which candidates emerge as serious contenders.
Many of the Republican candidates generally align with Adelson's views on the two issues most important to him: support for Israel and free enterprise. Adelson advisers told the Washington Post that this cycle they are looking to find a candidate who can win the White House after Gingrich (and then Romney) did not pan out in 2012.
Marco Rubio Super PAC Contributions Over Time | InsideGov
"Back in 2012, the competition that Romney faced was actually stronger than what Hillary [Clinton] faces right now," said Ford O'Connell, a Republican strategist who worked on John McCain's 2008 presidential campaign. "This time you have four or five people who could actually win. They're looking around and saying who best represents the issues we care about, but also who can actually win," O'Connell added of Adelson's staff.
Despite the recent attention Rubio has received, he sits in fourth place in the polls with an average hovering around 9 percent, according to HuffPost Pollster, and his campaign raised just $6 million during the third fundraising quarter. Rubio's campaign announced Thursday that he is beginning the year's fourth fundraising quarter with $11 million in hand. Neither Rubio's campaign nor Adelson responded to a request for comment Thursday.
Adelson, who grew up in a poor family in Boston, first became wealthy when he and a few partners developed the Las Vegas computer trade show Comdex. Now he is well known for his role as chairman and CEO of the Las Vegas Sands Corporation, which owns the Sands Hotel and Casino and operates and develops other properties in the United States, Singapore and Macao. He is No. 15 on the Forbes 400 list of billionaires, and the magazine values him at $27 billion.
His family has Ukrainian Jewish ancestry, and Adelson is a big supporter of Israel and of its current Prime Minister Binyamin Netanyahu. In addition to his political influence in the states, the mogul also spends significant amounts of money on Israeli politics. He even founded an Israeli newspaper called Israel Hayom, a free daily known for printing news supportive of Netanyahu and critical of his enemies.
These leanings mean that Adelson cares a lot about U.S. foreign policy, and particularly its dealings with countries like Iran and Syria that can affect the stability in the Middle East. He has also been clear on his support for free trade policies, which makes sense since much of his company's money is earned overseas. These positions are ones that many Republican presidential contenders would find easy to support, which may be part of the reason so many have courted Adelson this cycle.
Republican front-runner Donald Trump, however, has criticized Rubio for wooing Adelson, calling the Florida senator a "perfect little puppet."
However, while the topics of Israel, Iran and trade have all come up during the 2016 presidential election, Rubio will not be stretching his own ideas if he agrees with most views held by Adelson. "Marco Rubio's way into the nomination was always foreign policy, specifically on Israel," and now also on economic growth, O'Connell said.
Rubio, like almost all other Republicans, vehemently opposed President Barack Obama's nuclear deal with Iran -- which seeks to lift sanctions on the country in exchange for limiting some aspects of its nuclear abilities -- and has been supportive of Israel on many other issues as well. When lawmakers threatened to boycott Netanyahu's congressional speech earlier this year, Rubio spoke out on the House floor, saying that Israel is the United States' strongest ally in the Middle East. "Don't do this to them [Israel]," he said.
Another area where Rubio has been favorable to interests Adelson would like is on the Trans-Pacific Partnership. He voted to fast-track the legislation over the summer and has generally been positive on the deal, which would eliminate thousands of tariffs and ease overseas trade.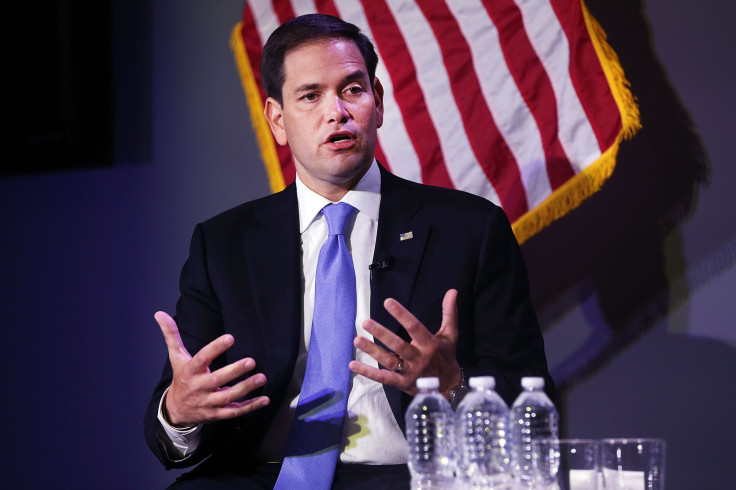 It's unclear if Rubio's politics will be enough to win over Adelson, who has given millions to various Republican congressional candidates over the years. The 2012 presidential campaign was his first major entry into the presidential cycle. It was also the first national election after the Citizens United court decision that allowed unlimited political expenditures from nonprofit corporations. The campaign season saw Adelson and his wife spend around $100 million on Republican candidates, becoming the largest individual donors to outside funding groups.
But with Rubio, Adelson might be able to win himself a new title in 2016: The man who decided the presidential election.
FOR FREE to continue reading
✔️ Unlock the full content of International Business Times UK for free
offer available for a limited time only
✔️ Easily manage your Newsletters subscriptions and save your favourite articles
✔️ No payment method required
Already have an account?
Log in
© Copyright IBTimes 2023. All rights reserved.