Election 2016: 'Where To Vote' And 'Who's On My Ballot' Searches On Google Will Deliver Detailed Answers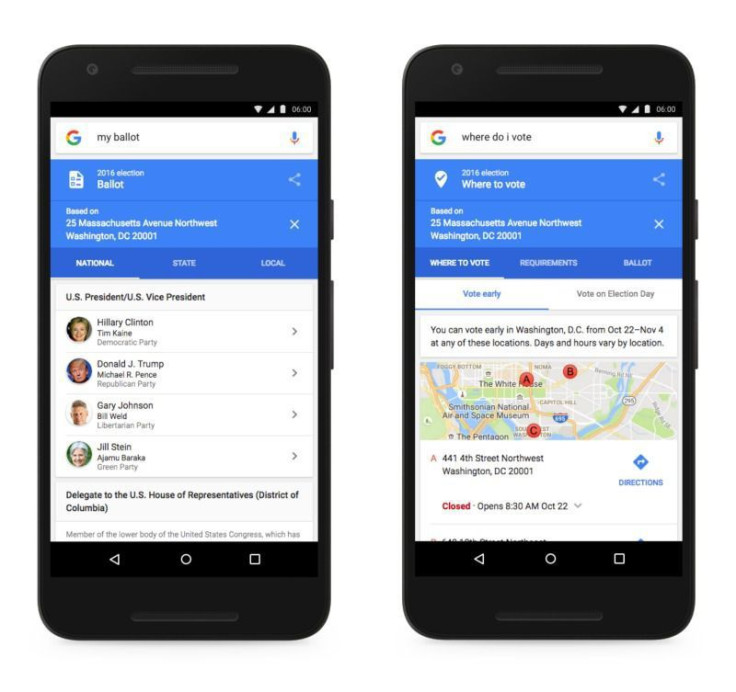 Google is making life easier for American voters this election season. Whether you need to find the closest polling location or finding out who is on the ballot, the search engine will have your back when Nov. 8 rolls around.
As of today, searching "who's on my ballot" on the search engine will retrieve details on the upcoming election. And it's not just presidential candidates either--the search will provide information on local candidates running for other positions as well from Congressperson to County Commissioner.
Selecting candidate names will allow voters to learn more information whether it be party affiliation or website. The search will also outline each state's referenda. While data for local races may not be available right away, Google will be rolling out updates.
Similarly, those who search "where to vote" will bring forth a polling place location finder that will not only tell you where to cast your vote but also what forms of identification you need to bring.
Both search functions work in English and in Spanish. And to receive answers, users have to enter the home address they used to register to vote.
"We are committed to giving people timely and comprehensive information about the voting process so they can better participate in the election and have their voices heard in November," said Jacob Schonberg, a product manager on Google's politics and elections team, to USA Today.
Google's search data reveals that "who is on my ballot" is 137 percent more searched now in comparison to the same time frame in 2012, and "where is my polling place" is up by 379 percent.
For this special project, Google has collaborated with a handful of voter groups including the Voting Information Project, the Ballot Information Project and Democracy Works.
Earlier this year, Google customized results for "how to vote" to serve information about what voters need to do in their respective states to vote. The search feature let voters know if they are qualified to vote and if they need to show a form of identification. Searching "register to vote" also brought forth state-specific details for how to register, requirements, and deadlines for registering.
According to Schonberg, Google's efforts to help voters has been taking place since 2008.
"We have a long track record of this," he said, reports CNET. "If people have the information they need, they'll be more willing to engage."
© Copyright IBTimes 2022. All rights reserved.
FOLLOW MORE IBT NEWS ON THE BELOW CHANNELS