Election 2016: Will Marco Rubio Endorse Ted Cruz? Florida Senator In Talks With Republican Rival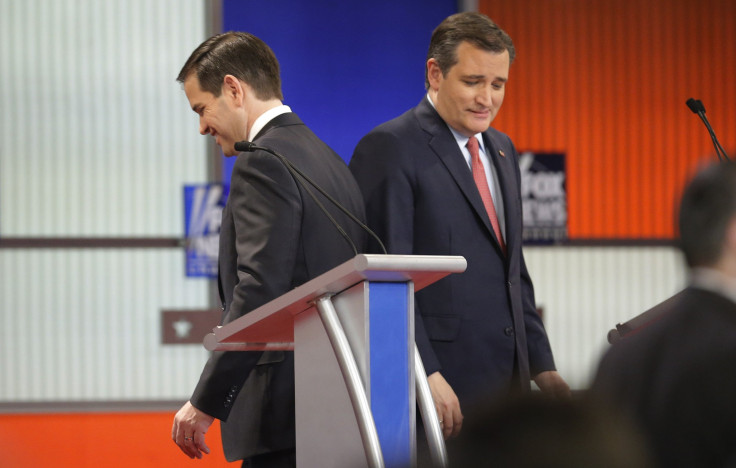 U.S. Sen. Marco Rubio of Florida, who recently ended his campaign for president, may soon endorse Republican colleague Sen. Ted Cruz of Texas, putting aside a fair share of bad blood between them, Politico reported. But Rubio and Cruz reportedly will first need to determine if the endorsement will help the Cruz campaign, and Cruz will need to ask for the endorsement.
Rubio called Cruz "the only conservative left in the race," but he has not made any other public indication he would support the Texan. Upon returning to the Senate on Thursday, Rubio told reporters inquiring about an endorsement: "I don't have any announcement on that today."
The two senators' voting records look similar, but they disagree on key issues this election season, such as immigration reform. Rubio supports a pathway to citizenship, while Cruz has proposed securing the nation's borders. Cruz was defiant when moderators at a GOP debate in December suggested their views were similar. "It's like suggesting that the fireman and arsonist have the same record at the scene of the fire," Cruz said.
Rubio wouldn't be the only former rival to back Cruz after Tuesday's slate of primaries. South Carolina Sen. Lindsey Graham also endorsed Cruz and said Thursday he would fundraise for the Texan's campaign.
"I think he's the best alternative to beat Donald Trump," Graham told CNN Thursday. "I'm going to help Ted in any way I can."
It's a change of heart for Graham, who previously shuddered at the idea of supporting either Trump or Cruz. "If you're a Republican and your choices are Donald Trump and Ted Cruz in the general election, it's the difference between [being] poisoned or shot," he said. "You're still dead."
© Copyright IBTimes 2023. All rights reserved.
FOLLOW MORE IBT NEWS ON THE BELOW CHANNELS