Marco Rubio, Ted Cruz Immigration Reform Debate 2015: Republicans With Foreign Roots Fight Over Immigrants' Rights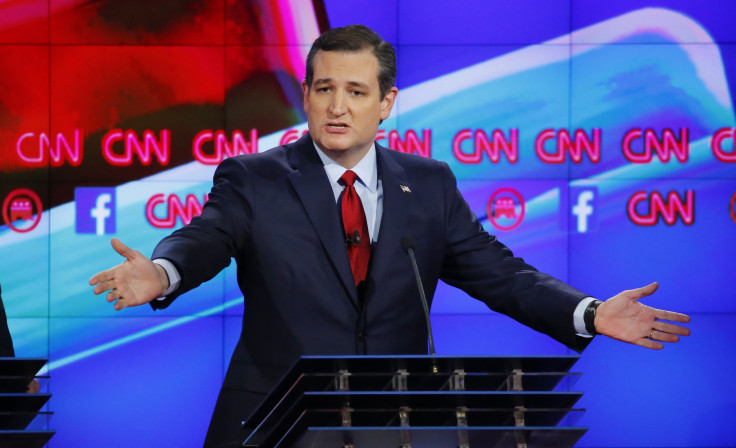 Despite their shared heritage, Texas Sen. Ted Cruz and Florida Sen. Marco Rubio clashed over immigration reform policies, such as amnesty, during the fifth Republican presidential primary debate Tuesday night. The sons of Cuban immigrants have been at odds since Rubio supported comprehensive immigration reform in 2012, while Cruz has proposed securing the country's borders.
In Las Vegas, Cruz staunchly denied any commonalities between their immigration policies, even though Rubio argued that they have both supported a path to citizenship. "It's like suggesting that the fireman and arsonist have the same record at the scene of the fire," Cruz said.
Cruz's father was a Cuban immigrant who obtained asylum in the United States in 1957 after being granted a student visa. When his visa expired, he went to Canada, but eventually married Cruz's mother, an American citizen, and obtained a green card. Rubio's parents came to the United States and applied for naturalization in 1956 -- more than two years before Fidel Castro overthrew the Cuban government. Both have invoked their family stories of immigration while on the campaign trail.
Cruz took the stage following a jump in the polls. The Texas senator is a front-runner in some Iowa caucus polls. A Monmouth University poll released last week showed Cruz with 24 percent support, followed by Donald Trump with 19 percent support among likely caucus-goers.
Cruz has largely evaded dueling with Trump in the past debates, but now that his polling numbers are on the rise, Cruz has been under attack from the businessman on the campaign trail. Trump called the Texas senator a "maniac" Sunday.
"I don't think he's qualified to be president," Trump said. "Look at the way he's dealt with the Senate, where he goes in there like a — you know, frankly like a little bit of a maniac. You're never going to get things done that way."
Neurosurgeon Ben Carson, former Florida Gov. Jeb Bush, former Hewlett-Packard CEO Carly Fiorina, New Jersey Gov. Chris Christie, Ohio Gov. John Kasich, and Kentucky Sen. Rand Paul also joined Rubio, Cruz and Trump on the main debate stage.
The top-tier GOP debate was hosted by CNN at 8:30 p.m. EST from the Venetian Hotel in Las Vegas. CNN anchor Wolf Blitzer moderated the debate, which zeroed in on topics such terrorism and national security. CNN anchor Dana Bash and conservative talk radio host Hugh Hewitt joined Blitzer.
Ted Cruz Presidential Candidate Profile | InsideGov
Former Arkansas Gov. Mike Huckabee, former Pennsylvania Sen. Rick Santorum, South Carolina Sen. Lindsey Graham, and former New York Gov. George Pataki were part of the undercard debate before prime time.
The debate was the last time in 2015 that the Republican candidates had the opportunity to participate in a forum. The first presidential primary debate of 2016 will be held Jan. 14 in South Carolina at the North Charleston Coliseum and Performing Arts Center.
© Copyright IBTimes 2023. All rights reserved.