Election 2020 Poll: Biden Leads Trump By 12 Points, POTUS Wants More Debates
KEY POINTS
The latest Fox News Poll shows Biden with a 12 percentage point lead over Trump
Trump now demands four debates so he can humiliate Biden
Leading the effort to get Trump more debate time is friend and personal lawyer, Rudy Giuliani
President Donald Trump, who has been trailing badly in the polls and hounded by charges of incompetence, wants to debate Joe Biden now more than ever. The latest Fox News Poll showed Biden leading Trump by 12 percentage points.
The president is demanding four debates instead of the three already lined up by the non-partisan Commission on Presidential Debates (CPD). Trump also wants the debates to take place on weekday evenings, except Thursday, so Americans can watch the resurrected NFL season.
Trump will do all these and debate "Sleepy Joe," which he declared he wouldn't do six months ago, only if he can pick the debate moderators, however.
The POTUS's advisers calculate four debates mean more chances for Biden to screw up and make a fool of himself, proving Trump's point that he isn't fit to be the United States president. Trump's plan to debate Biden four times would make for great TV, but there is one thing wrong: Biden won't oblige.
Established in 1987, CPD ensures general election debates between or among the leading candidates for the offices of President and Vice President is a permanent part of the electoral process.
Leading the effort to get Trump more debate time is friend and personal lawyer, Rudy Giuliani. The former New York city mayor held a call Thursday with Trump's campaign manager Brad Parscale and CPD co-chairman Frank Fahrenkopf. Giuliani and Parscale pushed for the debates to begin before early voting starts and also requested a fourth debate.
Giuliani was also involved in Trump's 2016 debate prep against Hillary Clinton. He led an effort authorized by Trump to dig-up dirt on Biden in Ukraine. Giuliani's investigation contributed to Trump being impeached by the House of Representatives on Dec. 18, 2019, on obstruction of justice and abuse of power.
CPD hasn't made a decision on these requests. It has, however, scheduled three presidential debates: Sept. 29 at the University of Notre Dame in Indiana; Oct. 15 at the University of Michigan and Oct. 22 at Belmont University in Nashville. A vice presidential debate will be held Oct. 7 at the University of Utah in Salt Lake City.
As far as polls are concerned, Fox News again has bad news for Trump. The latest Fox News Poll shows Biden in an even stronger position versus Trump. It finds Biden leading Trump head-to-head by 50% to 38%, a huge 12% spread compared to the 8% lead Biden held in Fox's previous poll (48% to 40%).
Biden continues to grow stronger among Independents. They now want him as president of the United States by a massive margin of 39% to 17%. The remaining 43% are either undecided or plan to vote for someone else.
The former vice president continues to enjoy a massive lead among black voters (a 79 percentage point lead over Trump). Biden wins among those under age 30 (+37), among voters in suburban areas (+22), among women (+19) and among voters ages 65+ (+10).
"Trump needs to expand beyond traditional Republican groups and cut Biden's support among independents," said Daron Shaw, who conducted the Fox News Poll with Democrat Chris Anderson. "The best news in the poll for the Trump campaign is a significant percentage of independents saying they haven't decided or are considering a third-party option."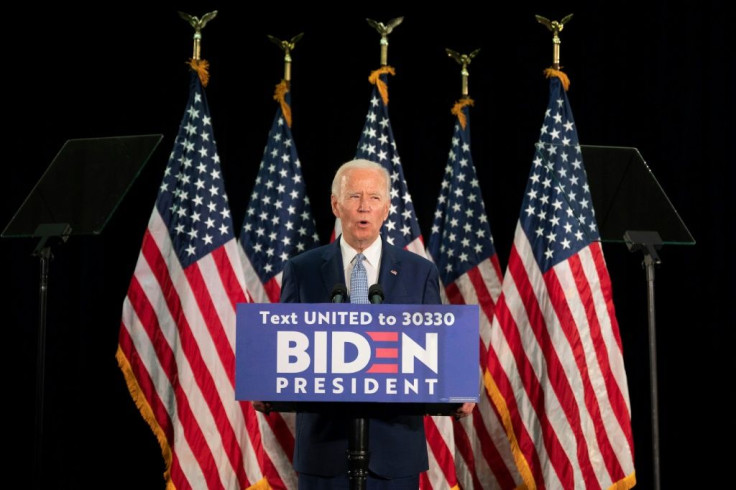 © Copyright IBTimes 2023. All rights reserved.