Election 2020 Polls: Trump Is Losing White Voters' Support In Key Swing States
KEY POINTS
President Trump is running behind his 2016 pace as polls indicate he is losing the support of white voters
Many likely voters said they were concerned about Trump's handling of the coronavirus issue
In some states, the president is also losing the support of non-college educated women
New polls indicate President Donald Trump is running behind his 2016 pace with white voters, losing their support in several critical and predominantly white swing states just six weeks before the 2020 election.
In Minnesota, a CBS News/YouGov survey last week suggested that Trump was running two percentage points behind Democratic presidential nominee Joe Biden among white voters. In 2016, the president carried them by seven points.
The former vice president also leads Trump by 9% overall in the state. At least 42% of likely voters also said they were most concerned about Trump's handling of the COVID-19 pandemic, while 28% said they were most concerned about matters of race and race relations.
In Wisconsin, Trump is losing non-college-educated white women by nine percentage points, according to an ABC News/Washington Post poll. Four years ago, he won that key demographic by 16 percentage points.
In Pennsylvania, an NBC News/Marist poll indicated that Biden is now even with President Trump among white voters. In 2016, Trump won the state by less than 1 percent, largely on the backs of suburban whites.
"Suburban whites are pretty much gone for Trump," said Ed Rendell, the former governor of Pennsylvania, Politico reported. "If Trump loses Pennsylvania by four or five points, then the suburbs and the working-class whites, that accounts for the loss."
On Friday, the president released a TV ad in Minnesota and Michigan, where he slammed Biden for supporting increased refugee admissions, including from "dangerous parts of the world." He also said the former vice president would "turn Minnesota into a refugee camp" should he win in November.
During the 233rd anniversary of the signing of the Constitution last week, the president intensified his appeal to white voters when he downplayed the legacy of slavery in the U.S. and blasted efforts to address systematic racism in the country. He also accused Democrats and the media of trying to "indoctrinate" school children, as reported by the Associated Press.
"For many years now, the radicals have mistaken Americans' silence for weakness. But they are wrong," Trump said. "There is no more powerful force than a parent's love for their children — and patriotic moms and dads are going to demand that their children are no longer fed hateful lies about this country."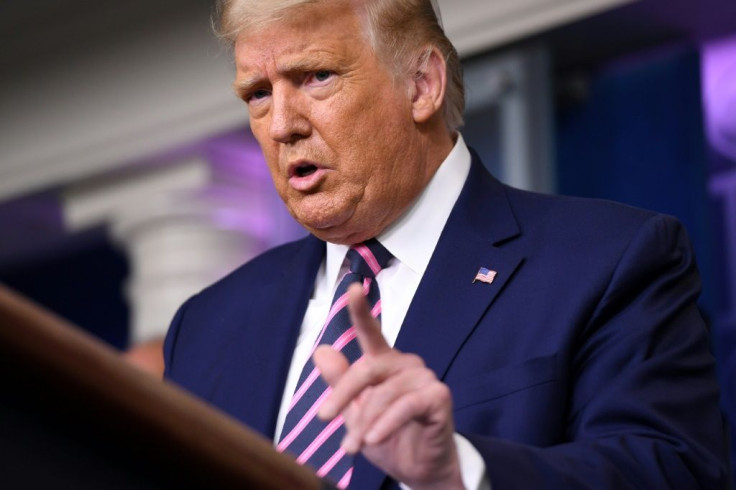 © Copyright IBTimes 2023. All rights reserved.