Election Day 2016 Live Updates: Donald Trump And Hillary Clinton Square Off For President Of The United States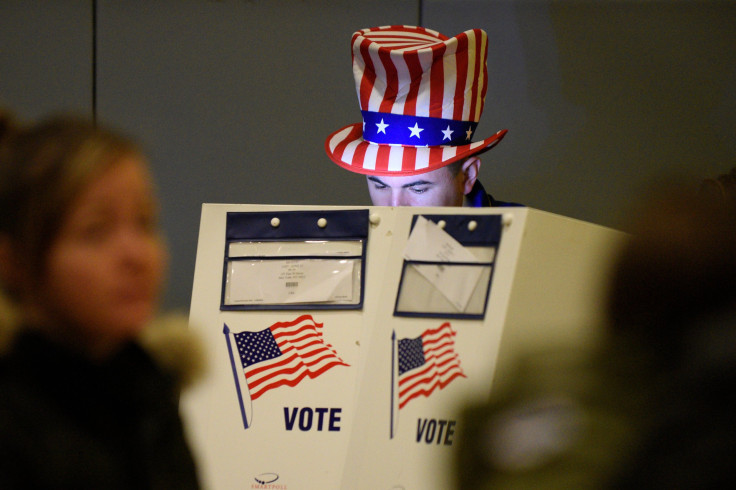 UPDATED: 5:08 p.m. EST — Colorado's electronic voting system has crashed statewide, leaving voters without a way to digitally cast their ballots, according to reports.
Voters were being provided with provisional ballots from poll workers, who broke the news to people waiting in line. Voters reacted to the news with frustration and, in some cases, by leaving their polling places altogether.
UPDATED: 4:32 p.m. EST — South Carolina Sen. Lindsey Graham made good on his promise of neither voting for Donald Trump nor Hillary Clinton. Graham, a Republican, announced via Twitter he chose to support the candidacy of third party candidate Evan McMullin, who was running on the Independent ticket.
The 2016 election cycle has proven to be divisive, especially among the Republican Party. Many of its elected officials announced they would not be supporting Trump's candidacy because of concern over his campaign rhetoric that has at times teetered on the edge of hate speech.
Massachusetts Gov. Charlie Baker was one of those politicians who broke from party ties Tuesday. Only Baker decided it was better not to vote for anyone, the Boston Globe reported.
"I'm obviously disappointed about that," Baker said Tuesday morning outside of his polling place in the town of Swampscott. "I said many months ago that I wasn't going to be able to support Donald Trump for a number of reasons, and I thought Hillary Clinton had believability problems, and nothing has happened in the last nine months to change my mind on that."
UPDATED: 4:04 p.m. EST — The Democratic Party of North Carolina has responded to reports of missing voter registrations, which have prevented people from casting their ballots. The group was urging any voter left out to cast provisional ballots.
UPDATED: 3:41 p.m. EST — Republican vice presidential nominee Mike Pence has arrived in New York City for his election party with running mate Donald Trump. The Indiana governor and his wife were in Indianapolis earlier Tuesday casting their votes.
Trump filed a lawsuit in Nevada on Tuesday accusing four early voting sites of staying open late last week and requesting access to the locations' voting records from the early voting period. Clark County Judge Gloria Sturman refused to grant the access, citing the Trump campaign had not taken the appropriate steps for them, the Las Vegas Sun reported.
"The secretary of state is who tells us what she needs to do any investigation … you've jumped ahead a step," Sturman said.
UPDATED: 3:17 p.m. EST — A man holding a sign featuring a homophobic slur was released by police after being detained outside of a polling place in Texas on Tuesday afternoon, according to a report.
Libertarian Party presidential nominee Gary Johnson took to Twitter to encourage people to rethink the reason why they're voting. There has been speculation that Johnson's third party candidacy could take votes from Hillary Clinton, which, in theory, could boost Donald Trump's White House chances. Johnson urged voters to vote "for someone, not just against" someone.
UPDATED: 2:43 p.m. EST — A Nevada judge has declined to make early voting records from a state county available to Donald Trump, according to a new report. Trump filed a lawsuit against Clark County over what he said was a polling place staying open late during early voting. He was seeking access to all of the county's early voting records.
In neighboring Arizona, high school students walked out of classes in protest of trump's candidacy and to encourage against voting for Maricopa County Sheriff Joe Arpaio. Both Trump and Arpaio have both espoused anti-immigrant rhetoric. Arizona has a population that is nearly 31 percent, according to the most recent Census data.
UPDATED: 2:11 p.m. EST — Clark County in Nevada has responded to Donald Trump's lawsuit alleging it allowed people to vote after polls closed for early voting. The county referred to the legal action as a "petition" and indicated records from all early voting have been maintained, hinting that Trump's lawsuit may not have been necessary to access those records.
UPDATED: 1:41 p.m. EST — Bernie Sanders cast his vote and subsequently tweeted a photo of himself accompanied by a caption that made clear where his political allegiances lie Tuesday afternoon.
Massachusetts Sen. Elizabeth Warren posted a similar tweet.
Long lines and problems with voting machines continued to plague many polling sites across the country. Parts of Utah have resorted to using paper ballots.
UPDATED: 1:19 p.m. EST — Spates of Election Day violence continued Tuesday with reports of a Texas election judge getting beaten and robbed while heading to the polls near Dallas. It was not immediately clear if the judge, who was stationed at a polling place in Garland, was intentionally targeted because of her position.
Meanwhile in Michigan, one of a handful of contentious swing states, the "working-class turnout" is being credited for increasing Donald Trump's chances of winning the state that skewed Democratic in the 2012 general election.
UPDATED: 12:46 p.m. EST — Donald Trump has filed a lawsuit against a Nevada county for keeping polls open too late, according to a tweet from a reporter for CNN. The Clark County Registrar is guilty of keeping polls open for "2 hours beyond ... closing time," Jim Sciutto reported.
In Philadelphia, voters were being taken via a church bus to the polls, where at least one poll worker is demanding photo ID from all voters.
UPDATED: 12:19 p.m. EST — Voters are prioritizing strength in the nation's next president, according to the first early exit polls Tuesday afternoon. A "strong leader" was desired by 36 percent of those polled. A "vision for the future" was preferred by 29 percent of respondents while 16 percent were seeking a president who "cares about people like me." An additional 16 percent want a president who "shares my values," according to the polling that was conducted by Morning Consult and Politico.
The exit polls were released as complaints of apparent voter fraud, faulty voting machines and lengthy lines to vote persisted.
UPDATED: 11:46 a.m. EST — Donald Trump would not commit to conceding defeat to Hillary Clinton if she wins the election, the Republican candidate said after voting in New York City Tuesday. The comments all but echoed those he said last month during the final presidential debate.
Trump and his wife Melania reported to their New York City polling place in Manhattan late Tuesday morning. The U.S. Secret Service was forced to block the streets while they voted.
UPDATED: 11:17 a.m. EST — Reports of voter intimidation are coming from polling places in Pennsylvania and Virginia, according to a series of tweets. Their common bond is the threats have originated from supporters of Donald Trump.
A voter in Virginia said a group of Trump supporters was hurling racial epithets. Another voter in Virginia tweeted about her experience refusing campaign paraphernalia from a Trump supporter. The voter said she would "rather take a bullet to the head than vote for Trump." The Trump supporter responded, "I can arrange that."
UPDATED: 10:41 a.m. EST — The ballot selfie that one of Donald Trump's sons posted to social media is illegal, according to a political news organization. Eric Trump posted the photo Tuesday morning while expressing pride in being able to vote for his father.
In Florida, a woman pepper sprayed a man outside of a polling place Tuesday morning, according to reports. It was not immediately clear what the altercation was caused by.
More woes for voters in New York City continues late Tuesday morning. A polling place in Harlem reportedly only had one working scanner as hundreds of people could be seen waiting in multiple lines.
UPDATED: 10:08 a.m. EST — A non-traditional backdrop serves as the site for a Pennsylvania polling place Tuesday: a gun club. However, unlike in other parts of the state, there were no reports of faulty voting machines or any other issues preventing people from casting ballots.
If Hillary Clinton emerges victorious on Election Day, she could appoint Kate McGinty to be her secretary of the interior, according to Politico. But only if the Pennsylvania senate candidate loses her race.
UPDATED: 9:38 a.m. EST — Voting in a Tennessee county were being conducted manually after the voting system crashed, the Tennessean reported. The problems were being blamed on a printing issue.
"It was just a case of calling the different precincts and explaining the situation," said Phillip Warren, administrator of elections in Wilson County. "It was a glitch and (the workers) weren't trained and we had to retrain them real quick."
Similar problems at a precinct in North Carolina triggered did not cause any delays in voting there.
Meanwhile, Donald Trump's campaign has reportedly banned a journalist from covering his election night party in New York City. Trump has repeatedly called members of the media "dishonest and corrupt," including at a rally Monday night in Pennsylvania.
UPDATED: 9:04 a.m. EST — Both voting machines are broken at a Philadelphia polling place, according to a report. Hundreds of people were reportedly being affected by the malfunctioning machines.
Elsewhere, voters posted photos of themselves on social media after casting ballots, including former Democratic presidential candidate Martin O'Malley. The former Baltimore mayor and Maryland governor has been campaigning for Hillary Clinton.
UPDATED: 8:36 a.m. EST — Hillary Clinton and her running mate Tim Kaine have both voted to much fanfare in their respective polling places, but a protest broke out inside of Donald Trump's polling place in New York City Tuesday morning.
Two women were reportedly arrested, and one could be seen being led away while topless.
It was not immediately clear if Trump was present at the time of the protest.
UPDATED: 8:08 a.m. EST — Some New York City voters were livid when they were not allowed to sign in at their polling place because a voting coordinator was not there, the New York Daily News reported. The voting machines were also not working.
"We are being stopped from exercising our democratic right," said voter Sherri Donovan. "This is unacceptable. We want to vote, it's our right."
Hillary Clinton, whose campaign headquarters are in Brooklyn, reportedly dispatched her campaign volunteers to make millions of last-ditch efforts to sway voters across the country.
UPDATED: 7:34 a.m. EST — Yet another problem has been reported at a polling place in Virginia, but it's not a mechanical issue. An ambulance was called after a man reported having chest pains. The man reportedly still managed to vote.
Eric Trump, son of the Republican nominee, posted a photo of a portion of his ballot, expressing his pride at being able to cast it for his father.
Trump the candidate was up early on Twitter encouraging his supporters to hit the polls and vote for him.
UPDATED: 7:03 a.m. EST — Election Day is barely an hour old in some polling places, but there has been another report of problems with voting machines in Virginia. But this time, it's not whether they're functional. The voting machines have reportedly not arrived to a polling place in Henrico County. The polls in Virginia opened at 6 a.m. EST.
Lengthy lines to vote were also reported in other states, including Indiana and Florida, though it was not immediately clear whether the delays were related to faulty voting machines.
UPDATED: 6:43 a.m. EST — The polls are open in a number of states, including Virginia, where Democratic vice presidential nominee Tim Kaine and U.S. senator could be seen at his local polling place.
But elsewhere in the state one of the first reports of problematic voting machines has emerged out of Charlottesville. A reporter tweeted that the high school where voting was taking place had a line out of the door and no Plan B for what to do in the face of a broken voting machine.
Virginia has 13 electoral votes.
Original story:
Election Day is finally upon us, but that doesn't mean the candidates are just sitting back and waiting for the results to come in. From White House hopefuls Republican Donald Trump and Democrat Hillary Clinton (and their third party counterparts, Libertarian Party nominee and Green Party nominee Jill Stein) to key senate races around the country, many officials seeking re-election will be facing their day of reckoning Tuesday.
Click here to see what time polls open in your state and click here to find the best time for you to vote.
Local contests aside, it's the race for the White House that has captured the nation's collective attention, whether they like it or not. Trump and Clinton have waged a contentious war of words, pitting would-be presidential policies against each other's. However, after months of the two exchanging the sharpest of barbs and name-calling, Clinton admitted in Philadelphia Monday night that "I regret deeply how angry the tone of the campaign became."
Trump, for his part, showed no signs of easing up on the anti-Clinton rhetoric on the eve of Election Day.
"Hillary Clinton is being protected by a totally rigged system," the New York real estate mogul said Monday in Florida, another key battle state. "And now, it's up to the American people to deliver justice at the ballot box tomorrow."
Clinton has been dogged by the steady release of hacked emails from various members of her campaign, courtesy of WikiLeaks. Some of the emails have suggested that Clinton's campaign was tainted by element of corruption, including an allegation that former Democratic National Committee Chairperson Donna Brazille gave the candidate debate questions in advance of a showdown with then-presidential candidate Vermont Sen. Bernie Sanders.
The WikiLeaks scandal coupled with her constant defense of the way she handled classified information as secretary of state prompted several polls showing the public found her to be untrustworthy.
Trump has been stung by multiple, decades-old allegations of sexual assault. One of the most damaging instances was when a 2005 audio and video recording emerged of Trump engaging in what he called "locker room talk" with a TV host. The language Trump used was widely condemned as "lewd."
In a four-way race, Clinton was leading Trump by just 3 percentage points, 44 percent to 41 percent, according to the most recent Real Clear Politics poll. Johnson and Stein were polling at just 4 percent and 2 percent, respectively, with Clinton holding an average lead at 3 percent.
© Copyright IBTimes 2023. All rights reserved.