Election Results 2016 Update: Michigan Recount Goes Forward Despite Dueling State, Federal Appellate Decisions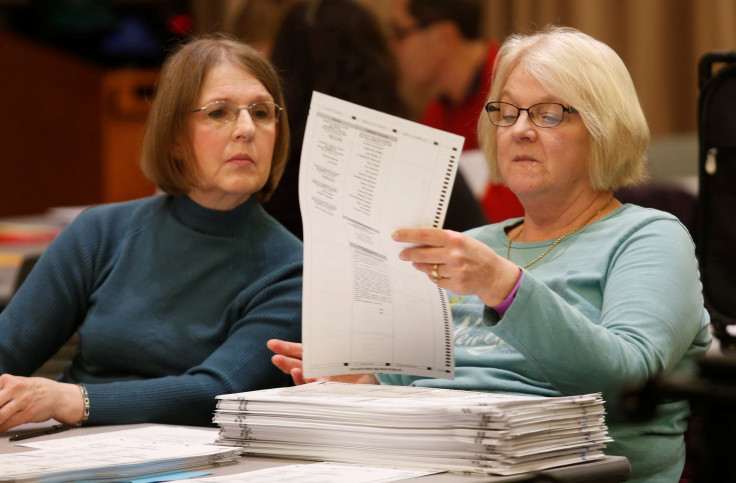 Two appellate courts, one federal, the other state, Tuesday issued contradictory opinions on the presidential recount in Michigan as state officials re-examined ballots in eight counties and were scheduled to start the process in others.
The 6th U.S. Circuit Court of Appeals in Cincinnati and the Michigan Court of Appeals handed down opposing opinions on whether the recount, sought by Green Party candidate Jill Stein, should go forward.
The 2-1 6th Circuit opinion upheld U.S. District Judge Mark Goldsmith's decision to order the recount, saying the judge had not abused his discretion in doing so. The Michigan Republican Party had sought to block the recount. The ruling, however, did not address whether the recount was legal, just eliminated a delay in starting it.
"If subsequently, the Michigan courts determine the ... recount is improper under Michigan state law for any reason, we expect the district court to entertain any properly filed motions to dissolve or modify this order in this case," the court said.
In a dissenting opinion, Judge David McKeague said Goldsmith had overstepped.
On the state level, the appellate court ruled 3-0 the Board of Canvassers never should have allowed the recount to proceed because Stein did not qualify as an aggrieved candidate since she won only 1 percent of the vote. The court ordered the board to reconsider and reject the recount petition, saying Stein had no standing because she had no chance of winning the election.
Stein has said the purpose of the recount is to establish confidence in the U.S. election system, saying she wants to allay suspicions of irregularities.
"For the voices of Michigan's people to be heard and their votes counted in the 2016 presidential election, Michigan must complete a recount," Stein's attorneys in the 6th Circuit petition. "In this election, the machines failed to register votes for president in over 75,000 ballots cast."
President-elect Donald Trump has railed against Stein's recount challenges in Michigan, Wisconsin and Pennsylvania, accusing her of conducting a scam to fill party coffers. All three states voted for Trump. In Michigan, Trump beat Democrat Hillary Clinton by just 10,704 votes.
The Pennsylvania challenge has since been halted.
Michigan Attorney General Bill Schuette late Tuesday asked the federal panel to stay its order.
"In the interim, we will keep recounting," said Chris Thomas, the state's elections director.
The Board of Canvassers was scheduled to meet at 9:30 a.m. EST, Wednesday.
© Copyright IBTimes 2022. All rights reserved.
FOLLOW MORE IBT NEWS ON THE BELOW CHANNELS