'Elementary' Season 6, Episode 10 Spoilers: Sherlock Reunites With His Dad Morland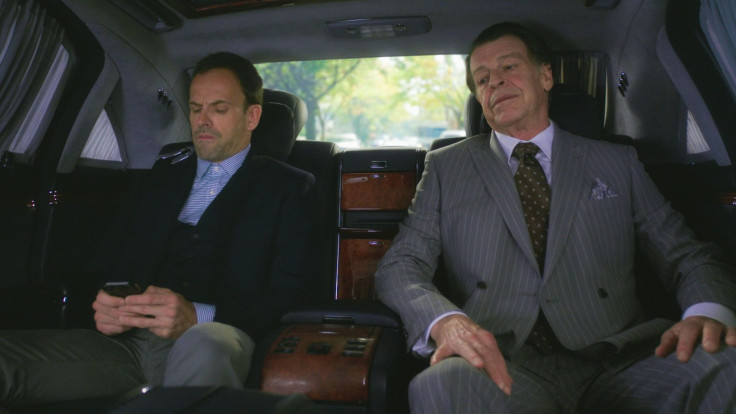 A heartbreaking discovery reunites Sherlock with his father, Morland, in the next episode of "Elementary."
According to the synopsis for Season 6, episode 10 of the CBS series, Sherlock (Jonny Lee Miller) and Morland (John Noble) try to fix their strained relationship upon learning of a death within their family.
As revealed at the end of the last episode, Sherlock's brother, Mycroft (Rhys Ifans), passed away. The British sleuth learned about the tragic news when he reached out to a banker in the Cayman Islands to help him locate Mycroft. Sherlock later found out that his brother died in a hospital in Timaru, New Zealand nearly 10 months ago. According to the hospital, Mycroft died of intracranial hemorrhage.
Sherlock told Joan (Lucy Liu) that Mycroft's death was instantaneous. "One minute, he was all right, and the next minute he wasn't. So he wouldn't have suffered before he died," Sherlock said of his sibling, who also happened to be Joan's ex-lover.
When Joan suggested that the report from the hospital might not be true since Mycroft had faked his own death before, Sherlock quickly ruled out that possibility, confirming that his brother is indeed dead.
Morland's return to the series was first revealed by series creator Rob Doherty in an interview published by TVLine earlier this month.
"Family stuff will bring Morland and Sherlock back together [starting with the July 2 episode]," Doherty said. "There will be developments that require the two of them getting together in New York, where they'll have to d e al with the ramifications of something that happens within the Holmes family. They'll [also] have to deal with the professional choice that Morland made a few years ago when he decided to become the head of what was left of Moriarty's (Natalie Dormer) organization."
Elsewhere in the next episode, Sherlock and Joan discover a link between their latest case and the world of Egyptian antiquities when they search for a killer who tried to mummify his victim.
"Elementary" Season 6, episode 10, titled "The Adventure of the Ersatz Sobekneferu," airs on Monday, July 2 at 10 p.m. EDT on CBS.
© Copyright IBTimes 2023. All rights reserved.