Elle Decor Dream Home Article Prompts Backlash, Accusations Of 'First World Problems,' Humblebragging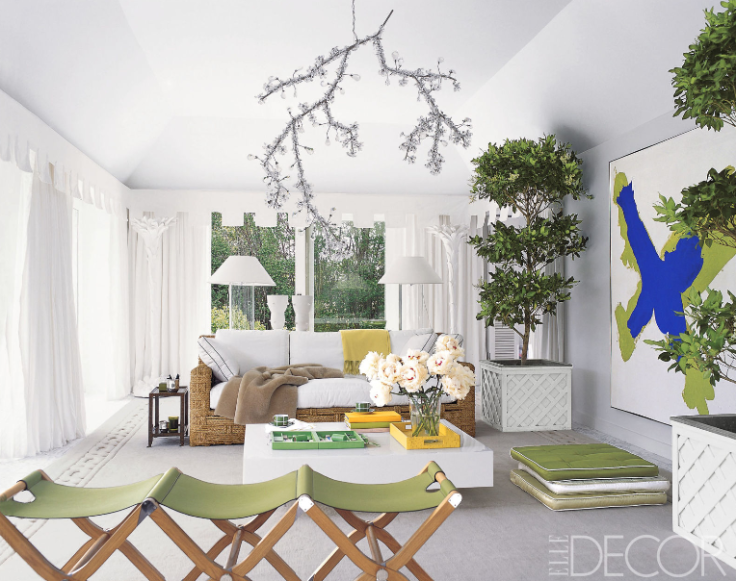 With articles like "8 Ways to Make Over Your Windows" and "How to Decorate With Polka Dots," Elle Decor isn't usually a hotbed of controversy. But a "life and culture" article posted to the website in June -- entitled "I made a huge sacrifice to buy my dream home" and written by 30-something retired Virginia schoolteacher Sarah Scott -- has gone viral for all the wrong reasons, sparking an Internet backlash. To date, it has almost 800 comments, which reveal cultural anxieties about economic and racial privilege, gender and motherhood, and even the ecological ethics of having fewer children.
In the article -- subtitled "Luxury living comes at a premium. Here's what one family gave up to afford it." -- Scott describes the "sacrifices" she and her husband made to be able to "build the fully loaded luxury home of our dreams" by their early thirties. Scott addresses the primarily upper-middle class and wealthy readership that is Elle Decor's demographic. The print version of Elle Decor, for example, features $6,000 lamps and peeks into the pied-à-terres and high-rise penthouses of chic one-percenters.
'My Uterus Literally Aches'
"Because we live in this dream home, we can only afford to have two children. It's our quiet sacrifice, but it's also our beautiful life, well-earned and fully lived," Scott concludes, after detailing that her family is still able to afford one family vacation a year -- "using a timeshare that we purchased in full as newlyweds" -- while she stays at home to raise the children and her husband works outside the home.
"None of this just happens. We prioritize, stick to our plans, and are teaching our young children about self-control by living as their example," Scott writes, adding, "My uterus literally aches, despite the fact that logic suggests we can't afford it [a third child] right now."
The article was shared 27,700 times, and some of the unwashed masses perused Scott's words and grabbed their torches, heading for the comments section. The critical commenters varied from sarcastic to earnest to abusive. More than one person asked if it was a tongue-in-cheek article from The Onion satirical newspaper.
'The Whitest Article Ever Written!'
"By Jove, you've done it!" one commenter wrote. "The Whitest article ever written!"
"My lawd, it's like Tobacco Road come to life," wrote another snarky commenter, referring to the 1932 book by Erskine Caldwell set during the Great Depression that focuses on the struggles of a destitute family of white sharecroppers.
"Planning alone is not the reason you have this fortune," one person argued. "You have this fortune because of your background and your husbands [sic] well paying job. Don't thank yourself for your quality of life, thank your husband and his privilege."
One critic wrote, "With the population of the earth being what it is, we don't want you to have another child."
A commenter who identified herself as a tenants' rights organizer saw the piece as an example of "the rhetoric that hardcore right-wingers abuse." She wrote: "Not only does it imply that she is a 'responsible' white women [sic] by choosing not to have more children because she cannot support them, she is dehumanizing individuals and families for handouts in the same sentence from her magazine testimony. "
'Berating Her For Not Having Children Seems Wrong'
But not everyone was critical of Scott. "Obviously, this is [sic] woman is expressing an extremely privileged and spoiled point of view," one commenter noted. "HOWEVER, how often do you hear people harshly criticize a single mom on welfare for having more children when she doesn't have the means to support the children she already has? Berating rather than applauding this woman for deciding to not have more children for financial reasons seems wrong."
Yet another commenter had words of criticism for the critics: "Don't listen to those who are clearly jealous of you," she wrote. "You were smart and took the time to plan a life for you and your husband so that you can both live the life you wanted so that you wouldn't be poor or living like animals. (Like some here clearly are.)"
Neither Sarah Scott nor Elle Decor's managing editor, Jane Frye, responded to requests for comment.
'The Mommy Wars Are Not Over'
Why did an Elle Decor article about choosing not to have a third child provoke such ire? Leslie Morgan Steiner, author of the 2007 book "Mommy Wars: Stay-At-Home And Career Moms Face Off On Their Choices, Their Lives, Their Families" and "The Baby Chase," had some ideas.
"We reserve a special kind of vitriol for privileged white, educated mothers," Steiner told International Business Times. "But the real story isn't about Scott. It's about the reaction she got." Steiner said that if she were talking to Scott, she'd probably be judgmental about her smugness, too, but that's also because there is so much anxiety about motherhood and whether people are parenting correctly. Women, she said, tend to see other women's choices and then become critical of their own.
"The mommy wars are not over," Steiner said. "We haven't made peace with motherhood being messy. No matter what people do, others will pile on. If she said she wanted to have a lot of children, she'd get attacked, too. If you're going to put your choices out there, you're going to be a lightning rod. But I think these discussions are fantastic."
© Copyright IBTimes 2023. All rights reserved.