Ellen DeGeneres Posts Sweet 9th Anniversary Tribute To Wife Portia De Rossi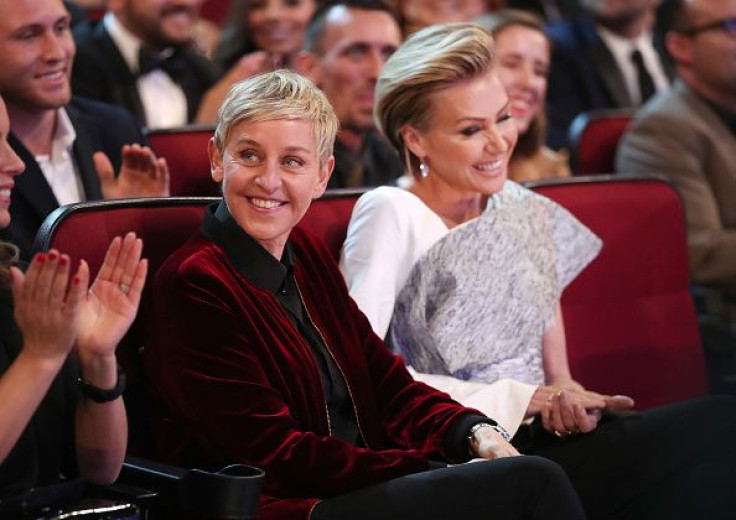 Ellen DeGeneres and Portia de Rossi celebrated their ninth wedding anniversary on Wednesday.
On her Instagram account, "The Ellen DeGeneres Show" host posted a throwback photo of herself and de Rossi at their wedding. In her caption, DeGeneres said that being de Rossi's wife is the greatest thing that she is.
Singer Joshua Radin, who performed at the couple's wedding, also paid tribute to them by uploading a photo of himself singing for DeGeneres and de Rossi.
In 2012, de Rossi sat down for an interview with Oprah Winfrey and shared how she fell in love with DeGeneres. "We actually met socially and I just felt that immediate draw. We did talk a little bit and then over those three years, we saw each other at parties or at various things, but the one time that was most significant was during a photo shoot actually," she said.
De Rossi continued to detail how she walked up to DeGeneres that time, and the talk show host was kind enough to say hello to her. "It was like an arrow was shot through my heart. I felt weak at the knees and I was overwhelmed with how I felt, but then it took me about 10 months to do something about it," she added.
Last year, DeGeneres spoke with People about how she and her wife always tell each other how lucky they are to have the love they have. "I've gotten to a place where I really am just settled. Really. I know that I'm not going anywhere. She's not going anywhere. I'm not saying this relationship took a while; I'm saying in my life, I took a while to find this," she said.
But even though the couple has been happy and at peace with each other, there have been some tabloid reports suggesting that they are on the brink of a divorce. During the same interview with People, DeGeneres said that she is very happy to be married to de Rossi, shutting down the rumors. "There's no best part about being married. It's everything," she said.
© Copyright IBTimes 2023. All rights reserved.