Elon Musk's List Of Celebrity Relationships: Tesla CEO Now Dating Singer Grimes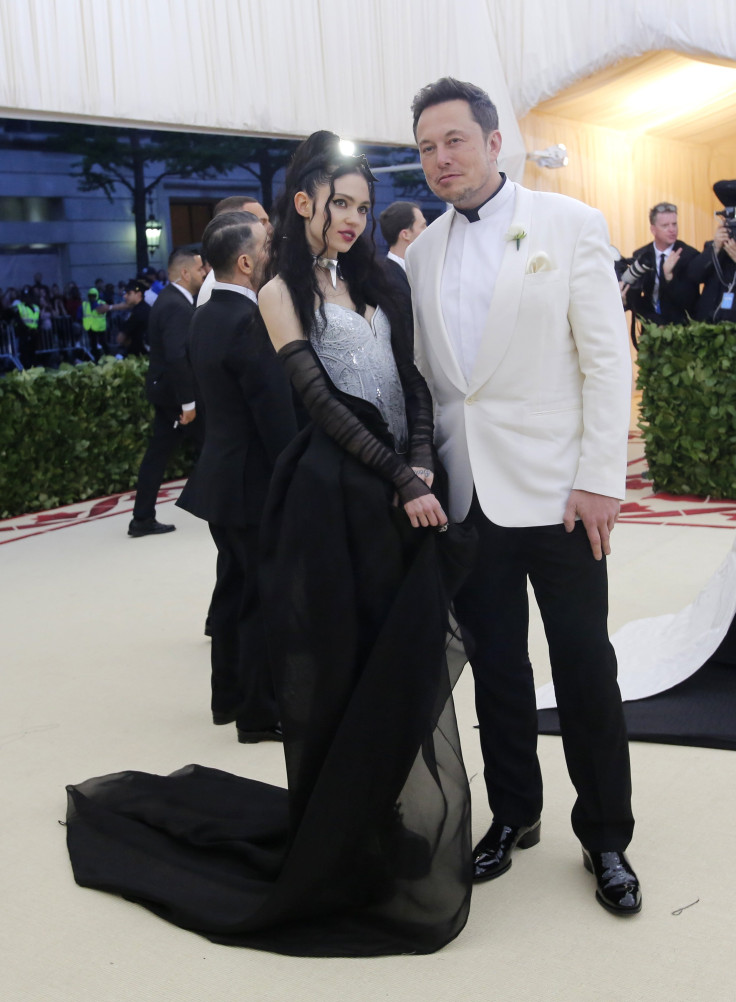 Elon Musk's new girlfriend is Canadian singer Grimes aka Claire Boucher. The Tesla CEO's romance was confirmed when he hit the Met Gala red carpet with the 30-year-old on Monday.
Musk's appearance came just minutes after his ex-girlfriend Amber Heard stunned the red carpet in a radiant red gown with an ornate headpiece and gold detailing in her hair. The South African-born American businessman arrived at the event wearing a black tuxedo jacket with a Papal-style shirt underneath, black trousers and a white robe. Grimes opted for a gothic look in a black-and-silver corseted gown, with matching choker.
Earlier Monday, Page Six reported the rumored relationship between Musk and Grimes, saying the new couple would make their debut appearance at the Met Gala.
"They've been seeing each other but have been keeping their relationship under the radar," a source told People magazine with regards to Grimes and Musk.
While little is known about Grimes' past relationships, below are details about Musk's dating life.
Amber Heard:
Heard and Musk went public with their romance in early 2017, but the couple ended their romance in August. The duo later sparked reconciliation rumors in the following months after they were spotted together vacationing in Chile. However, a source told E! News in December, "they are not dating."
After the split, Musk commented on one of Heard's Instagram posts, saying he and his ex were "still friends, remain close and love one another" and added "who knows what the future holds." He later told Rolling Stone: "I was really in love, and it hurt bad."
Talulah Riley:
In 2008, Musk started dating the British actress after meeting her at a London nightclub. The couple got married in 2010 in Scotland. However, the two separated in 2011 and a year later announced it on Twitter, with Musk saying to his estranged wife, "It was an amazing four years. I will love you forever. You will make someone very happy one day."
Musk also told Forbes at the time: "We took some time apart for several months to see if absence makes the heart grow fonder, and unfortunately it did not. I still love her, but I'm not in love with her. And I can't really give her what she wants." It was "far too difficult to stay married," he added. "Every day was just too difficult."
Musk and Riley reconciled and decided to re-marry in 2013. But the marriage did not last for long as Musk filed for a second divorce from Riley in December 2014. The divorce was finalized in late 2016.
Cameron Diaz:
Musk sparked romance rumors with the "Sex Tape" actress in 2013, just months before reconciling with his ex-wife Riley. However, the romance rumors were not confirmed.
Justine Wilson:
Musk met Wilson at Queen's University in Ontario, Canada, and the two married in 2000. The Canadian novelist and the businessman had a son named Nevada, whom they lost to SIDS. They later had twins and triplets — five sons in total. The couple, however, ended their marriage in 2008.
© Copyright IBTimes 2023. All rights reserved.