Eminem Reveals He Had To 'Relearn' How To Rap Because Of Drug Addiction
KEY POINTS
Eminem recently shared that he lost his ability to rap because of his addiction problems
The rapper said he couldn't remember the lyrics because he was just rhyming words at the time
The Grammy-winning artist apologized to Rihanna in his new track "Zeus"
Eminem recently opened up about his battle with substance abuse and revealed that his drug addiction affected his rapping abilities for a long time.
Speaking with SiriusXM's Gray Rizzy, the 48-year-old rapper opened up about his controversial lyrics about Rihanna and her domestic violence experience with Chris Brown. Eminem noted that he lost his lyrical prowess while recording the "Relapse" album and was just rhyming words because he was relearning how to rap.
The "Rap God" hitmaker shared that he was also caught "off-guard" by the lyrics and could not believe that he wrote those lines.
"I have zero recollection of even remembering doing that verse. Like the rhyme schemes didn't even sound familiar to me. So I was caught off guard too. I was like, 'What the f---, I said that? That was during the early stages of the 'Relapse' record that I was working on," Eminem said during the discussion.
The artist also revealed that it was really "stupid" of him to say such things about the entire incident and won't make excuses for it.
"I said it and I was wrong for saying that. It was f-----g stupid. You know, a lot of times, especially with the 'Relapse' record, when I first started learning how to rap again, because of the drug situation that I went through and having to relearn a lot of things, that was one of those things that it was like, 'Well if it rhymes, say it,'" the rapper continued.
The Grammy-winning artist's statement comes a few weeks after it was reported that he apologized to the "We Found Love" hitmaker for taking Brown's side in his new track, titled "Zeus," on the album "Music To Murdered By – Side B."
In 2019, a previously unreleased verse by the rapper was leaked in which he was heard rapping, "Of course I side with Chris Brown / I'd beat a b---h down too," Deadline reported.
In the new song, Eminem apologized to Rihanna by saying, "But, me, long as I re-promise to be honest / And wholeheartedly, apologies, Rihanna / For that song that leaked, I'm sorry, Ri / It wasn't meant to cause you grief. Regardless, it was wrong of me."
Eminem and Rihanna have worked together on numerous occasions and topped the charts with their smash hit "Love The Way You Lie." The duo also toured together in 2014 and successfully completed the "Monster" tour.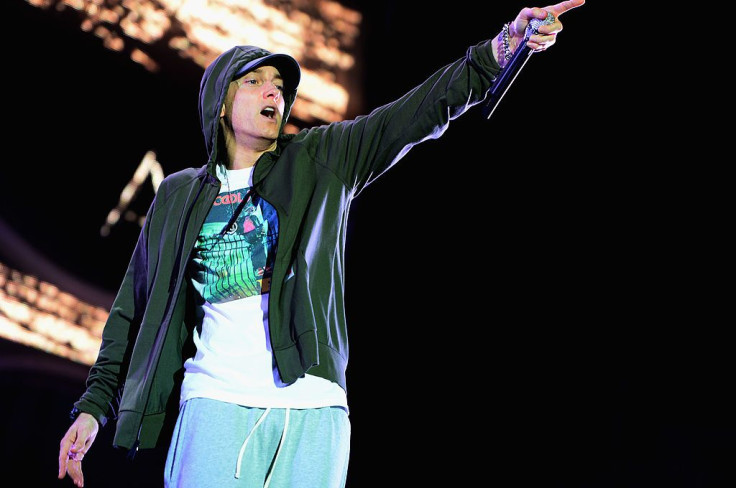 © Copyright IBTimes 2023. All rights reserved.
FOLLOW MORE IBT NEWS ON THE BELOW CHANNELS