Eminem, Snoop Dogg Deliver Metaverse-Powered Performance At MTV VMAs; This Is How Twitter Reacted
Hip-hop veterans Eminem and Snoop Dogg turned into their Bored Ape Yacht NFT avatars at the debut of their Yuga Labs project at the MTV Video Music Awards in a virtual, metaverse-hosted performance Sunday. However, the event was not received well by critics.
Fans and NFT critics are not particularly happy with the new route the music industry took with Eminem and Snoop Dogg's performance of their single, "From the D 2 the LBC," inside a metaverse at the MTV VMAs.
"The animation is barely better than what we had 25 years ago," tweeted digital artist Dragoneer. Critics pointed out that English virtual band Gorillaz and French electronic music duo Draft Punk implemented a similar concept which was better "by a mile."
"I think this is more about the live aspect of it, which Gorillaz did first and daft punk never did. Gorillaz were the first people to ever use a hologram live. Daft punk were just themselves live," said one Twitter user.
This was not the end of the criticism as several fans took to the Eminem subreddit, which has over 214,000 subscribers, to express their disappointment.
"Let me start by saying I love Eminem as much as everyone else in this sub, but this VMA performance has honestly made me laugh at how pathetic it was," a user posted.
However, there were some positive comments in there as well.
"This is the best display of breath control I've seen from Em not in years, in DECADES. Its a pretty hard verse to rap and I've never seen him manage something this difficult without a hype man," one person wrote, while another said, "we loved the VMA performance."
While the criticism of NFTs and metaverse continues, big names around the world are still embracing the digital world. Recently, Lamborghini introduced a new campaign, which aims to drop four NFTs each month until March 2023.
Also, Gucci partnered with Superplastic, a brand known for its animated celebrities, vinyl toys and digital collectibles, to introduce the SuperGucci NFTs.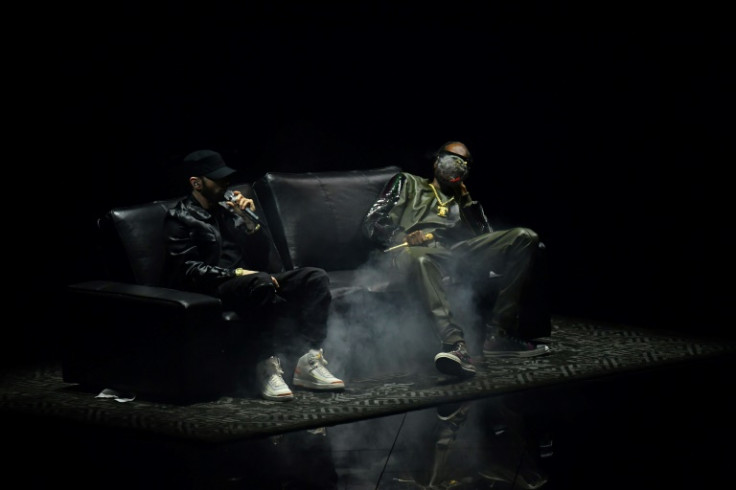 © Copyright IBTimes 2023. All rights reserved.