Emmys 2011: Charlie Sheen Gets Sentimental in Speech [PHOTOS,VIDEO]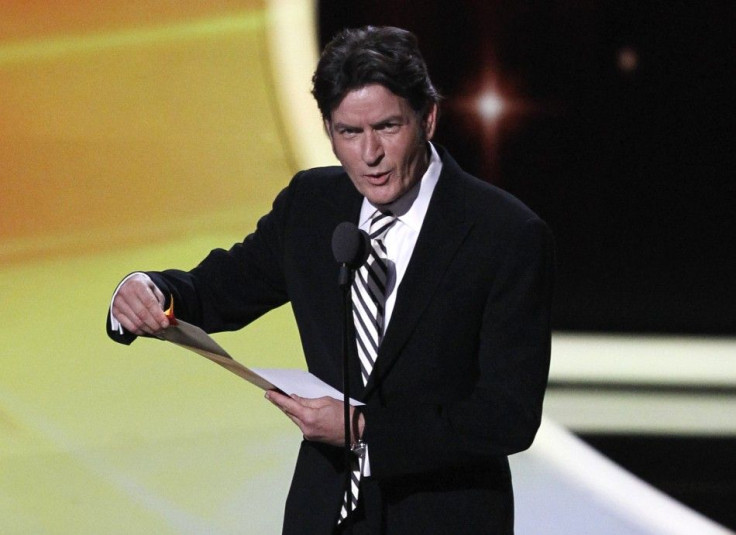 Charlie Sheen offered two surprises to this years Emmy Awards. First he took to the stage as a presenter for best lead actor in a comedy series category. Second, he offered his warmest sentiments to the cast of the hit show Two and a Half Men, of which he had been fired earlier this year.
The 46-year-old actor asked to take a moment to get something off his chest. This message goes out to the cast of 'Two and a Half Men', he said. From the bottom of my heart I wish you nothing but the best for this upcoming season.
The message comes months after Sheen announced the show could not go on without him. When the actor found out he was fired, he delivered an angry response directed at the shows creator, Chuck Lorre.
This is very good news, he said. They continue to be in breach, like so many whales. It is a big day of gladness at the Sober Valley Lodge because now I can take all of the bazillions, never have to look at [expletive] again and I never have to put on those silly shirts for as long as this warlock exists in the terrestrial dimension.
Audiences were stunned at the Emmy Awards when Sheen changed his tune and told the cast he had spent eight wonderful years working with them and telling them he knew they could continue to make great television.
Cast members of Two and a Half Men, Jon Cryer and Sheen's replacement Ashton Kutcher, took to the stage of the Emmys immediately after Sheen delivered his message.
The two poked fun at Sheen with Ashton joking saying, 'I am not Charlie Sheen', as he looked at Cryer he added: 'Jon, I want to tell you something. I do not think that you are a troll,' referring to an insult Charlie directed at his former co-star a few months ago.
When sheen heard Ashton would be joining the show in May, he told TMZ, Kutcher is a sweetheart and a brilliant comedic performer... Oh wait, so am I!! Following his remarks he predicted that there would be a significant drop in the shows ratings.
Although his character has been dropped, Sheen believes that his character has a potential to come back to the show.
© Copyright IBTimes 2023. All rights reserved.