'Empire' Season 3 Spoilers: Episode 12 Synopsis Released; What Will Happen In 'Strange Bedfellows'? [VIDEO]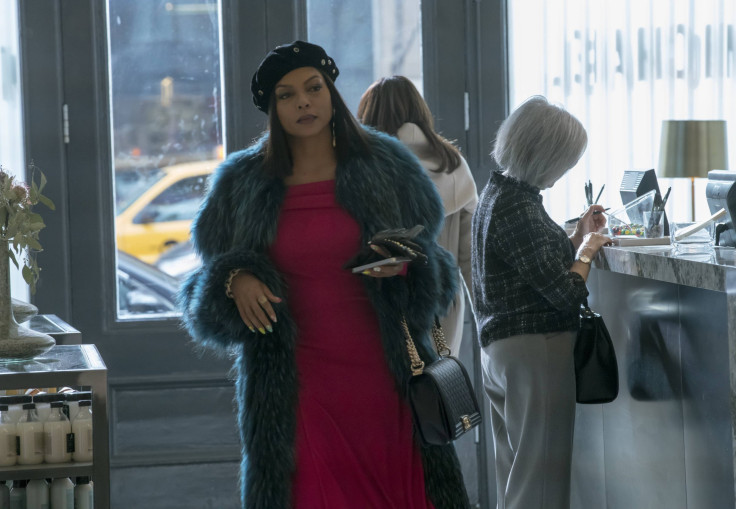 Keeping her kiss with Lucious a secret from Angelo is already tough, but on "Empire" Season 3, episode 12, Cookie will be forced to deal with an even bigger secret that could ruin her relationship.
"Angelo (Taye Diggs) makes an unsettling discovery and is concerned that Cookie's (Taraji P. Henson) past isn't in the past and will hurt his chances of becoming the mayor," the synopsis for "Strange Bedfellows" teases.
In the promo for the Fox series, Cookie can be seen looking worried because she believes Anika (Grace Byers) is still trying to take her down. Lucious (Terrence Howard) then says, "Who knows what she overheard?"
READ: Catch up on all the "Empire" Season 3, episode 11 drama with this recap
Last viewers saw of Anika on "Empire" Season 3, she was forced into witness protection by Tariq (Morocco Omari) so she could testify against Cookie. In the promo for episode 12, "Strange Bedfellows" Angelo is seen asking a worried Cookie what Anika has on her. Will Cookie tell Angelo the secrets of her past or will he discover her dirty laundry all on his own?
"Meanwhile, Anika is faced with a life-changing decision after Tariq reveals what he is really after," the synopsis for the Fox series says.
In the promo, Lucious and Cookie approach Anika and tell her she only has 30 seconds to convince them to let them live, but before she can talk, Leah (Leslie Uggams) enters the room with a gun, telling Lucious to let her kill Anika.
"In other events, Hakeem's (Bryshere Gray) 21st birthday party takes an unexpected turn," the "Empire" Season 3, episode 12 synopsis says. In the promo, Cookie can be seen telling Hakeem that they can't celebrate his birthday until all of the drama dies down but it looks like he has a party anyway.
Hakeem is later seen having a good time with Jamal but will the brothers' celebration come to an abrupt end?
"Empire" Season 3, episode 12 airs on Wednesday at 9 p.m. EDT on Fox.​
© Copyright IBTimes 2023. All rights reserved.