Equal Pay For Equal Work: Women In Red Protest Trump In NYC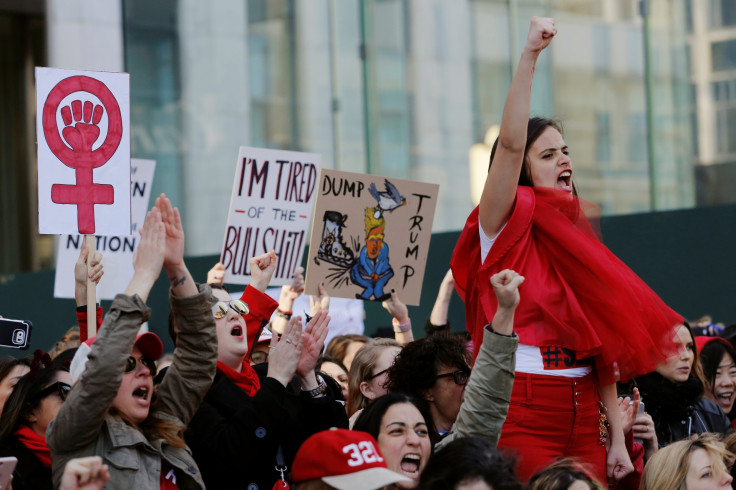 Nicollette Plaxin was supposed to be in psychology class at her community college in Westchester County on Wednesday. Claudia Lopez, another college student from the same suburban New York City county, was scheduled to be at her internship at an advertising company working on research.
But like thousands of women across the country, they both played hooky to take part in International Women's Day.
Read: 20 Inspirational Sayings From Famous Female Leaders
Arriving to the southeast corner of 59th Street next to Central Park in Manhattan, just two blocks north of Trump Tower, they joined a sea of hundreds of women in red, which event organizers wrote was the color "revolutionary love and sacrifice." The event, called "A Day Without Women," urged thousands of women to strike from their jobs and invited them to continue the momentum that began at the Women's March on Washington the day after President Donald Trump was inaugurated in January.
"I have an immense sense of pride and accomplishment that history is being made right now," Plaxin said. "Not many people can stand for this, we want our rights too. Women are a big part of the world."
The young women, both 19, were inspired by their mothers to attend. Lopez's mother is an immigrant from Peru, while Plaxin's mother was born in Russia before coming to the U.S. Neither knew much English when they arrived, and both had to learn a new language, start over with their careers and take care of their children in what was then a strange land to them.
"I'm here for her," Lopez said, while Plaxin nodded in agreement.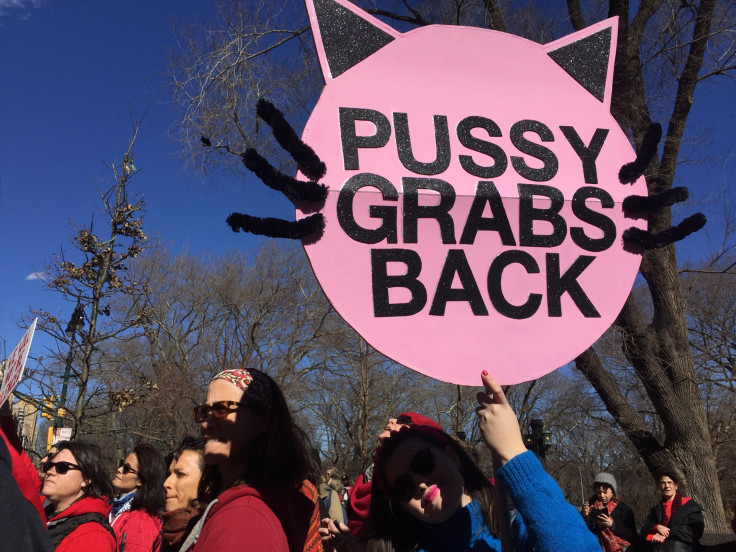 The crowd near Trump Tower Wednesday wasn't as large as those across the country for the Women's March, which was also organized by the people who arranged Wednesday's event. But while both events were similar in nature, this time around, demonstrators gathered for a different reason: to bring attention to the fact that women are essential to the U.S. workforce and the economy.
The location was no coincidence, either.
Read: 6 Quotes President Trump Has Said About Women
Speakers outside of Trump Tower called the president — who was accused of sexual harassment by several women before the election and bragged about grabbing women by their private parts — a "misogynist." Aside from some of the chants being directed at the president, ("We want a leader, not a creepy tweeter!") his administration's policies were also a target ("Hands too small, can't build a wall!").
There was also another difference from the Women's March in January: There were no arrests. However, on Wednesday, at least 13 women were taken into police custody for civil disobedience — including organizers event Tamika Mallory, Linda Sarsour, Carmen Perez and Bob Bland.
The event, which for many amounted to strike a strike from work, had been criticized by some for being only accessible to women who had the financial cushion to take one day off.
But Sarsour, the Palestinian-American strike organizer who was arrested, addressed the issue head-on in her speech to the crowd.
"That statement comes from people who lack an understanding of history," she said while addressing the crowd Wednesday.
Strikes were historically organized by those who were disenfranchised, poor laborers who could not afford to sit idly by, Sarsour said. But the event also disrupted workplaces, namely schools, some of which were closed because so many teachers were striking. Some families were at a loss for where to find someone to watch their children, as child care is an industry typically dominated by women.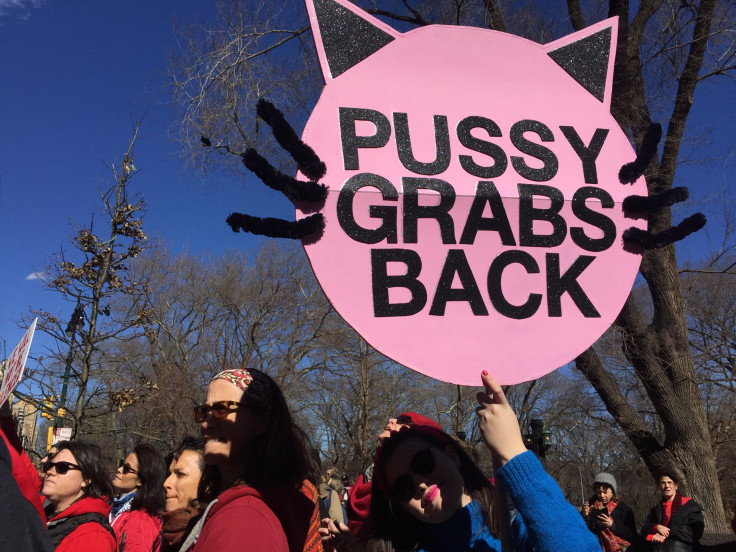 Women who took the small stage set outside Trump Tower in the front of the crowd spoke about women's issues, such as high rates of sexual assault, the battle for women to keep their reproductive rights and closing wage gap. Some strikers, like Plaxin and Lopez, marched for the rights of women around the world and immigrant women — like their mothers — in the U.S.
"We want to give a voice to those who don't have the resources to use their own voices, like refugees and immigrants like my mother," said Plaxin.
Read: Here's How To Support Women For International Women's Day
The wide range of women's issues brought up by speakers were all related, with the ultimate message from the march being to foster a sense of unity and solidarity.
"We have to take a minute in the morning and just stop and breathe and be still," said Erica Ford, a speaker and founder of LIFE Camp. "Because if we're not preparing our minds for this work, then we get destroyed by judgment, by jealousy, by ego, by envy, and a lot of other things that keep us as fabulous women from working together. Your issue is not greater than my issue. My struggle for freedom is not greater than your struggle for freedom."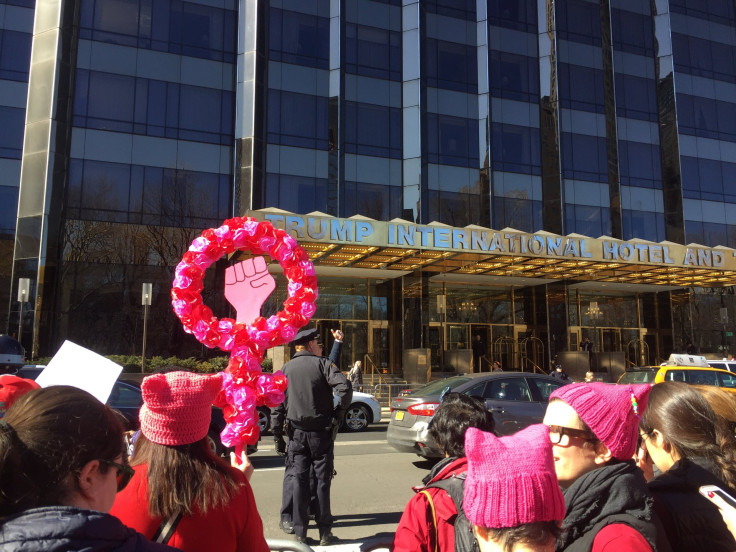 © Copyright IBTimes 2023. All rights reserved.