Eric Garner Chokehold Death: Victim's Family Hires Expert Michael Baden To Review Autopsy Results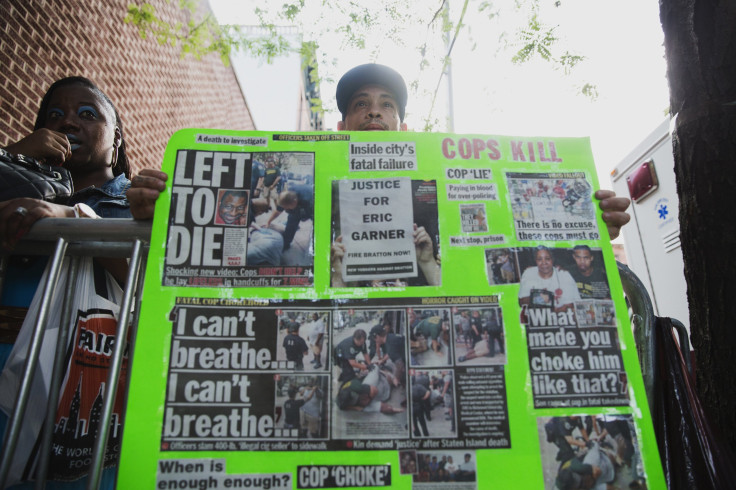 The family of Eric Garner, the Staten Island man who died after a NYPD officer placed him in a chokehold during a July arrest, has hired a former New York City chief medical examiner to review the results of Garner's autopsy. The expert will investigate the recent autopsy report from the New York City Medical Examiner's Office that ruled Garner's death was a homicide, reports the New York Daily News.
Michael Baden, 80, will consult the family and complete the second review, says the Daily News. He has previously served as an expert witness on well-known cases such as the O.J. Simpson trial. If Baden's findings support the conclusion of the medical examiner's office, they will assist the family in refuting claims made by two NYC police unions on Tuesday that a chokehold wasn't used during Garner's arrest.
Pat Lynch, president of the PBA, challenged the ruling that the Staten Island man died from compression of the neck while being arrested last month. The incident was recorded by 22-year-old Ramsey Orta and posted online.
"It is not a chokehold," Lynch insisted during a press conference on Tuesday. "It was bringing a person to the ground the way we're trained to do to place him under arrest."
In the footage, NYPD Officer Daniel Pantaleo can be seen putting Garner in a chokehold as officers attempted to detain him. Garner said several times that he was unable to breathe while he was being forced to the ground. Pantaleo has since been placed on desk duty and stripped of his gun and badge as the department completes its investigation into the incident. A second officer, Justin Damico, was also placed on desk duty in connection to the arrest.
© Copyright IBTimes 2023. All rights reserved.