EU to Punish Spain for Deficits, Inaction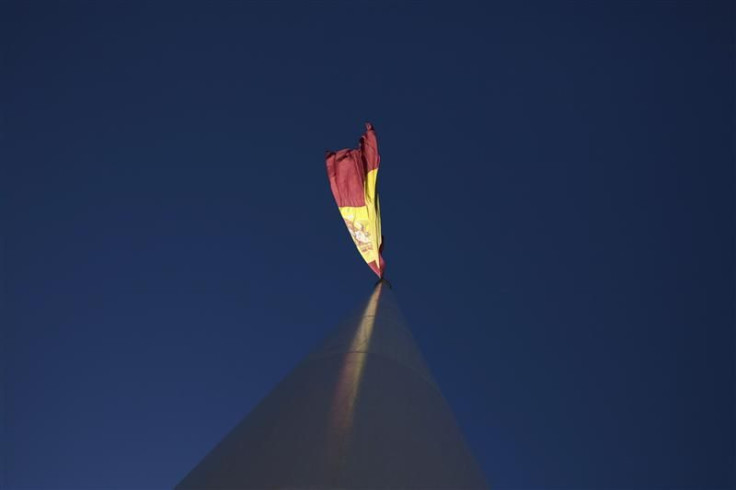 (REUTERS) - The European Union is likely to take action against Spain's newly installed government by May for delaying austerity measures ahead of a regional election next month, sources familiar with the situation told Reuters.
A final decision still has to be made, but the European Commission believes the new government overstated the deficit figures for 2011 so the current year's data would look better. Spain is also not addressing quickly enough the deterioration in public finances expected in 2012, risking the country's longer-term growth, three senior EU officials said.
Asked if the European commissioner for economic and monetary affairs, Olli Rehn, would take action and recommend that the bloc's 27 finance ministers adopt sanctions against Madrid, one of the officials said: It is very likely.
It is not that we want to. But if there is a deviation, and it is almost inevitable, then we will have to, added the official, who spoke on condition of anonymity.
Any sanction of Madrid over failure to meet its deficit goals - potentially a fine - would be separate to a Commission report on macroeconomic imbalances, which is also expected to single out Spain.
Spain has been under what's known as excessive deficit procedure since April 2009 for breaching the EU's 3 percent of GDP deficit limit. Twenty-three of the EU's 27 members are under the procedure but now Madrid could face fines of up to 0.1 percent of its economic output for not cutting its deficit.
If confirmed, the sanctions would be a blow to new Prime Minister Mariano Rajoy who, Spanish officials say, had hoped to be given leeway on the country's deficit target in return for implementing ambitious economic reforms.
Spanish government officials declined to comment.
In late December, Rajoy, blaming the previous Socialist government, announced the deficit would reach 8 percent or more in 2011, mainly because of a larger-than-expected slippage in the public finances of Spain's regions. The figure compared with the latest Commission estimate at the time of 6.6 percent.
Although the Commission acknowledges that social security and unemployment payments exceeded forecasts last year, it considers the government's new figure to be exaggerated.
We are waiting for the official figures, but we don't trust the current calculations, said one of the sources.
Another official said the Commission expected Eurostat, the EU statistics agency, to announce a figure of less than 8 percent when it releases updated forecasts on February 23.
HIGH RISKS
The Commission, the EU's executive, also thinks the Spanish government's decision to delay until late March the presentation of the 2012 budget is risky, said the officials.
Rajoy and his economy minister, Luis De Guindos, have argued that they need the Commission's forecasts before they draft the new budget. But sources in Brussels and Madrid indicate they would rather delay any austerity measures until after regional elections in Andalusia on March 25.
The centre-right People's Party is expected to win the Andalusia elections for the first time since 1982, ending 30 years of socialist rule in Spain's biggest region. With more than 55 percent of people under 25 without a job, Andalusia is one of the regions most severely hit by the crisis in Europe.
This delay is a pity. The new budget will be sent only in April and that's really unfortunate. I don't think they've realized how bad the situation is, one of the officials said, echoing the concerns of other sources.
Spain has said it will start implementing its new budget as soon as possible, but the officials believe that may not be until June - too late to change course meaningfully in 2012.
DEFICIT RESPITE?
While the government maintains for now that it will reduce the deficit to 4.4 percent this year, the growth outlook makes that highly unlikely. The economy is expected to shrink 1.5 percent this year, according to the Bank of Spain, meaning the country needs to stimulate growth as well as reduce spending.
EU officials believe the Spanish prime minister has already convinced euro zone paymaster Germany and the International Monetary Fund to give him more time to reduce the deficit. They think he is now counting on the new, less favorable economic forecasts to secure a softer budget-deficit goal.
In November, the Commission forecast Spain would have a deficit of 6.6 percent of economic output for 2011 and 5.9 percent for 2012, based on an assumption of 0.7 percent GDP growth in each year.
But with the economy heading for recession, Spain's deficit commitments of 6 percent for 2011 and 4.4 percent for 2012 -- based on a 2.3 percent growth in 2012 -- look unattainable.
Rajoy knows that necessary adjustments in the Commission's figures will have to follow these very negative forecasts, one of the officials said, adding that other countries too would expect leniency on their deficit targets amid a weakening economy. His calculation is that the demand will be made collectively, sparing him a difficult negotiation.
(Additional reporting by Jan Strupczewski. Editing by Jeremy Gaunt.)
© Copyright Thomson Reuters 2023. All rights reserved.