With Euro Zone Joblessness Sky High, Its Survival Is At Risk: Analyst
Analysis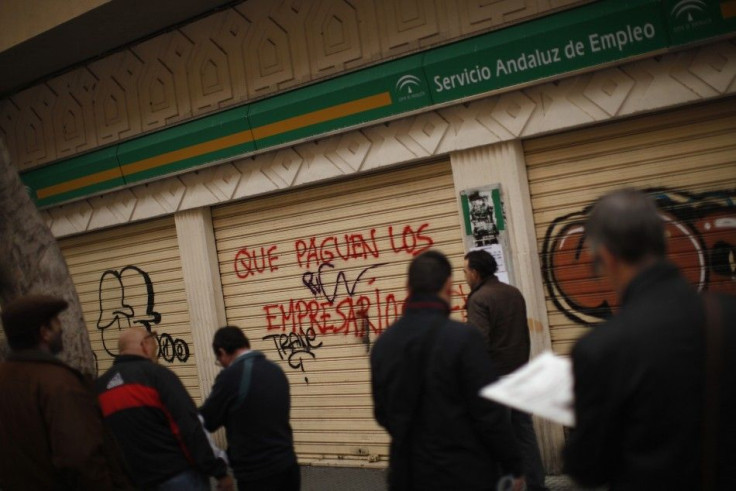 The number of unemployed people across the 17 euro zone countries soared to 11.2 percent in June, exacerbating threats to the euro zone's survival that are expected to worsen later this year, an analyst said Tuesday.
Eurostat, the European Union's statistical agency, said euro zone unemployment overall climbed last month to 17.8 million and that joblessness among people younger than 25 rose to 22.4 percent.
Acute joblessness constitutes a grim reminder that the repercussions of the monetary union's three-year-old debt crisis are spreading their tentacles beyond governments in immediate financial distress, such as Spain and Greece, which fared the worst in June with joblessness at 24.8 percent and 22.5 percent, respectively.
Italy and France, which have made some progress in implementing structural reforms to free up their labor markets, also saw a worrying rise in unemployment, at 10.8 percent and 10.1 percent, respectively.
Germany, Europe's largest economy, had unemployment slip a marginal 0.1 percent to 5.4 percent from the month before. Joblessness in the Netherlands held steady at 5.1 percent. The latest unemployment figures not only pressure the European Central Bank when it meets this week but it pressures ordinary citizens.
"Unemployment, with the high level of inflation, is likely to put a lot of pressure on household income, which will cause an actual fall in spending power in the last quarter this year," said Jennifer McKeown, senior European economist at Capital Economics.
A drop in consumer spending, which accounts for 56 percent of GDP across all countries in the euro zone, could worsen unemployment as businesses would be forced to shed more jobs, she said.
McKeown points out that there are two ways the euro zone can climb out of the mess: ramping up its exports to other nations and government-sponsored growth reform.
"But, given that global demand is weak," the benefits that jumpstarting exports will have are slim, McKeown said. "The government should spend more money to stimulate the economy. Fiscal coordination is needed if the euro zone is to stay together and European governments should stem their rise in borrowing costs."
© Copyright IBTimes 2023. All rights reserved.