Evil Clown Epidemic Continues As Israeli Girl Is Attacked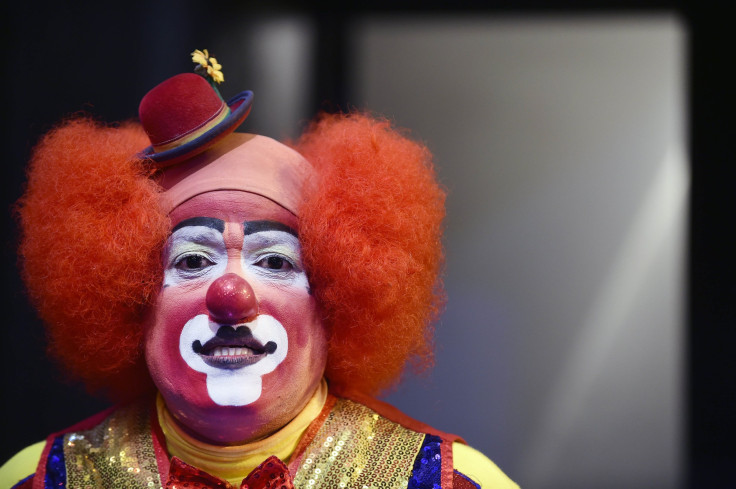 Individuals disguised as creepy clowns are continuing to terrorize civilians in Southern Israel after a ten-year-old girl was attacked Tuesday, according to reports. Two clowns allegedly sprayed the child's eyes with mace.
The girl reportedly alerted her mother of the incident upon returning home from a neighborhood park, the Jerusalem Post reported Tuesday. She told her mother that her eyes were itchy after she was allegedly sprayed, and her parents called for an ambulance. Her parents also learned after a medical professional's inspection that their child suffered from neck burns.
Southern Israeli has seen many clown-related crimes pop up in recent months. Local police detained a 14-year-old and a 16-year-old boy in a Tel Aviv neighborhood Monday for partaking in a clown crime. The pair reportedly wore clown masks as they terrorized civilians in a park. Four children between 10 and 12 years old were also taken in by police in Dimona, a southern Israeli city. The group was harassing civilians dressed as clowns.
Clown crimes first gained popularity in late 2016. The attacks surfaced in several countries worldwide, including the United Kingdom and the United States, among other regions. Former White House Press Secretary Josh Earnest addressed the epidemic in October 2016, saying, "[T]his is a situation that local law enforcement authorities take quite seriously, and they should carefully and thoroughly review perceived threats."
"Anybody doing that is not a clown," Randy Christensen, president of World Clown Association, said in a 2016 video. "If somebody dresses like a doctor and is in a doctor's smock and is wearing a stethoscope in a haunted house and comes at you with a chainsaw, he is not really a doctor. It's a person impersonating a doctor for this horror venue... I think that's a differentiation we need to know."
Christensen added, "Whoever is doing this crazy stuff is not a clown. This is someone who is trying to use a good, clean and wholesome artform and then distorting it...This is not clowning."
The rise in crimes by illegal clown impersonators also elicited a response from "It" author, Stephen King, in 2016.
"Hey, guys, time to cool the clown hysteria. Most of em are good, cheer up the kiddies, make people laugh," King wrote in a tweet.
It's been said that the evil clown epidemic may be inspired by King's famed novel and movie adaptions, which feature an evil clown named Pennywise that terrorizes a group of children. The trend, however, is unrelated. The people disguised as clowns have primarily ignited panic in strangers, and have not caused any physical harm. Individuals, nonetheless, are fearful of the clowns because of their unpredictability.
"When you take away our ability to read someone's expression, it's disturbing," Jerry Bubrick, a clinical psychologist at the Child Mind Institute (CMI), said in a news release. "We don't know what they're feeling — are they happy, sad, angry?"
The fear of clowns, which is also known as Coulrophobia, often manifests in children as early as four or five years of age. The fear typically disappears upon entering adulthood, but it can still stick for some adults, the Smithsonian reported in 2013.
Approximately two percent of adults suffer from Coulrophobia.
© Copyright IBTimes 2023. All rights reserved.