Ex-Guard Says David Koch's Widow Created Enviroment Of Deception, Mistreatment Before Billionaire's Death
KEY POINTS
The accusations against Julia Koch were made by a U.S. Air Force veteran who worked security for her before and after David Koch's death
Felicia Racine said her former employer fostered a hostile environment that made herself and others fearful for their jobs
Racine alleged Julia Koch denied her husband a feeding tube and worked to hide aspects of her personal activities, including an affair
Julia Koch, the widow of billionaire David Koch, was accused of neglecting and abusing her late husband in the year before his August 2019 death. The accusations were part of a larger complaint filed by a former security guard with the Equal Employment Opportunity Commission, alleging a hostile work environment.
The complaint filed by Felicia Racine, a U.S. Air Force veteran, was acquired Thursday by the New York Daily News. It accused Julia Koch of mistreating her aging husband by finding ways to hide her personal activities. Julia Koch allegedly told nurses not to give her husband a feeding tube in the months before his death. Racine said the nurses told her they were uncomfortable because he was "basically starving to death" and there was nothing they could do to change his wife's mind.
"Felicia believed that Julia had refused David Sr.'s feeding tube because Julia could not deal with David Sr. anymore and did not want his life prolonged further," Racine lawyer David Rosenberg said in a press release.
Other examples of the alleged mistreatment included Julia Koch regularly hiding purchases from her husband, including the purchase of a $40 million Manhattan townhouse. Racine said her employer also had a boyfriend, identified as Charles Manger. She said the pair met regularly at other residences owned by David Koch.
"The deception and lies for sure made me fearful of losing my job if I did speak up," Racine told the Daily News. "I was always under the impression that they had so much money, if you don't just bite your tongue and go along with things, they'll get rid of you."
Racine said she on the family's security from January 2018 to April 2020.
Before his death, David Koch was listed as the 11th richest American by Forbes with a fortune valued at roughly $50.5 billion.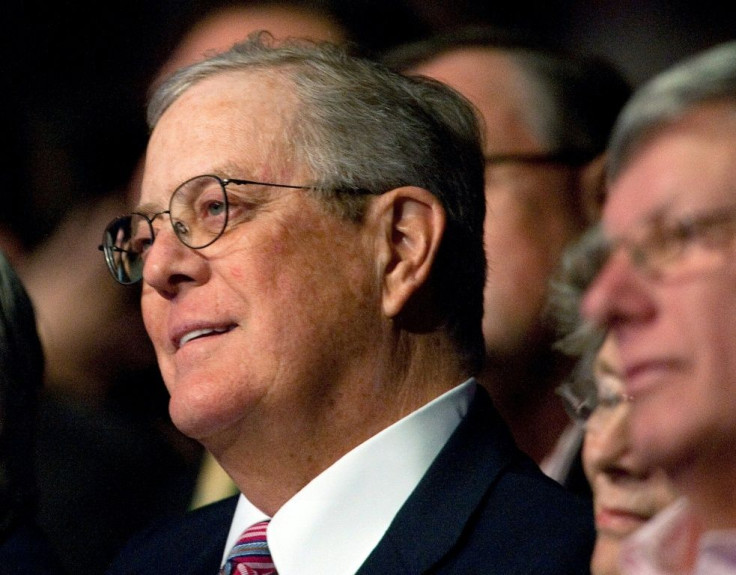 © Copyright IBTimes 2023. All rights reserved.
FOLLOW MORE IBT NEWS ON THE BELOW CHANNELS