Ex-Porn Star Mia Khalifa Takes A Dig At BangBros Again With Own 'Facts' Version
KEY POINTS
Mia Khalifa took a dig at BangBros on Twitter with her own "facts" version
The ex-porn star shared an old article on how a minor girl was duped by BangBros into doing porn
Some Twitter users called Khalifa a "liar" after BangBros released its "Mia Khalifa Facts" statement
Mia Khalifa and BangBros' feud continues, with the former attacking the latter once again on Twitter.
The ex-porn star shaded BangBros again by sharing a link to an article on how the pornographic film studio allegedly duped a 15-year-old beauty queen into doing porn. The article Khalifa shared was published in 2013.
"Bangbros: fAcTS aNd hOnEstY gUy," Khalifa wrote on Twitter.
According to the article published by Miami New Times, a BangBros director handed a girl named Amber, who was only 15 years old at the time, a slice of pizza. It was a ploy to convince her to do porn and she was too distracted at a party and was interested in the promise of easy money that she did it.
Initially, Amber thought she would be doing a music video. However, she was made an extra in a strip scene sitting in the background and smiling. She was promised an easy $100, but the teen beauty queen soon found herself doing sex scenes on camera with a man twice her age. The same man was accused of murder.
"I was manipulated," Amber said in the article.
"They were putting digits in my face and throwing a good-looking guy at me. I was 15 and surrounded by temptation. It messed up my whole life."
On Jan. 27, 2011, Amber and her two friends were dropped by a man named Andy Bombino at the Venetian Productions, a company contacted by BangBros to shoot porn for its websites. Amber signed a "performer agreement." Her first shoot was for a website called Haze Him and according to her, "It wasn't even sexual." She easily made $100 and went home.
She came back and at the time, someone passed around pizza and after that the hard-core porn began. She was filmed having sex with John Snavely, who reportedly stabbed a man to death four months earlier.
"It didn't come to my mind that the first thing would be boom, some guy's thing in my face," Amber said.
"I never thought I could do something like that. But I was young, and young girls are a lot easier to talk into things, especially with money," she added.
Khalifa's move was in response to BangBros' "Mia Khalifa Facts" earlier this month that showcased a different story from what Khalifa claimed about her short stint in the porn industry. The netizens called the former adult entertainer a "liar" after reading BangBros' statement.
The ex-porn star has been shading BangBros on social media. In a previous post, she claimed the company capitalized on Eric Garner's death.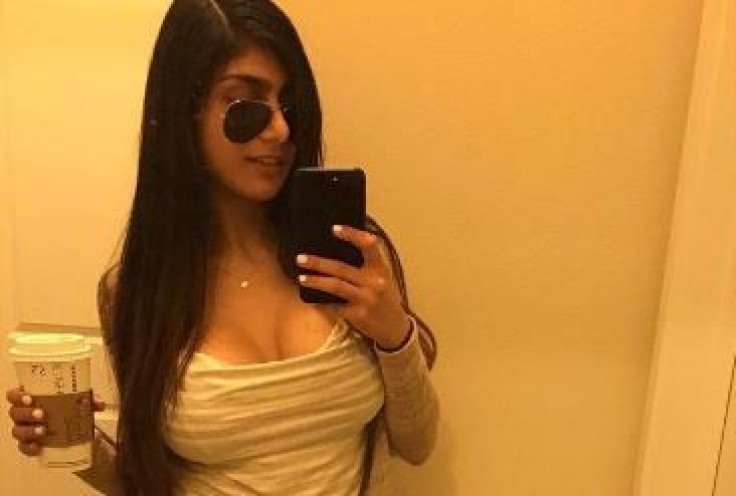 © Copyright IBTimes 2023. All rights reserved.