Extreme Weather 2020: Mother's Day Weekend Cold Blast Forecast To Bring Record Lows, Snow To Northeast US
KEY POINTS
A cold blast is forecast to bring wintery conditions to the northeastern U.S. for Mother's Day weekend, including record low temperatures and snow
Temperatures are expected to drop to the mid 40s, with some areas possibly going as low as the mid 20s by Sunday
Any snowfall is forecast to be strongest in elevated areas of New England and the eastern Great Lakes region
The northeastern U.S. could see winter-like conditions for Mother's Day weekend, with unseasonably cold temperatures and snowstorms. The weather pattern is expected to reach from the Great Lakes to New England, with the potential threat of a bomb cyclone forming over the weekend.
"If we would have seen this pattern in January or February, with that deep of a trough and these strong temperature anomalies, you'd be talking temps well below zero and likely some major snowstorms along with it," CNN meteorologist Brandon Miller said.
The cold blast is the result of a jet stream the Weather Channel described as "a white-knuckle ride on a roller coaster." This is in reference to the steep u-shape the jet stream is forecast to have as it runs south through Minnesota on Friday. It would then bottom out in North Carolina before turning north and out toward the Atlantic Ocean.
Records low temperatures are forecast to encompass most of the area within the jet stream's path from Friday to Sunday. Mid- to low-40s are expected for most of the Northeast, but some areas could drop into the 20s.
Unseasonal snowfall is also possible for areas of the Ohio Valley and New England if a bomb cyclone takes shape over the weekend.
"The strongest storm in the bunch will spread a swath of snow from the central Appalachians to interior southern and central New England from Friday to early Saturday," Accuweather meteorologist Bernie Rayno said.
Wet snow is forecast for New England, but accumulation isn't expected to be greater than 3 inches in regions at lower elevations. However, around 6 inches are possible for elevated areas of northern New England. Strong winds could also lead to bands of lake-effect snow for the eastern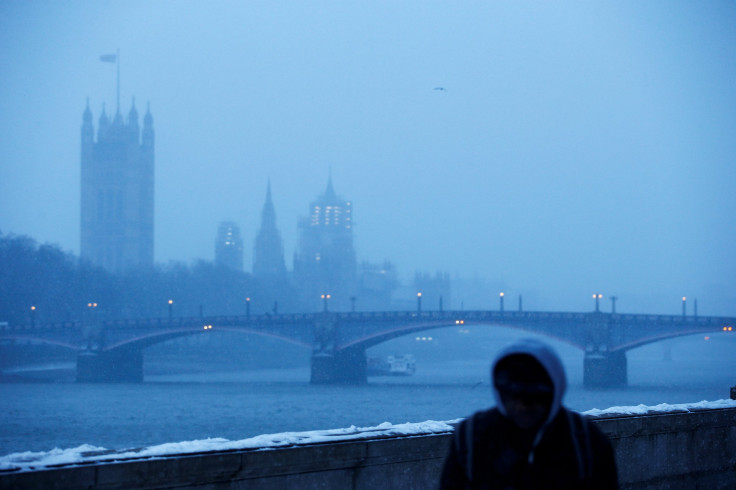 © Copyright IBTimes 2023. All rights reserved.