Extreme Weather 2020: Powerful Winds, Large Hail Forecast To Hit Millions Of People Between Oklahoma And Texas
KEY POINTS
Large hail was reported around the Dallas area early Tuesday morning ahead of the next wave of severe weather forecast to form later in the day
The storm's heart is forecast to stretch from eastern Texas to eastern Oklahoma, affecting nearly 42 million people between both states
Damaging winds may be stretched over a far enough area to form a derecho windstorm
After nearly two weeks of being battered by severe weather, the central and southern U.S. was forecast to be hit by another wave of storms and tornadoes Tuesday and Wednesday, according to meteorology reports.
The first storm was reported around 4:30 a.m. on Tuesday around Dallas, Texas, leaving behind large hail. The storm dissipated shortly after, leaving scattered rain around the Dallas area and serving as the predecessor to the next wave of severe weather stretching from eastern Texas to southern Minnesota.
The heart of the next severe weather wave is forecast to sit around northeast Texas and eastern Oklahoma, bringing with it more hail and heavy rain. This squall line is expected to bring with it damaging winds that may form into isolated tornadoes as the night goes on. Heavy rain could also lead to flash flooding, with some storms predicted to produce around 2 inches of rain in 45 minutes.
Arkansas and Louisiana are also forecast to be in the storm's squall line as it moves eastward overnight, bringing the hail and tornado threat with it.
Another concern with this squall line is that the strong winds may meet the criteria to be categorized as a "derecho." Derechos are described as windstorms spread that are tens to hundreds of miles long, leaving heavy damage in its wake from winds that can reach up to 100 mph. These windstorms are most common during the spring and summer season around the Great Plains, Midwest and South.
The National Weather Service's Storm Prediction Center said around 42 million people live in areas of Oklahoma and Texas at the squall's heart.
Heading into Wednesday, the storm is forecast to shift southeast towards Louisiana, Alabama, and Georgia. While there will still be lingering threats of tornadoes, damaging winds and large hail are considered the main threats from the storms.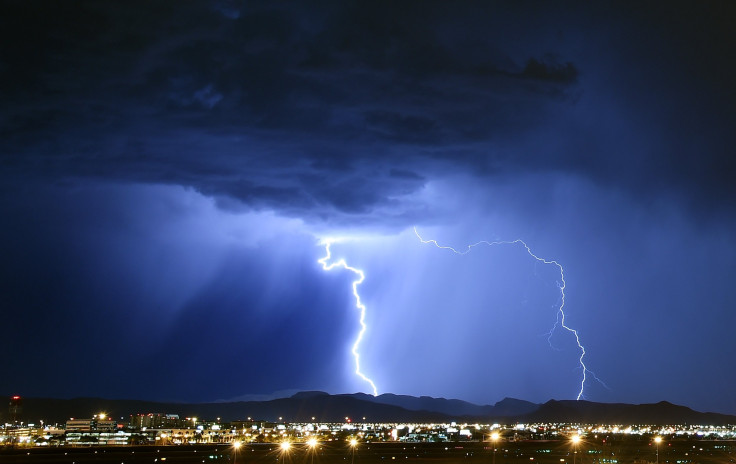 © Copyright IBTimes 2023. All rights reserved.