Extreme Weather 2020: Weekend Of Severe Weather To Include Tornadoes, Flooding In The South; Snow And Ice For The Midwest And New England
KEY POINTS
Heart of the storm will be concentrated around Texas, Louisiana and Arkansas
Severe thuderstorms expected to bring flash floods, damaging winds, and tornadoes to some areas
Snow band to stretch from northern Oklahoma to Maine with the heart concentrated on Michigan and Illinois
The South braced for a spring-like storm system Thursday that promised heavy rain, winds and the potential for tornadoes while the Midwest and Northeast expected snow and ice leading into the weekend.
Thursday forecasts had the heart of a "volatile" storm front concentrated around eastern Texas, Louisiana and southern Arkansas. It's expected to take shape Friday as a cold front sweeps south, colliding with the warmer, moister air currently resting along the Gulf Coast.
"Residents and visitors will need to be extra vigilant, as many people may not think about severe weather in January," AccuWeather Meteorologist Ryan Adamson said.
The immediate threat will be widespread severe thunderstorms that could bring heavy rain, hail and dangerous winds. Flooding along the Ohio River and Mississippi River valleys is considered the most immediate threat.
"The greatest risk for significant rainfall and potential flooding exists from east Texas and Arkansas into the central Mississippi Valley, eventually encompassing parts of Illinois, Indiana and the Ohio Valley before perhaps impacting the Northeast into Sunday," Washington Post Meterologist Matthew Cappucci said.
Meteorologists also warned tornadoes could touch down, despite not being part of "tornado season." However, the National Weather Service's Storm Prediction Center points out tornadoes have become more common in January since 2010, with 137 touching down in 2017.
"The tornado threat will be highest in any individual thunderstorm cells that develop ahead of the main line, but tornadoes are possible anywhere in the threat zone," Adamson said.
The Midwest and New England areas won't escape unscathed. A snow and ice band is forecast to hit a 1,700-mile area, stretching from northern Oklahoma to Maine. Illinois and Michigan are expected to face the brunt of the winter-front starting Friday night with a combination of snow, ice and freezing rain.
"Any roads left untreated, especially along the northern edge of this system, are likely to become covered in ice," AccuWeather Meteorologist Mary Gilbert wrote. "Even a glaze of ice on roadways may lead to increased spin-outs or even multivehicle accidents."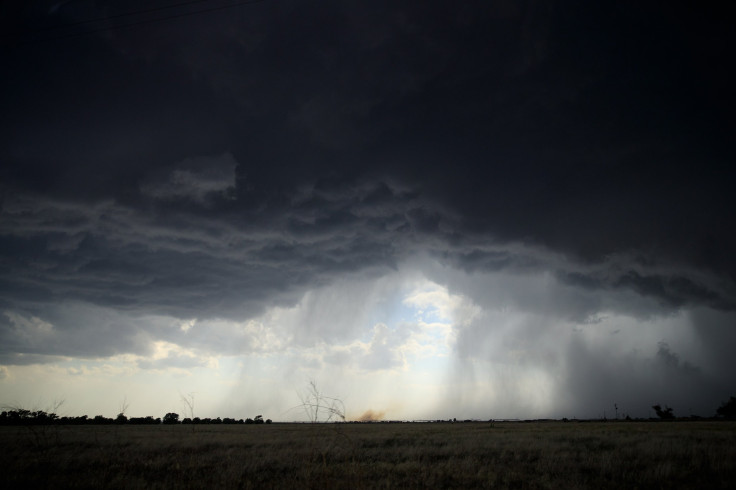 © Copyright IBTimes 2023. All rights reserved.