Extreme Weather 2020: Winter Whiplash In Rockies Trades Heatwave For Snow
KEY POINTS
States along the Rockies reported record high temperatures during a Labor Day weekend heatwave
A sudden cold front caused temperatures to drop as much as 60 degrees in some areas overnight
Winter storm advisories and warnings are in effect across northern and central Colorado
After a scorching heatwave blanketed the region for Labor Day weekend, the Rocky Mountains region experienced a weather whiplash as several states got their first taste of the 2020/2021 winter season on Tuesday and Wednesday.
Temperatues soared in much of the area over the weekend. Colorado saw its hottest day on record Saturday when the temperature peaked at 101 degrees, and neighboring states settled in the high 90s. The heat was exacerbated by the ongoing wildfires in Oregon and California, which caused the air quality to drop in neighboring states.
However, a sudden cold front in the region swooped in overnight Monday and caused an abrupt and significant drop in temperatures.
"We have a temperature difference of 60 to 70 degrees in 24 hours across the Rockies," CBS Meteorologist Jeff Berardelli said Tuesday. "Yesterday in Denver you were swimming in your pool, hopefully today you are wearing long pants, a sweater and a coat because it's in the 30s."
Along with the whiplash, several states, including Idaho and Utah, reported anywhere from 4 to 18 inches of snowfall. The snowfall moved onto Colorado by midnight Tuesday and continued overnight, but slowed down in some areas.
"While Denver has experienced measurable snow in early September once before, this is a very rare occurrence," Berardelli said. "And certainly to have all these extremes happen at the same time is not something I can recall ever seeing before."
Winter storm advisory and warnings were still in effect for most of northern and central Colorado until midnight Wednesday. Areas under advisories were warned to expect between 2 and 6 inches of snow while areas with storm warnings could get up to 10 inches of snow.
As the winter storms move out, rain is forecast for some regions nearest to the Rockies but temperatures are expected to remain in the 30s and 40s for several days.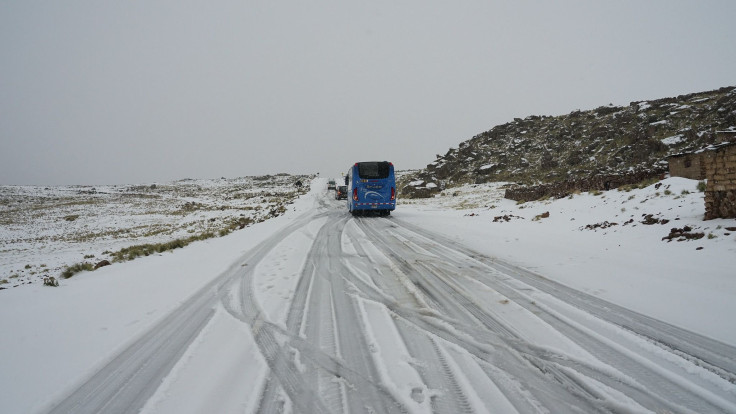 © Copyright IBTimes 2023. All rights reserved.
FOLLOW MORE IBT NEWS ON THE BELOW CHANNELS